OPEN DEBATES. This is a non-partisan organization open to everyone to submit questions to be asked to the presidential candidates at the next debate, a town hall forum, moderated by ABC and CNN on 9 OKT 16. THERE IS ONE RULE,
No naming candidates.
Both candidates must be able to answer.
You must register to submit a question or vote on a proposed question, those with the most votes will be considered by the debate moderators. Click on the Open Debates link above to submit a question and / or to vote for a question. MANY organizations of the political left and right, environmental, religious, social activism, human rights, humanitarian, civil rights and civil liberties to list a few, are also encouraging their members and supporters to submit and / or vote on questions. Their links still require you to register with Open Debates to do so. IF you are passionate about this election, your candidate and the future of America you should go to the Open Debates website or respond to e mails from organizations you belong to or support and submit a question and / or vote on questions said organization is supporting because the reflect concerns about their agenda. REMEMBER, Democracy is not a spectator sport! AND don't forget to make sure you are registered to vote, click here.
Click HERE to see my question (just submitted 1 OKT 16) and vote for it if you want.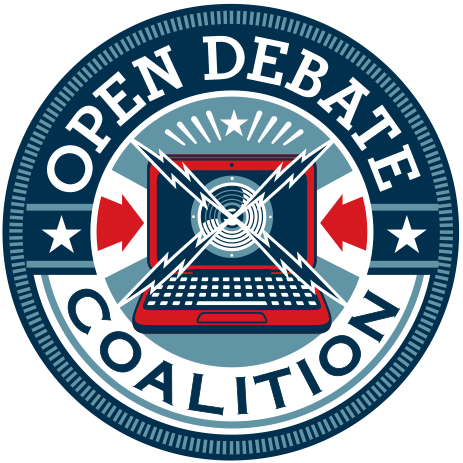 Open Debate Coalition
We are a coalition of people and organizations from across the ideological spectrum urging that political debates be made more "of the people" by bringing them fully into the Internet age.
Specifically, we endorse this Open Debate principle: The public should be empowered to conceive and select debate questions – so that questions addressed by candidates represent the will of the people.
This is not a matter of right versus left, but new versus old. Participatory democracy is a driving principle of the open Internet. The best ideas rise to the top, and the wisdom of crowds prevails.
Moderators can choose from among the top questions proposed and voted on by the public – and have discretion to ask follow-up questions. Many formats can be experimented with, some typical and others so innovative they have yet to be conceived.
As voter participation declines, voter-driven Open Debates that embrace the Internet's bottom-up ethos could breathe fresh air into our democracy – and attract more young people to participate.
The members of the Open Debate Coalition don't agree on every issue. But we agree that by bringing together the power of the Internet with the voices of voters, we can ensure that debates are truly "of the people." We urge candidates, political parties, the media, and debate hosts to work with us and the public to transform our democracy through Open Debates. This represents the future of democracy, and we can make great strides together in the 2016 election.
Signed,
Adam Green and Stephanie Taylor (Co-Founders, Progressive Change Campaign Committee and Progressive Change Institute)
Grover Norquist (Founder, Americans for Tax Reform)
Jimmy Wales (Co-Founder, Wikipedia)
Craig Newmark (Founder, craigslist)
Cindy Cohn (Executive Director, Electronic Frontier Foundation)
Chris Kelly (Former Chief Privacy Officer, Facebook; Founder, Kelly Investments; Chair, Organizer Inc.)
Terry O'Neill (President, National Organization for Women)
Ralph Reed (Founder & Chairman, Faith & Freedom Coalition)
Mindy Finn (Former Digital Strategy Director, Mitt Romney; Former Senior Digital Advisor, RNC; Founder, Empowered Women)
Tim O'Reilly (Founder, O'Reilly Media)
Rashad Robinson (Executive Director, ColorOfChange.org)
Adam Brandon (President & CEO, FreedomWorks)
Paul Rieckhoff (Executive Director, Iraq & Afghanistan Veterans of America)
Michael Turk (Former eCampaign Director, Republican National Committee and Bush/Cheney '04)
Anna Galland and Ilya Sheyman (Executive Directors, MoveOn.org Civic and Political Action)
Ilyse Hogue (President, NARAL Pro-Choice America)
Shepard Fairey (Artist known for iconic Obama "Hope" poster)
Heather McGhee (President, Demos)
Albert Jacquez (Deputy Executive Director, National Council of La Raza Action Fund)
Jon Henke (Former New Media Director, U.S. Senate Republicans and Fred Thompson for President; Strategic Director, TechFreedom)
Cenk Uygur (Host, The Young Turks)
Nita Chaudhary (Co-Executive Director, UltraViolet)
Ed Martin (President, Eagle Forum)
Ben Rattray (Founder and CEO, Change.org)
Chris Shelton (President, Communications Workers of America)
Michael Brune (Executive Director, Sierra Club)
Markos Moulitsas (Founder, DailyKos)
Glenn Reynolds (Founder, Instapundit)
Joichi Ito (Director, MIT Media Lab)
Matt Nelson (Executive Director, Presente)
Louis Elrod (President, Young Democrats of America)
Gene Karpinski (President, League of Conservation Voters)
Cory Doctorow (Author, blogger, journalist)
David Moore (Executive Director, AskThem.io, Participatory Politics Foundation)
Ethan Zuckerman (Director, MIT Center for Civic Media)
Jared Friedman (Founder, Scribd; Partner, Y Combinator)
Marvin Ammori (Lawyer, Technology Strategist)
Micah Sifry and Andrew Rasiej (Co-Founders, Personal Democracy Media, Civic Hall)
Jim Dean (Chair, Democracy for America)
May Boeve (Executive Director, 350 Action)
Jose Antonio Vargas (CEO, Define American)
Roy Beck (President, NumbersUSA)
Jeremy Ben-Ami (President, J Street)
Joseph Bast (President & CEO, The Heartland Institute)
Alex Lawson (Executive Director, Social Security Works)
Alexandra Flores-Quilty (President, United States Student Association)
Christopher Long (President, Intercollegiate Studies Institute)
Ana María Archila (Co-Executive Director, Center for Popular Democracy Action)
Heather Hargreaves (Vice President, NextGen Climate)
Greenpeace
David Segal (Executive Director, Demand Progress and Rootstrikers)
Ashley Thorne & Peter Wood (President & Executive Director, National Association of Scholars)
Kenneth Roth (Executive Director, Human Rights Watch)
Murshed Zaheed (Political Director, CREDO Action)
Rea Carey (Executive Director, National LGBTQ Task Force Action Fund)
Crowdpac
Robert Greenwald (Founder, Brave New Films)
Marissa Brown (Executive Director, Democracy Initiative)
Karen Hobert Flynn (President, Common Cause)
Dennis M. Kelleher (President and CEO, Better Markets)
Mark Riddle (President, New Leaders Council)
Robert Weissman (President, Public Citizen)
Jodi Jacobson (President and Editor-in-Chief, Rewire)
David Donnelly (President and CEO, Every Voice)
Nick Nyhart (President and CEO, Every Voice Center)
Mary Rickles and Eric Thut (Communications Director and Interim Executive Director, Netroots Nation)
Robyn Thomas (Executive Director, Law Center to Prevent Gun Violence)
Dean Baker (Co-Founder, Center for Economic and Policy Research)
Stosh Cotler (CEO, Bend the Arc Jewish Action)
Deepak Pateriya (Executive Director, Center for Community Change Action)
Rhea Suh (President, NRDC Action Fund)
Akshat Tewary (President, Occupy the SEC)
Arianna Huffington is also a member of the Open Debate Coalition.
Website