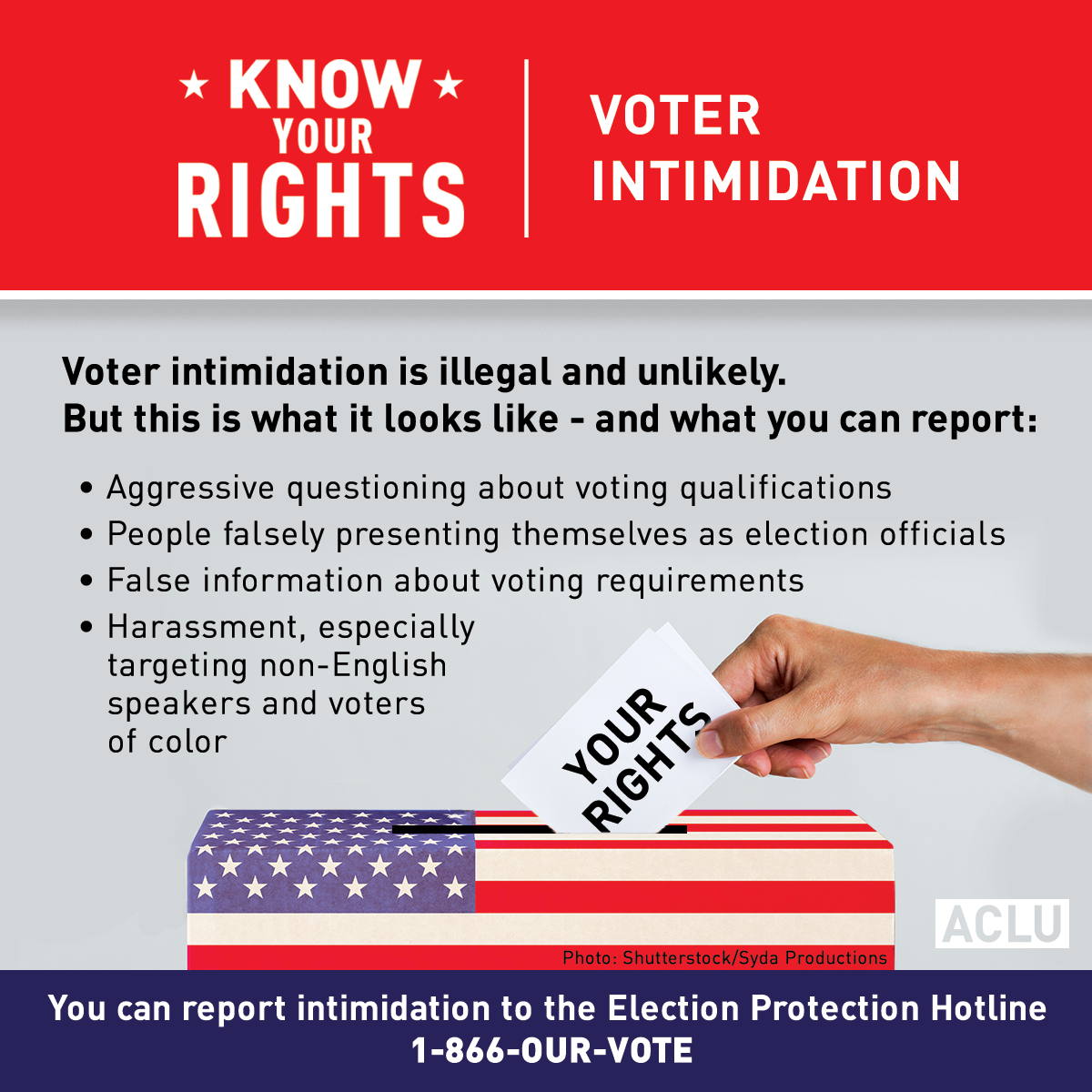 VOTE TUESDAY, 8 NOVEMBER 16
THE ACLU has been vital in guaranteeing voting rights for millions of people across the country. HERE are your rights if you are facing voter intimidation at the polls or even before you go to vote, followed by a report on their victories while the 2016 election campaigns for the presidency as well as the entire US House, some Senators and a host of state and local offices have progressed. The ACLU, with other civil rights, civil liberties, and human rights organizations have fought hard to guarantee our right to vote. Many Americans have made the ultimate sacrifice defending our Republic, guaranteeing our right to vote. The drumpf/trump-pence candidacy has a voter repression/suppression campaign in place WE ALL have a responsibility to vote to honor the hard work and sacrifice of others. Democracy is not a spectator sport, and with this election the future of our democratic Republic is at stake. Please vote, and for the sake of our country, vote Clinton-Kaine! And be sure to sign the petition to Congress to pass the Voting Rights Advancement Act (restores the power of the 1965 Voting Rights Act) by clicking here. This from the ACLU (I am a proud member and monthly donor, have been for years).....
KNOW YOUR RIGHTS: WHAT TO DO WHEN FACED WITH VOTER INTIMIDATION
The ACLU prepared this Know Your Rights resource for election season in response to heightened concern regarding voter intimidation at polling places. Download a printable version of this info
here
, and a shareable social media graphic
here
.
Contact the Election Protection Hotline (866-OUR-VOTE), the Department of Justice Voting Rights Hotline (800-253-3931), or an attorney if you believe that your rights have been violated.
WEAR YOUR RIGHTS: GET OUR "LET PEOPLE VOTE" T-SHIRT
What is voter intimidation?
Who can I report intimidation to?
Who can be a poll monitor?
What can poll monitors do?
What can poll monitors NOT do?
What do I do if someone challenges my qualifications to vote?
What do I do if I'm not on the list of registered voters?
What are the rules on language assistance for voters?
What are the rules on assistance for voters with disabilities?
Are people allowed to campaign in or around the polling place?
What role can the police play on Election Day?
Can the media be inside the polling place?
It's been a long road from 2012 to 2016.

Since the last presidential election, states around the country have been trying to suppress voting. But the ACLU, along with our affiliates and partners across the country, have been hard at work defending your right to vote. Over the last four years, we have won 15 victories in 12 states that will safeguard the voting rights of millions of Americans this November.

Those wins include:
Together these rulings directly affect
more than 5.6 million voters
in 12 states that collectively are home to 161 members of the House of Representatives and wield 185 votes in the Electoral College.
But we are not done yet. The ACLU will be doing everything we can to protect your right to vote in the days leading up to Election Day and on Election Day itself. And we'll be back at work the next morning, preparing for the next election.