ANOTHER mass shooting in America, another parade of politicians, many the same politicians who have blocked sane, common sense gun control, expressing their sorrow and offering prayers of support for the families of the victims. The nation expresses it's horror and sorrow, and continues to elect and reelect the politicians at the federal, state and local level who oppose any gun control. Roseburg, Oregon is hurting right now, and it will be a long time for the wounds, physically, spiritually, and mentally, to heal. Sheriff John Hanlin doesn't want anyone to mention the shooters name, ever, his officers will not use it when discussing the case. But the shooter's name is Chris Harper Mercer, and he had a family that is hurting and suffering too, because of the mass murder their son, brother, friend committed and because he is dead now too. If you are offering prayers for the victims remember to pray for Chris Mercer's family too. And consider the possibility that Sheriff Hanlin doesn't want Chris Mercer's name used may be because he doesn't want to be reminded he is one who stood in the way of gun control and allowed Chris Mercer to obtain 13 guns, six of them used in his shooting spree. Maybe Sheriff Hanlin realizes his politics increased the probability of this happening. Maybe he feels a little guilty, maybe a little ashamed. He probably never dreamed the 294th mass shooting in the U.S. in 2015 would happen in his town. Pray for Sheriff Hanlin too. This and the list of the victims from +NPR followed by the video and transcript of the comments of a very angry Pres Obama.
A vigil was held in Roseburg, Ore., last night, hours after a man killed nine people at the local community college. Investigators say the man behind Thursday's shooting is also dead — and the local sheriff says he'll never say that man's name in public. Seven people were wounded in the attack.
"I will not give him the credit he probably sought, prior to this horrific and cowardly act," Sheriff John Hanlin said in a briefing about the shooting at Umpqua Community College.
Hanlin later told CNN that he doesn't want "to glorify his name or his cause."
The alleged gunman is 26-year-old Chris Harper Mercer, who lived in a town near Roseburg, a logging community with around 22,000 residents. But at last night's vigil, Douglas County Commissioner Chris Boice told the crowd not to give the gunman any attention, as Northwest News Network's Chris Lehman reports for today's
Morning Edition.
Update at 1:05 p.m. ET: 13 Weapons Recovered
Investigators have recovered 13 weapons – including six at the school and seven at the gunman's home, according to ATF Assistant Special Agent Celinez Nunez, who spoke at a news conference roughly 24 hours after the attack.
The victims' identities have not yet been revealed but could be released by the end of Friday, Hanlin said. But he added that his deputies won't be using the gunman's name.
"Again, you will not hear anyone from this law enforcement operation use his name," Hanlin said, adding that he believes it "would only inspire future shootings."
Our original post continues:
The attack occurred
in midmorning on the fourth day of classes in Umpqua Community College's fall semester. The gunman opened fire in a classroom. He was reportedly armed with several weapons and was wearing body armor.
"It is too early to determine a motive," NPR's Dina Temple-Raston reports. "But he did engage with early victims. Some were asked about their religion before he shot them. But as the attack went on there was less engagement between the shooter and his victims and he appeared to be trying to kill as many people as possible."
One survivor of the attack says the gunman tried to coax students out of a locked classroom. According to another account, the gunman asked his victims if they were Christians.
Student Sarah Cobb, 17, was in her Writing 121 class when she heard a loud noise, looked out the window — and saw people running. She then realized gunshots were ringing out from the next-door classroom — and she ran, too.
"My parents have always told me: stay alert, be aware of your surroundings," Cobb says. "Once that noise happened, I looked around to see what's going on, and that's probably what saved my life."
NPR's Tom Goldman reports that the father of a young woman who was wounded (and who is apparently OK after surgery)
"said the shooter
asked people if they were Christian. And then if they said yes, he said good, because you're going to see God in about a second."
tells the AP
that she was also in the writing class — and that after they locked the classroom door, she and her classmates heard a man walk to the door and say, "Come on out, come on out."
The students didn't open the door until later, when they were convinced the police were outside.
Freshman Evan Hocker tells Northwest News' Lehman, "I heard gunshots and then someone, one of my teachers, said there was a shooting, and then we all just went into a closet with a group of people and locked the whole place down."
Hocker, who's studying computer science, says the violence was shocking, particularly in Roseburg, where "nothing really bad happens at all. Everything's small and everything's perfectly fine, usually."
The college's interim president, Rita Cavin, said, "Our hearts and prayers go out to the families, and to the staff and students who witnessed this atrocity. This is a real crisis situation."
Roseburg is about three hours' drive south of Portland, west of the Deschutes National Forest. Discussing the community, Tom Goldman says the area is coping with a sharp decline in the local timber industry.
"Douglas County has one of the higher unemployment rates in the state," Tom says. "And this is the importance of Umpqua Community College — it's the only college in Roseburg and the county. The average student age is the late 30s, and this is where many go to reinvent themselves and find new careers."
In the wake of Thursday's shooting, it has also emerged that Sheriff Hanlin is an opponent of gun control efforts. Earlier this year, he told state lawmakers that background checks wouldn't keep criminals from getting guns. And back in 2013, the sheriff
wrote a letter
to Vice President Joe Biden to say that his deputies wouldn't enforce any law that infringed on the constitutional right to bear arms.
That letter was sent after the Newtown, Conn., shootings prompted a new push for gun-control legislation — something President Obama
sought back in 2013
and that he asked for again after the Oregon killings.
Last night,
the president said
:
"This is a political choice that we make, to allow this to happen every few months in America. We collectively are answerable to those families who lose their loved ones because of our inaction."
Authorities in Oregon released the names of the nine people killed
during a mass shooting at a community college in Roseburg, Ore
.
John Hanlin, the Douglas County sheriff, read the names during a news conference Friday afternoon:
The victims ranged in age from 18 to 67. One of them was an 18-year-old soccer player, another had just enrolled at the college at 34 years old. Another 18-year-old was just about to take his brown belt test.
Here are their names, their hometowns and their ages:
Treven Taylor Anspach, of Sutherlin, was 20 years old.
Sarena Dawn Moore, of Myrtle Creek, was 44 years old.
Lawrence Levine, of Glide, was 67 years old. Mr. Levine was the instructor.
Jason Dale Johnson, of Winston, was 34 years old.
Lucas Eibel, of Roseburg, was 18 years old.
Kim Saltmarsh Dietz, of Roseburg, was 59 years old.
Quinn Glen Cooper, of Roseburg, was 18 years old.
Lucero Alcaraz, of Roseburg, was 19 years old.
Rebecka Ann Carnes, of Myrtle Creek, was 18 years old.
Via the Douglas County sheriff, here are some statements from the families of the victims: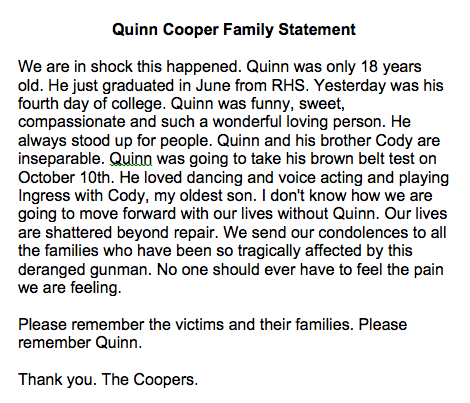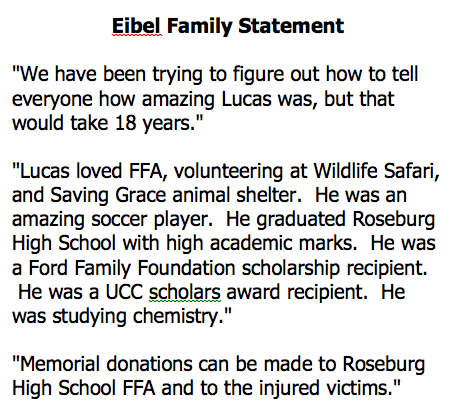 President Obama has ordered flags flown at half-staff.
Read the President's
full remarks
:
There's been another mass shooting in America -- this time, in a community college in Oregon.
That means there are more American families -- moms, dads, children -- whose lives have been changed forever. That means there's another community stunned with grief, and communities across the country forced to relieve their own anguish, and parents across the country who are scared because they know it might have been their families or their children.
I've been to Roseburg, Oregon. There are really good people there. I want to thank all the first responders whose bravery likely saved some lives today. Federal law enforcement has been on the scene in a supporting role, and we've offered to stay and help as much as Roseburg needs, for as long as they need.
In the coming days, we'll learn about the victims -- young men and women who were studying and learning and working hard, their eyes set on the future, their dreams on what they could make of their lives. And America will wrap everyone who's grieving with our prayers and our love.
But as I said just a few months ago, and I said a few months before that, and I said each time we see one of these mass shootings, our thoughts and prayers are not enough. It's not enough. It does not capture the heartache and grief and anger that we should feel. And it does nothing to prevent this carnage from being inflicted someplace else in America -- next week, or a couple of months from now.
We don't yet know why this individual did what he did. And it's fair to say that anybody who does this has a sickness in their minds, regardless of what they think their motivations may be. But we are not the only country on Earth that has people with mental illnesses or want to do harm to other people. We are the only advanced country on Earth that sees these kinds of mass shootings every few months.
Earlier this year, I answered a question in an interview by saying, "The United States of America is the one advanced nation on Earth in which we do not have sufficient common-sense gun-safety laws -- even in the face of repeated mass killings." And later that day, there was a mass shooting at a movie theater in Lafayette, Louisiana. That day! Somehow this has become routine. The reporting is routine. My response here at this podium ends up being routine. The conversation in the aftermath of it. We've become numb to this.
We talked about this after Columbine and Blacksburg, after Tucson, after Newtown, after Aurora, after Charleston. It cannot be this easy for somebody who wants to inflict harm on other people to get his or her hands on a gun.
And what's become routine, of course, is the response of those who oppose any kind of common-sense gun legislation. Right now, I can imagine the press releases being cranked out: We need more guns, they'll argue. Fewer gun safety laws.
Does anybody really believe that? There are scores of responsible gun owners in this country --they know that's not true. We know because of the polling that says the majority of Americans understand we should be changing these laws -- including the majority of responsible, law-abiding gun owners.
There is a gun for roughly every man, woman, and child in America. So how can you, with a straight face, make the argument that more guns will make us safer? We know that states with the most gun laws tend to have the fewest gun deaths. So the notion that gun laws don't work, or just will make it harder for law-abiding citizens and criminals will still get their guns is not borne out by the evidence.
We know that other countries, in response to one mass shooting, have been able to craft laws that almost eliminate mass shootings. Friends of ours, allies of ours -- Great Britain, Australia, countries like ours. So we know there are ways to prevent it.
And, of course, what's also routine is that somebody, somewhere will comment and say, Obama politicized this issue. Well, this is something we should politicize. It is relevant to our common life together, to the body politic. I would ask news organizations -- because I won't put these facts forward -- have news organizations tally up the number of Americans who've been killed through terrorist attacks over the last decade and the number of Americans who've been killed by gun violence, and post those side-by-side on your news reports. This won't be information coming from me; it will be coming from you. We spend over a trillion dollars, and pass countless laws, and devote entire agencies to preventing terrorist attacks on our soil, and rightfully so. And yet, we have a Congress that explicitly blocks us from even collecting data on how we could potentially reduce gun deaths. How can that be?
This is a political choice that we make to allow this to happen every few months in America. We collectively are answerable to those families who lose their loved ones because of our inaction. When Americans are killed in mine disasters, we work to make mines safer. When Americans are killed in floods and hurricanes, we make communities safer. When roads are unsafe, we fix them to reduce auto fatalities. We have seatbelt laws because we know it saves lives. So the notion that gun violence is somehow different, that our freedom and our Constitution prohibits any modest regulation of how we use a deadly weapon, when there are law-abiding gun owners all across the country who could hunt and protect their families and do everything they do under such regulations doesn't make sense.
So, tonight, as those of us who are lucky enough to hug our kids a little closer are thinking about the families who aren't so fortunate, I'd ask the American people to think about how they can get our government to change these laws, and to save lives, and to let young people grow up. And that will require a change of politics on this issue. And it will require that the American people, individually, whether you are a Democrat or a Republican or an independent, when you decide to vote for somebody, are making a determination as to whether this cause of continuing death for innocent people should be a relevant factor in your decision. If you think this is a problem, then you should expect your elected officials to reflect your views.
And I would particularly ask America's gun owners -- who are using those guns properly, safely, to hunt, for sport, for protecting their families -- to think about whether your views are properly being represented by the organization that suggests it's speaking for you.
And each time this happens I'm going to bring this up. Each time this happens I am going to say that we can actually do something about it, but we're going to have to change our laws. And this is not something I can do by myself. I've got to have a Congress and I've got to have state legislatures and governors who are willing to work with me on this.
I hope and pray that I don't have to come out again during my tenure as President to offer my condolences to families in these circumstances. But based on my experience as President, I can't guarantee that. And that's terrible to say. And it can change.
May God bless the memories of those who were killed today. May He bring comfort to their families, and courage to the injured as they fight their way back. And may He give us the strength to come together and find the courage to change.