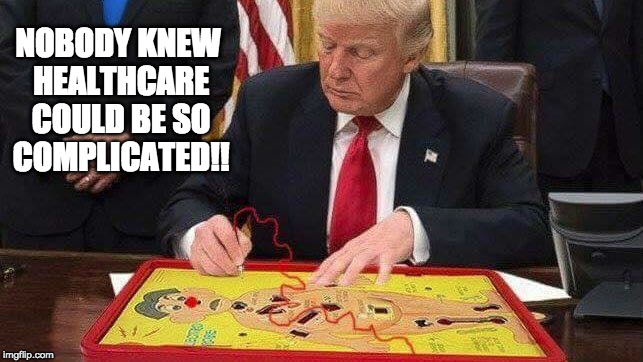 NO, Virginia's 10th congressional district's repiglican representative in the US House, political hure barbara comstock is voting no on the latest drumpf/trump-ryancare bill to replace the ACA according to The Hill. She is voting against the bill not out of concern for her constituents, after all she has been a good, obedient girl for her fellow ayn rand devote rep fotze paul ryan r WI, voting how she has been told to vote most of the time. But now, Dylan is right on, the times, they are a changin', and while comstock didn't have any problem supporting and voting for "grab 'em by the pussy" drumpf/trump for president she is finding out the greedy, fascist, xenophobic, authoritarian policies of the drumpf/trump-pence administration and the repiglican leadership in congress isn't supported in the 10th district. comstock hasn't had a change of heart, she doesn't care about the majority of us. No, she knows her congressional seat is on the line. The thing is, we shouldn't have to fight her every time to get her to do the right thing, but as a follower of ayn rand (she must be considering her relationship with rep ryan) she can't give a damn about us. Our district, Virginia and the nation will be better off when comstock is defeated in 2018. Until then, we have to continue watching her on every vote in the house. Watch the video below about ayn rand, the person comstock seeks to emulate politically, then read these articles from The Hill
The Truth About GOP Hero Ayn Rand
BY THE HILL STAFF -
04/26/17 03:18 PM EDT
House Republicans have an updated bill to repeal and replace ObamaCare, and The Hill has a new whip list.
The updated bill includes an amendment from Reps. Mark Meadows (R-N.C.) and Tom MacArthur (R-N.J.) that would allow states to opt out of key ObamaCare rules, including on minimum coverage requirements and allowing insurers to charge more based on individuals' health.
Those changes were designed to win over conservatives, and the new legislation has been backed by the House Freedom Caucus and outside groups including the Club for Growth and FreedomWorks.
Centrists, though, expressed concerns over preexisting conditions.
On Wednesday, Rep. Fred Upton drafted a new amendment that would provide $8 billion over five years to help people with preexisting conditions pay for premiums in states that seek waivers.
The question is whether that is enough to bring centrists on board.
A mix of centrists and conservatives objected to the earlier ObamaCare bill, forcing GOP leaders to call off a planned vote.
No Democrats are expected to vote for the measure, and one Republican, Rep. Dan Newhouse (Wash.), will miss the vote, meaning GOP leaders can only afford 21 defections.
Below is a list of where key Republicans stand based on the new bill.
"Despite amendments and changes, the AHCA still fails to provide for the needs of my constituents. I will not support a bill that has the potential to severely harm the health and lives of people in South Florida and therefore I remain steadfast in my commitment to vote NO on the AHCA. The recent addition of further funds to high risk pools continues to be inadequate and fails to cover those who need it most. If enacted, the older and poorer South Floridians will be worse off and will find it more difficult to obtain quality healthcare. My constituents should not have to take a step backward in their ability to obtain treatment for any illness and thus, I will vote NO."
Too bad her colleagues are caving right and left, ignoring the will and the needs of their constituents. The midterm elections take place on November 6, 2018. We have 551 days to get these bums out of Congress and restore our health care protections.