WE, the people, through many organizations working for a common goal for the common good DEFEATED the fraudulent drumpf/trump-pence ryan health care plan that was supposed to replace the ACA / Obamacare. UltraViolet is one of the activist organizations, here is an update from them...
Yesterday, for the second time in as many days, the Republican leadership withdrew Trumpcare--the legislation to repeal the Affordable Care Act--after it was clear it would be defeated! For now, it seems, the Republican effort to repeal Obamacare has stalled.1
This didn't happen on its own--the Republican plan was met with a fierce resistance from hundreds of thousands of people, and UltraViolet members were there every step of the way. Below are just some of the ways that UltraViolet members helped save the Affordable Care Act--take a look:
After Trump's election victory, members sprang into action and immediately organized 13 in-district meetings in eight key senators' offices to push them to stand up for the Affordable Care Act. Key Senators of both parties then helped sink the House's first attempt to rush through a repeal of the Affordable Care Act.
90,000 of us sent postcards to Speaker Paul Ryan on a variety of issues, including health care. UltraViolet members in Wisconsin turned out in the cold to deliver the postcards to Speaker Ryan's office, and we brought a cake, a singing telegram, and a lot of signs!
More than 45,000 of us signed petitions and delivered them to key senators.
Thousands of UltraViolet members made calls to their representatives and senators.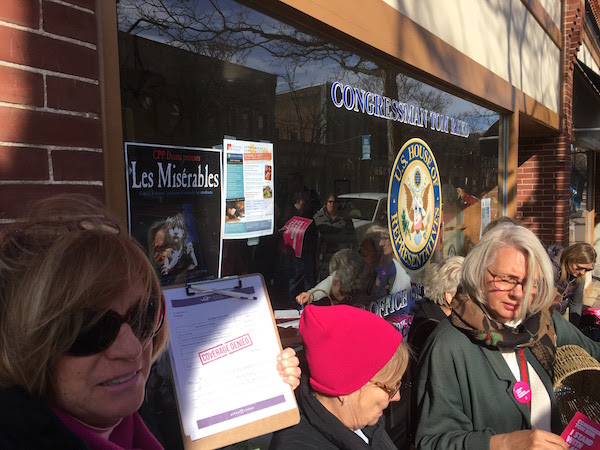 1,300 UltraViolet members shared their personal stories about how the Affordable Care Act has helped them. The stories were delivered to the Senate, and many are featured on Can'tAffordToLose.com.
We wrote 800 letters to the editors of our local newspapers in support of the Affordable Care Act.
Over 250 UltraViolet members in 30 states stopped by their representatives' offices with fake "medical bills" and a message: Trumpcare will cover less and cost more--and women can't afford it.
Hundreds of members joined an organizing call about Trumpcare's impact on women and how to resist.
UltraViolet members crowdfunded billboards and bus ads targeting key senators in Arizona, Nevada, Maine, and Alaska, urging them to save our health care.
We sent a digital truck billboard featuring health care stories of Kentucky UltraViolet members to Kentucky to follow Senate Majority Leader Mitch McConnell around the state.
UltraViolet members delivered 'Save Planned Parenthood' ice sculptures to Senator Susan Collins' office in Maine and Senator Lisa Murkowski's office in Alaska, demanding they defend the Affordable Care Act.
And all of these actions were noted by the media--putting even more pressure on Congress to do the right thing. Our actions were covered by CNN, Newsweek, Roll Call, the Associated Press, and local news stations and papers including in Paul Ryan's hometown newspaper, The Janesville Gazette.
We don't know what's next for the Affordable Care Act, but we do know that if President Trump and the Republicans try to repeal it again, UltraViolet members are going to fight like heck to save it.
To your health,
--Nita, Shaunna, Kat, Karin, Adam, Holly, Kathy, Onyi, Susan, Anathea, Audine, Shannon, Megan, Emma, PaKou, Pilar, and Natalie, the UltraViolet team
Sources:

---
Want to support our work?
UltraViolet is funded by members like you, and our tiny staff ensures small contributions go a long way.
Chip in here.