DOES the latest vote in North Ireland indicate a break with the U.K. because of BRexit? Will the occupation in London allow a reunification referendum? From the Guardian...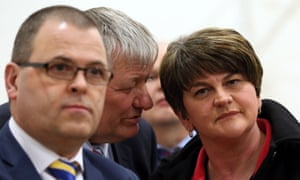 DUP leader Arlene Foster (R) at the count centre in Omagh, Co Tyrone, on 3 March. 'The logical thing is for Ms Foster to consider her position – as others are surely doing for her.' Photograph: Paul Faith/AFP/Getty
Theresa May's hard Brexit is irresponsible too. It makes the consequences in Ireland even worse, as a break with the single market and, in particular, the customs union, inescapably makes a hard border into a reality. That would be a disaster for both parts of Ireland, with major implications for the rest of the UK and its component parts. This is why Northern Ireland's latest political impasse matters so much, to all of us in Britain as well as in both parts of Ireland. We cannot sit idly by as this country is broken up and sacrificed on the altar of Brexit.
Friday 3 March 2017
09.02 EST
With all results declared
Full results
2016¹
vote share²

Democratic Unionist Party

28 seats

38
28.1%
28
27.9%
12
12%

Ulster Unionist Party

10 seats

16
12.8%
8
9%
2
2.3%
1
1.8%

People Before Profit

1 seat

2
1.8%

Traditional Unionist Voice

1 seat

1
2.6%