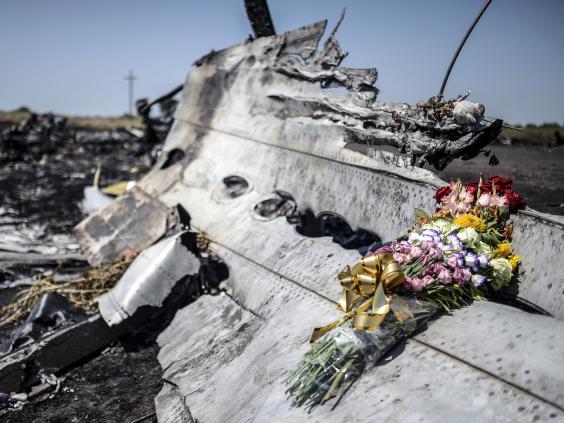 NO kejutan di sini, hanya pengesahan putin dan rakyat Rusia yang baru-baru ini mengundi untuk melanjutkan pemerintahan diktator totalitarian dan proksi pemberontak di Ukraine adalah bersalah atas pembunuhan penumpang dan anak kapal MH17 . Sebuah negara moral akan menyatakan beberapa malu, akan memohon maaf, akan bekerjasama dengan penyiasat untuk mendedahkan yang memberikan arahan untuk menembak peluru berpandu BUK dan menjadikan mereka lebih ke Belanda atau Malaysia atau Ukraine untuk pendakwaan. Anda boleh menjadi semua orang pasti yang mempunyai bahagian dalam menembak jatuh MH17 di Rusia, dilindungi, dan saya pasti, diberi penghormatan oleh putin dan orang-orangnya .

Negara lain di dunia mempunyai obligasi moral untuk mengetatkan sekatan sedia ada pada Putin dan Rusia dan mengenakan lebih sekatan ke atas mereka.

Putin dan Rusia

mempromosikan, menyokong, dan mengambil bahagian di negeri ditaja keganasan di Ukraine, di Syria, di Georgia , dan mengancam ia menentang Amerika Baltik, Armenia, dan Eropah Timur.

Mereka tidak lebih baik daripada Daesh / isis, Hezbollah, Boko Haram, al-Qaeda, hamas, tidak lebih baik daripada negara-negara penyangak pengganas di dunia, n korea, saudi arabia dan Iran. Dan sematkan di dalam fikiran, donald Titus drumpf / muslihat adalah peminat besar putin dan diktator russian . Dari + NPR .....

September 28, 2016

08:15 ET

Twitter



Satu pasukan Belanda yang dipimpin penyiasat antarabangsa telah membuat kesimpulan bahawa Malaysia Airlines Penerbangan 17 yang terhempas pada Julai 2014, telah ditembak jatuh oleh peluru berpandu Buk Rusia yang telah dipindahkan ke dalam yang dikuasai pemberontak di timur Ukraine.
Selepas menembak, pelancar peluru berpandu permukaan-ke-udara dipindahkan semula ke Rusia.
Kemalangan MH17 membunuh semua 298 orang di atas kapal. The
keputusan awal
daripada siasatan jenayah antarabangsa telah diumumkan pada Rabu di Belanda. Penyiasat berkata mereka yakin tentang jenis senjata yang digunakan dan di mana ia telah dipecat dari - tetapi siasatan yang betul-betul bertanggungjawab untuk pelancaran peluru berpandu itu akan mengambil lebih banyak masa.
Terdapat lebih daripada 100 suspek, penyiasat berkata. Fasa seterusnya siasatan akan melibatkan menemuramah suspek dan mengesan rantaian perintah dalam pemisah di Ukraine, untuk mengenal pasti yang memberikan arahan untuk menembak peluru berpandu.
Siasatan awal oleh Lembaga Keselamatan Belanda telah
membuat kesimpulan
bahawa kemalangan itu adalah hasil daripada peluru berpandu dilancarkan dari sebuah kawasan di Ukraine dikawal oleh pemisah oleh Rusia.Pada awal tahun ini, laporan daripada sekumpulan
sukarelawan wartawan warganegara
turut mengaitkan Rusia pada pelancaran peluru berpandu.
Rusia telah berulang kali menafikan menghantar peralatan ketenteraan dan kakitangan merentasi sempadan ke Ukraine.Moscow sebelum ini telah mencadangkan bahawa MH17 mungkin telah ditembak jatuh oleh pesawat lain.
Kini Rusia menegaskan bahawa jika pesawat telah jatuh oleh peluru berpandu permukaan-ke-udara, ia mesti telah dipecat dari tempat lain selain daripada kawasan yang dikuasai pemberontak yang dikenal pasti oleh penyiasat, lapor Reuters. Kremlin berkata, sebelum penemuan laporan hari Rabu telah sampai, bahawa ia telah baru radio-lokasi data yang menunjukkan peluru berpandu itu tidak telah dilancarkan dari wilayah pemberontak.
Published on Sep 28, 2016
persembahan Press JIT MH17 28-09-2016
Laporan dari Pasukan Siasatan Bersama, yang terdiri daripada penyelidik dari Belanda, Belgium, Australia, Malaysia dan Ukraine, data forensik digunakan, akaun saksi dan memintas panggilan telefon untuk menentukan senjata yang digunakan dan lokasi pelancaran peluru berpandu.
Serpihan peluru berpandu Buk ditemui di lokasi kemalangan, termasuk sekeping logam yang diserah simpan di bingkai tingkap kokpit, penyiasat berkata.
Mereka berkata bahawa panggilan telefon menunjukkan pemberontak pro-Rusia di Ukraine meminta bahawa sistem peluru berpandu permukaan-ke-udara diserahkan dan melaporkan ketibaannya dari Rusia, dan saksi yang dinyatakan melihat sistem peluru berpandu Buk dalam transit ke wilayah pemberontak. Tidak lama selepas peluru berpandu dipecat, sistem Buk itu Reloaded ke trak dan dibawa kembali ke Rusia.
Saksi berhampiran tapak pelancaran yang dikenal pasti - di ladang berhampiran Pervomaiskyi - saw dan gambar jejak pemeluwapan peluru berpandu, kata laporan itu.
Para penyiasat juga berkata mereka meyakinkan boleh menolak kemungkinan bahawa pesawat lain, bukan peluru berpandu permukaan-ke-udara, ditembak jatuh pesawat. data radar dari Rusia dan Ukraine, dan juga maklumat yang diberikan oleh Amerika Syarikat, menunjukkan tidak ada pesawat lain menggunakan penerbangan itu pada masa kemalangan itu, penyiasat berkata.
Reports of the Russian military helping pro-Russian separatist fighters in Ukraine are common — but can be hard to confirm. Russia
denies
that its soldiers are fighting in Ukraine.
Baru Ostrovsky ini
dokumentari
,
Soldiers Selfie,
menceritakan perjalanannya jejak langkah
daripada Bato Dambaev, yang dia hendak mengesahkan telah menyenaraikan dalam tentera Rusia.
Dia kemudian menghubungi Dambaev langsung.
NAIB News wartawan
Simon Ostrovsky
memutuskan untuk menjejaki semula langkah-langkah seorang askar - seperti yang didokumenkan dalam jawatan media sosial askar - untuk melihat di mana sebenarnya tentera telah, dan jika ini mungkin membantu mengesahkan penglibatan langsung Rusia di Ukraine.
Filem ini susulan kepada kerja baru-baru oleh Majlis Atlantik, Washington, DC, pemikir yang mengeluarkan
laporan
bergantung kepada maklumat sumber terbuka untuk mengesan dan mengesahkan lokasi foto dan video tentera Rusia dan peralatan telah diambil di Ukraine.
"Saya mahu mencari apa-apa cara untuk dapat untuk mengesahkan apa yang cukup banyak semua orang sudah percaya, yang adalah bahawa kerajaan Rusia telah terlibat secara langsung dalam konflik di timur Ukraine," Ostrovsky memberitahu NPR Arun Rath.
"Dan ia hanya berlaku untuk menjadi bahawa ia adalah tentera Rusia sendiri yang memberikan bukti yang secara tidak sengaja, dengan menyiarkan gambar-gambar diri mereka dalam talian di Ukraine," katanya. "Dan ia tidak boleh menjadi lebih mudah. ​​Jadi ada ia."
---
Sorotan temuduga
Mengenai bagaimana dia mendapati Bato Dambaev
Kita bekerja bersama-sama dengan Majlis Atlantik dan Elliott Higgins, siapa yang seorang wartawan warganegara yang sudah geolocating - yang mengatakan, mencari lokasi gambar - untuk masa yang lama, sehingga kita dapati seorang yang pernah memuat naik gambar dirinya dalam kawasan yang kelihatan seperti ia adalah medan perang dan berbeda dengan segala gambar-gambar lain yang dia hendak mencatatkan dirinya.
Jadi apabila kita melihat bahawa terdapat gambar ada yang kelihatan banyak seperti ia mungkin telah diambil di Ukraine, kami mula memberi tumpuan kepada askar ini. ... Kami dikesan keseluruhan perjalanannya dari Siberia, 4000 batu jauhnya, ke timur Ukraine.
Beliau menafikan segala-galanya. Saya fikir beliau sebenarnya telah disediakan, kerana semua askar, yang mereka sepatutnya mengambil kira kebesaran mereka sebelum mereka pergi ke Ukraine. Mereka sepatutnya tidak mengambil telefon bimbit dengan mereka.Dia akan dipecahkan peraturan itu, jadi dia tahu bahawa dia dalam kesusahan.
Saya tahu bahawa dia melaporkan saya telah menghubungi beliau selepas saya bercakap dengan dia di telefon. Dan ini tidak ada di dalam filem itu, tetapi beberapa jam selepas saya meletakkan telefon ke bawah, perkhidmatan keselamatan datang dan membayar saya melawat di hotel saya dan saya pada dasarnya diburu oleh mereka keluar dari Rusia selepas itu.
Pada Russia menafikan peranannya dalam Ukraine
Ia adalah satu isu yang amat sensitif, penyertaan tentera Rusia di Ukraine, kerana semua orang dari Putin ke bawah menafikan bahawa ia berlaku. Jadi sehingga Russia faham, sehingga kerajaan Rusia mengakui bahawa ia mengambil bahagian dalam konflik itu, saya tidak fikir ada akan menjadi apa-apa jenis resolusi. Dan saya berharap bahawa filem ini membawa kita sedikit lebih dekat, sekurang-kurangnya, untuk yang jenis pengakuan bahawa ia berlaku. ...
One ... cara saya berfikir Rusia cuba untuk mengelakkan ini jenis pelaporan Saya telah memohon akreditasi wartawan, yang saya telah dapat untuk mendapatkan sebelum ini, bagi tahun lepas, lebih setahun. Dan ia adalah beberapa hari selepas saya pada dasarnya ditolak keluar dari Rusia yang saya akhirnya mendapat e-mel mengatakan bahawa saya akan dinafikan wartawan kertas kerja.
Penjelasan tidak pernah diberikan kepada saya, dan saya rasa ini adalah satu kaedah tambahan bahawa kerajaan menggunakan untuk menghalang laporan mengenai aktiviti-aktivitinya di Ukraine.