china daily, propaganda rag of the murderous thugs of the Beijing ruling cabal including prc president xi. One can be sure they have not covered the recent kidnappings and arrest of Chinese journalist and liberal politicians and their families fairly or accurately. (
The novelist Murong Xuecun has written that China's president President Xi Jinping may be more paranoid than those who came before him. )
If the prc did not have human rights violations to hide they would not have to resort to this kind of propaganda ploy. The photo above is from the protest in Hong Kong on 3 JUN 14 marking the 25th anniversary of the Tiananmen Square massacre, more photes below. From +Foreign Policy & +Business Insider & +CNN .....
With China's president in town to talk nuclear security, students handed out Beijing-backed China Daily.
Several dozen Chinese students have fanned out across Washington, DC and its suburbs as part of a social media-powered outreach campaign on behalf of
China Daily
, a state media outlet funded by Beijing that aims to engage an international audience. The effort coincides with the 2016 Nuclear Security Summit, a high-level annual forum held this year in Washington, DC. World leaders have converged in the U.S. capital, including Chinese President Xi Jinping, whose arrival has turned out
throngs
of pro-China demonstrators, some in red vests.
On March 31 and April 1,
China Daily
appears to have organized a group of Chinese students from universities in the Washington area to pass out copies of the newspaper, which is largely funded from Beijing and espouses views and analysis in close keeping with the Chinese Communist Party line.
The students formed a group called "China Daily Greater Washington Back-up Group," using WeChat, a popular Chinese mobile messaging app also available in the United States, to help coordinate the newspaper's distribution. The group has 69 members, using online handles identifying them as students at schools in or near Washington, including George Mason University, George Washington University, Johns Hopkins University, and the University of Maryland. One student who stood in front of the Omni Shoreham Hotel, which is hosting Xi, granted access to the WeChat group to a
Foreign Policy
reporter.
China Daily
's U.S. operations
have not responded to several phone messages and an email seeking immediate comment.
The student outside of Xi's hotel told
FP
that
China Daily
had organized students in the area to help distribute the newspaper.
China Daily
had instructed the students to ask those who accepted a paper to pose with it for a photograph; participants have then posted those photos to their WeChat group. On the afternoon of April 1, they shared with one another more than a dozen photos of people on streets in and around Washington, DC holding copies of the
China Daily
print edition.
Throughout the day on April 1, members also texted each other to ask questions, seek help, share photos, and share tips about where to distribute papers.
"It's really hard to pass these out today," wrote one user.
"Yeah," concurred another. "There aren't as many people. For classmates who haven't yet handed out all the papers, you can try asking bus drivers. They usually take some to put in the bus for passengers to read."
"I'm where all the museums are," wrote another. "There are lots of tourists here."
Although the student who spoke with

FP

identified herself as volunteer, at least one post in the WeChat group suggested that the students received cash in exchange for their work.
"I h
"I hired a person to help me pass out newspapers," wrote one student. "He's homeless. I said, 'you can't get something without working, if you help me pass out newspapers I'll divide my salary with you.' He was really happy." The user then posted a photo of the homeless man carrying a stack of

China Daily

copies.
Forty-five minutes later, the user reported that the newspapers had all been handed out. "It was a whim, but what a great result! Half an hour, 150 copies. This black dude is a true sales champion."
Another student suggested that participants go into metro stations to pass out the papers. But another replied that wouldn't work. "Yesterday when I was distributing, police kicked me out."
China Daily
is a significant part of China's efforts to project influence abroad. Itboasts 13 publications in English alone, and its U.S. edition has
become a regular and visible presence for many residents of Washington, DC; on-street news boxes selling the papers are easy to spot downtown. But it's rare to see individuals handing out copies.
According to its website,
China Daily
seeks
"to provide a unique window into China by giving the Chinese perspective on the major financial, political and social issues that affect China and the United States today." In 1983, China Daily Distribution Corporation, funded by
China Daily
of Beijing,
registered
as a foreign agent in the United States. Its latest statement filed with the Department of Justice, from November 2015,
stated
that
China Daily's
U.S. operations has spent over $6.5 million over the six months prior to filing. Most of its money over that period came from its controlling entity in Beijing, which sent funds approximately each month for printing expenses.
Reuters
This Thursday, June 4, marks the 26th anniversary of the pro-democracy student protests that led to bloodshed in
China's Tiananmen Square
in 1989.
China has done its best to scrub the event from collective memory.
On the major 25th anniversary last year, China went to great lengths to censor discussion about the tragedy, when Chinese troops killed unarmed civilians in the center of Beijing. (The
exact death toll is in dispute
, but some estimate that more than 1,000 pro-democracy protesters were killed.)
In an apparent effort to keep people from recalling the violence, China took the drastic measure last year of blocking
access to Google in the country
. The country also took measures to quell protestors themselves. For example, Chinese authorities arrested a well-known artist named Guo Jian after he created a diorama of
Tiananmen Square covered in ground meat
.
We've gathered some of more iconic images to remember the historic event.
Adam Taylor wrote the original version of this post.
The protests began in April of 1989, after the death of ousted General Secretary Hu Yaobang.
AP
Many saw Hu as a reformer. He had the support of students, who wanted the Chinese government to continue his pro-market and pro-democracy policies.
AP
Following Hu's official state funeral, some 100,000 students gathered in the Beijing's central square.
AP
An anti-protest editorial in People's Daily on April 26 enraged the students further.
AP
Renmin ribao
(People's daily) editorial (printed April 26, 1989)
Beijing Domestic Service reported 0930 GMT, April 25; Foreign Broadcast Information Service, April 25, pp. 23-24.
In their activities to mourn the death of Comrade Hu Yaobang, communists, workers, peasants, intellectuals, cadres, members of the People's Liberation Army and young students have expressed their grief in various ways. They have also expressed their determination to turn grief into strength to make contributions in realizing the four modernizations and invigorating the Chinese nation.

Some abnormal phenomena have also occurred during the mourning activities. Taking advantage of the situation, an extremely small number of people spread rumors, attacked party and state leaders by name, and instigated the masses to break into the Xinhua Gate at Zhongnanhai, where the party Central Committee and the State Council are located. Some people even shouted such reactionary slogans as, Down with the Communist Party. In Xi'an and Changsha, there have been serious incidents in which some lawbreakers carried out beating, smashing, looting, and burning.

Taking into consideration the feelings of grief suffered by the masses, the party and government have adopted an attitude of tolerance and restraint toward some improper words uttered and actions carried out by the young students when they were emotionally agitated. On April 22, before the memorial meeting was held, some students had already showed up at Tiananmen Square, but they were not asked to leave, as they normally would have been. Instead, they were asked to observe discipline and join in the mourning for Comrade Hu Yaobang. The students on the square were themselves able to consciously maintain order. [Beijing Xinhua Domestic Service in Chinese at 1400 GMT on April 25, reporting on the April 26 Renmin ribao editorial, deletes this sentence.] Owing to the joint efforts by all concerned, it was possible for the memorial meeting to proceed in a solemn and respectful manner.

However, after the memorial meeting, an extremely small number of people with ulterior purposes continued to take advantage of the young students' feelings of grief for Comrade Hu Yaobang to spread all kinds of rumors to poison and confuse people's minds. Using both big- and small-character posters, they vilified, hurled invectives at, and attacked party and state leaders. Blatantly violating the Constitution, they called for opposition to the leadership by the Communist Party and the socialist system. In some of the institutions of higher learning, illegal organizations were formed to seize power from the student unions. In some cases, they even forcibly took over the broadcasting systems on the campuses. In some institutions of higher learning, they instigated the students and teachers to go on strike and even went to the extent of forcibly preventing students from going to classes, usurped the name of the workers' organizations to distribute reactionary handbills, and established ties everywhere in an attempt to create even more serious incidents.

These facts prove that what this extremely small number of people did was not to join in the activities to mourn Comrade Hu Yaobang or to advance the course of socialist democracy in China. Neither were they out to give vent to their grievances. Flaunting the banner of democracy, they undermined democracy and the legal system. Their purpose was to sow dissension among the people, plunge the whole country into chaos and sabotage the political situation of stability and unity. This is a planned conspiracy and a disturbance. Its essence is to, once and for all, negate the leadership of the CPC and the socialist system. This is a serious political struggle confronting the whole party and the people of all nationalities throughout the country.

If we are tolerant of or conniving with this disturbance and let it go unchecked, a seriously chaotic state will appear. Then, the reform and opening up; the improvement of the economic environment and the rectification of the economic order, construction, and development; the control over prices; the improvement of our living standards; the drive to oppose corruption; and the development of democracy and the legal system expected by the people throughout the country, including the young students, will all become empty hopes. Even the tremendous achievements scored in the reform during the past decade may be completely lost, and the great aspiration of the revitalization of China cherished by the whole nation will be hard to realize. A China with very good prospects and a very bright future will become a chaotic and unstable China without any future.

The whole party and the people nationwide should fully understand the seriousness of this struggle, unite to take a clear-cut stand to oppose the disturbance, and firmly preserve the hard-earned situation of political stability and unity, the Constitution, socialist democracy, and the legal system. Under no circumstances should the establishment of any illegal organizations be allowed. It is imperative to firmly stop any acts that use any excuse to infringe upon the rights and interests of legitimate organizations of students. Those who have deliberately fabricated rumors and framed others should be investigated to determine their criminal liabilities according to law. Bans should be placed on unlawful parades and demonstrations and on such acts as going to factories, rural areas, and schools to establish ties. Beating, smashing, looting, and burning should be punished according to law. It is necessary to protect the just rights of students to study in class. The broad masses of students sincerely hope that corruption will be eliminated and democracy will be promoted. These, too, are the demands of the party and the government. These demands can only be realized by strengthening the efforts for improvement and rectification, vigorously pushing forward the reform, and making perfect our socialist democracy and our legal system under the party leadership.

All comrades in the party and the people throughout the country must soberly recognize the fact that our country will have no peaceful days if this disturbance is not checked resolutely. This struggle concerns the success or failure of the reform and opening up, the program of the four modernizations, and the future of our state and nation. Party organizations of the CPC at all levels, the broad masses of members of the Communist Party and the Communist Youth League, all democratic parties and patriotic democratic personages, and the people around the country should make a clear distinction between right and wrong, take positive action, and struggle to firmly and quickly stop the disturbance.
By May 13, a hunger strike had begun and the crowd had grown to 300,000 people.
AP
Martial Law was declared on May 20.
AP
The People's Liberation Army (China's military) marched on Beijing, only to withdraw a few days later. Protesters would lecture the soldiers, asking them to join their cause.
AP
The student protest became split around this time, with no clear leader.
AP
But the students and their supporters were clearly occupying Beijing's central square.
AP
They even unloaded a 30-foot styrofoam statue, modeled on the Statue of Liberty, in the square.
AP
Protestors mocked government "bribes" for pro-government marches.
AP
Troops began clearing the square at the start of June.
AP
AP Photo/Jeff Widener
Most were unarmed but some had rocks and other weapons.
AP Photo/Jeff Widener
AP
Officially, 241 people died.
Other numbers, ranging into the thousands, have circulated, with none confirmed. Many of the deaths happened outside the square, with soldiers firing directly at unarmed protesters.
Many more were injured.
REUTERS/Shunsuke Akatsuka
The iconic footage of a man standing up to a PLA tank occurred the next day.
AP
This shot shows the man from another angle. He was reportedly whisked aside by onlookers, but it was unclear what became of him or who he was.
Tens of thousands of people were arrested after the protests, and an unknown number were likely executed.
Officially China still tries to ignore the legacy of the event, with searches on the popular Chinese microblogging site Weibo banned today.
AP
Around this time last year, five Chinese dissidents testified before U.S. lawmakers about the horror of seeing friends shot dead 25 years ago.
AP
Other Chinese people remember the massacre as it was filtered through the country's state-run TV stations.
AP
The novelist Murong Xuecun has written that China's president President Xi Jinping may be more paranoid than those who came before him.
AP
Despite the paranoia on mainland China, there were still relatively robust protests in Hong Kong last year. "We will never forget the Tiananmen massacre, because until now there's been no justice," one woman reportedly said while marching through Hong Kong.
Tiananmen Square Protests
Now check out all the words vaguely related to Tiananmen Square.
AP Photo/Ng Han Guan
Updated 12:03 AM ET, Tue June 3, 2014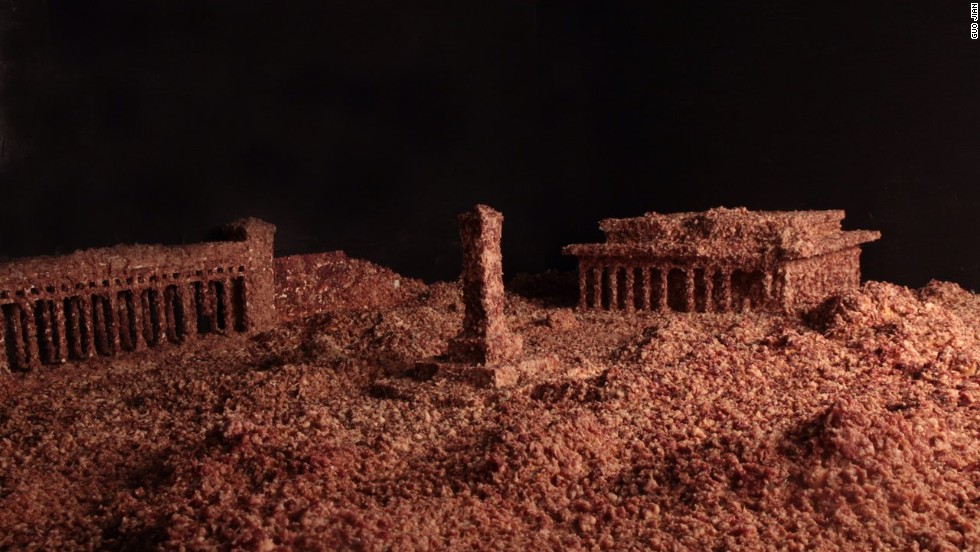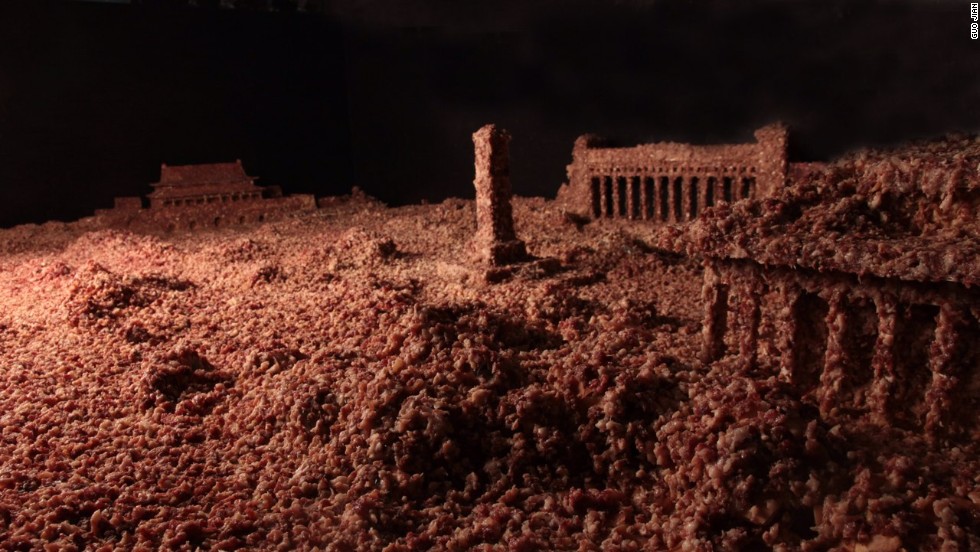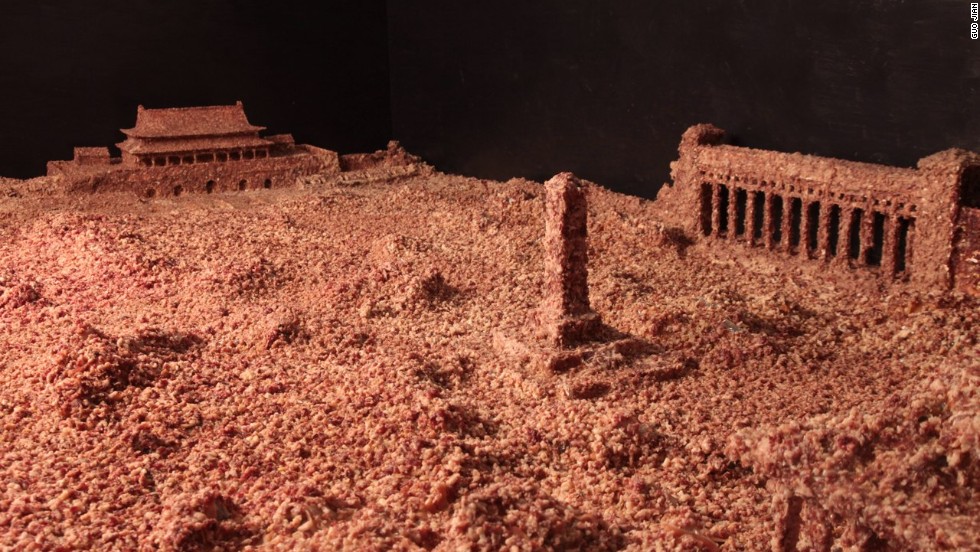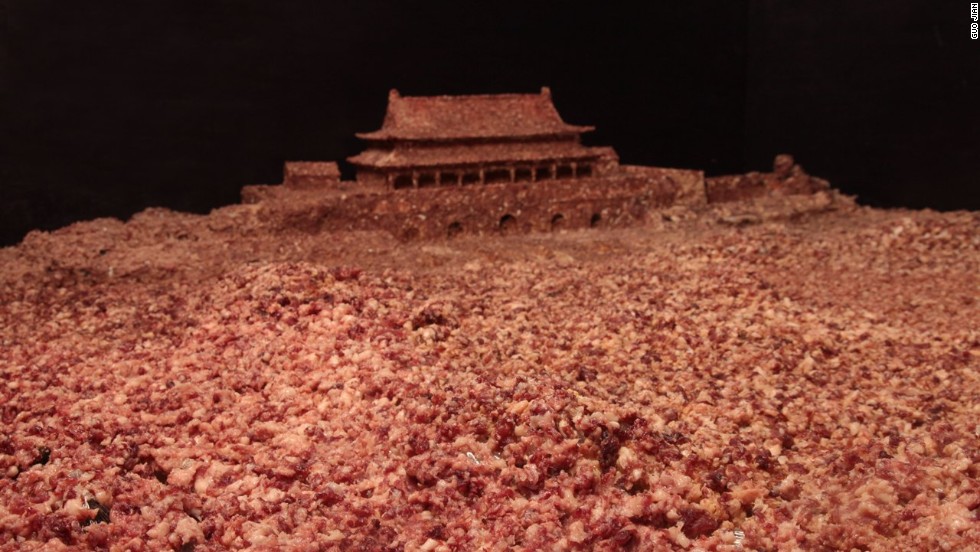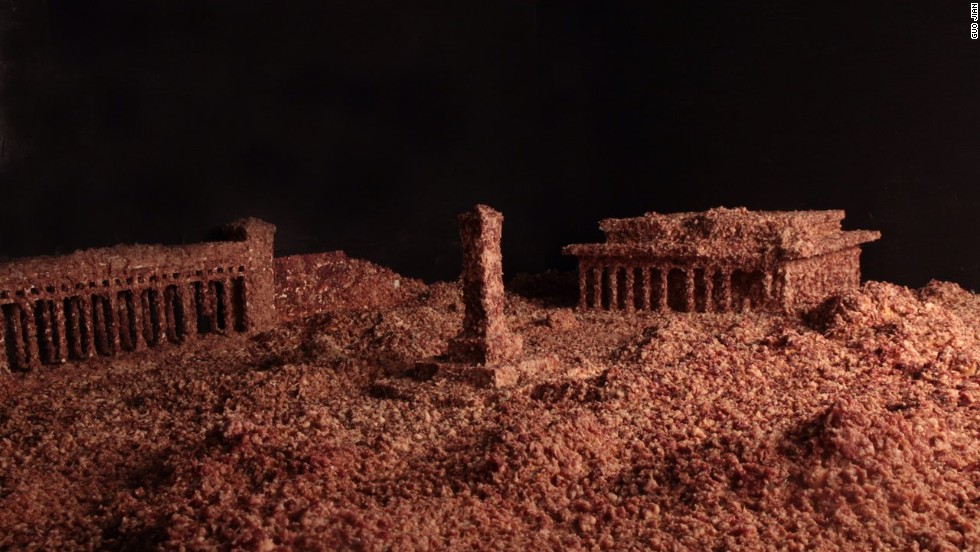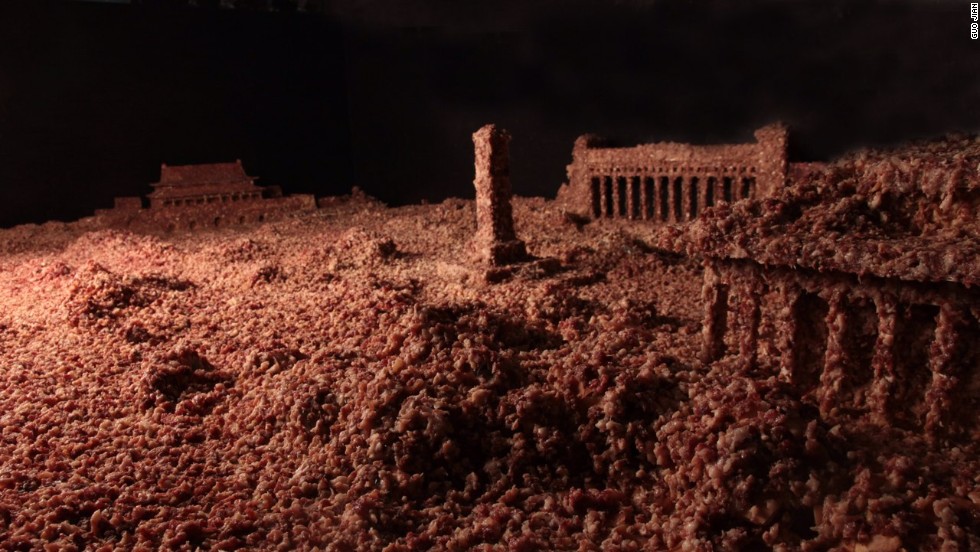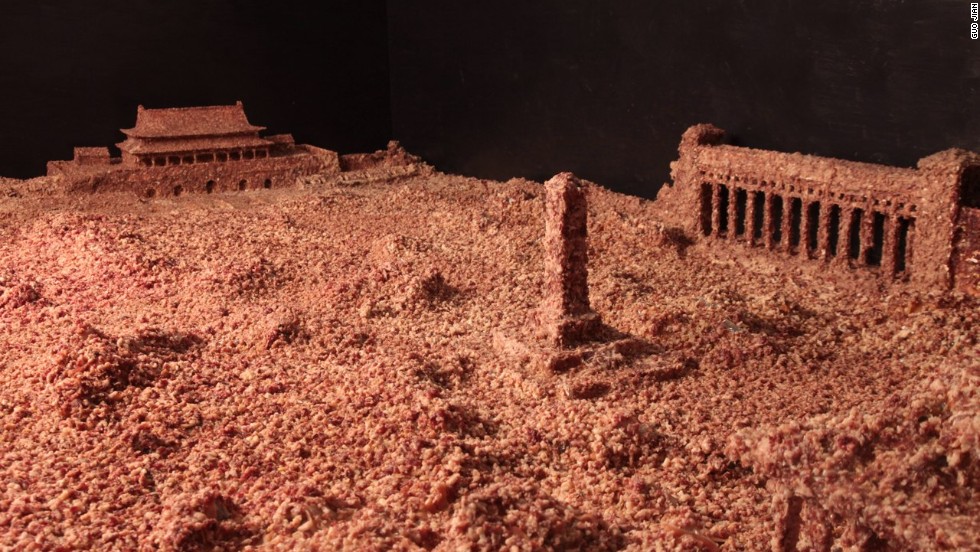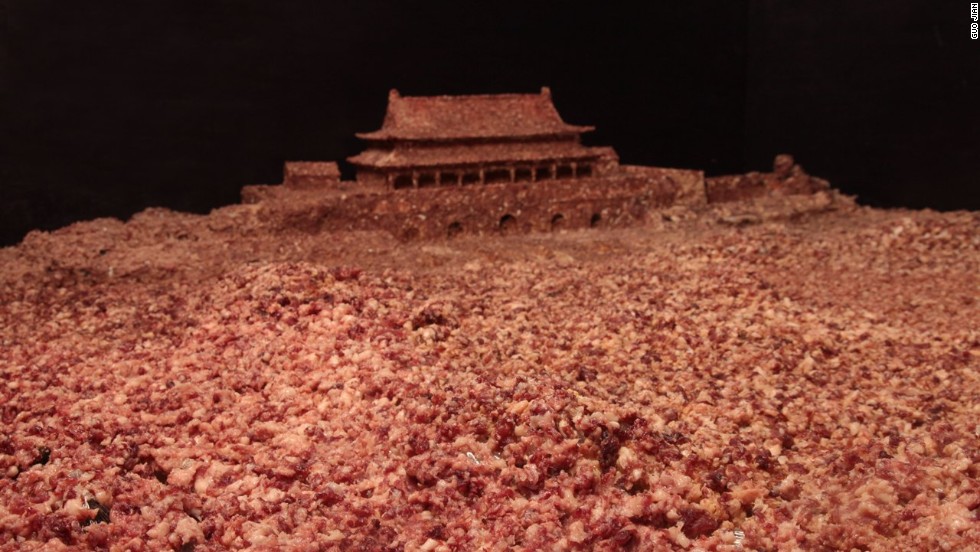 Story highlights
Artist Guo Jian detained by Chinese authorities
Detention comes after publication of article in which artist criticized Chinese army
Guo was a protester at the 1989 Tiananmen crackdown
Latest artwork a commemoration of events in which hundreds of protesters were killed
Prominent Chinese-Australian artist Guo Jian has been detained by Chinese authorities ahead of the 25th anniversary of the Tiananmen crackdown, according to friends.
His arrest came soon after the artist was profiled in a Financial Times article, which featured his latest installation -- a diorama of
Tiananmen Square
covered in ground meat.
In the article, Guo was highly critical of the People's Liberation Army's (PLA) actions during the 1989 incident, in which he served in the late 1970s.
Guo was taken from his home in eastern Beijing on Sunday night, and contacted friends by text message to let them know that he had been arrested.
Friends contacted by text message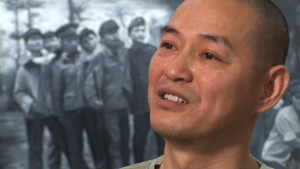 Artist Melanie Wang told the
Sydney Morning Herald
she called Guo after receiving a text message and he told her he'd been taken to a detention center. He said officers said he'd be released in 15 days.
Guo was an active participant in the 1989 demonstrations, which lasted weeks and culminated in PLA troops opening fire on a largely student crowd which had occupied the central Beijing landmark. Guo, it was revealed in the FT's "Lunch with the FT" article, published on May 30, also took part in a hunger strike at the time of the student protests.
Another of Guo's friends told CNN he phoned the artist Sunday night to talk about the FT article. After receiving no answer, the artist sent a message back, saying that he was "with police" and then a following SMS saying, "don't call me."
Following this, the friend received another message, this time in Chinese, saying he had gone to Tongzhou police station, near the Songzhuang art colony where he lives and works.
"I would characterize his (new artwork) as somewhat provocative so I assume that, plus the month we are in, and imminent anniversaries, might have had something to do with it," the friend said. The person added that Guo was well aware of the risks that creating art of this nature might engender.
"The purpose of the installation was a commemoration of the Tiananmen massacre. He's not naïve about this stuff, he's fully aware of how things can go down."
Prior to finishing the project, Guo asked the friend not to tell anyone about it, for fear that the authorities would stop him from working on it.
The Australian government released a statement Monday, offering its assistance to the artist, who holds an Australian passport.
"The Australian Embassy in Beijing has contacted Chinese authorities to seek further information on the reported detention of Mr Guo Jian and to underline our strong interest in the matter," a spokesperson for the Department of Foreign Affairs and Trade said. "The Australian Government stands ready to extend all possible consular assistance to Mr Guo."
Amnesty International released a statement Monday condemning Guo's arrest, and noted that detentions have been on the rise in the build up to the 25th anniversary, compared to previous years.
Authorities across the country have arrested a number of prominent dissidents and critics of the government ahead of the anniversary of the massacre, which falls on June 4.
"Guo Jian is the latest victim of the Chinese authorities' merciless campaign of repression ahead of the Tiananmen anniversary," said William Nee, China Researcher at Amnesty International.
"He along with the scores of others detained for peacefully speaking out about the bloodshed of 1989 must be immediately released."
"Highest" levels of freedom
When asked about criticism of China's human rights record, Ministry of Foreign Affairs Spokesperson Hua Chunying
previously told
CNN that human rights shouldn't been viewed in the "criteria of the United States."
"Our society is moving forward, the living standards of people have improved and level of freedoms are at their highest," she said.
In the FT article, Guo recalled the moment, 25 years ago, when troops opened fire on the Tiananmen demonstrators. "I didn't believe it, even though I had been a soldier," Guo is reported as saying.
"In the army I had never seen that sort of violence. Then I saw the tracers and people falling around me -- they were just gone. I suddenly realised, shit, this was war."
No official count has ever been released, but estimates of the dead in the incident range from hundreds to thousands, most of whom were killed by PLA soldiers.