WE are not the only nation working against the extreme right wing fascist rhetoric of politicians feigning Christianity and patriotism while campaigning for election to office at all levels of government. Germany, in a move supported by a vast majority of the citizenry, opened it's borders to approximately 1,000,000 refugees, mostly from the Middle East, mostly Muslim. The German government and the German people have welcomed the refugees and are working to integrate them into German society with social welfare programs and education. This from +Sojourners & +Christianity Today .....
German Cardinal Tarred as 'Antichrist' for Defending Muslims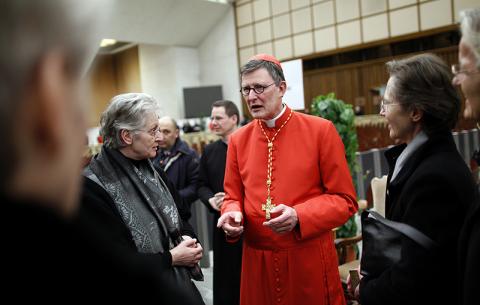 A German Catholic leader's defense of religious freedom has triggered a backlash following anti-Muslim statements by far-right politicians in the country.
Editor-in-Chief Ingo Brueggenjuergen of the Catholic broadcaster Dom Radio, which ran the interview with Archbishop Rainer Maria Woelki of Cologne earlier this week, said in a
commentary
April 27 that some critics are claiming the cardinal is out to destroy the Catholic Church.
"These self-appointed saviors of the Christian West who are looking for an absolute antichrist should take a look in the mirror," he said. The editor added that in his views, Woekli was "in good company" with Pope Francis and his immediate predecessors who talked about Muslims as brothers in faith.
In an online video earlier this week, Woelki tarred the far-right Alternative for Germany party as fear-mongers.
"Anyone who denigrates Muslims as the AfD leadership does should realize prayer rooms and mosques are equally protected by our constitution as our churches and chapels," he said, according to a
translation
of his remarks.
"Whoever says 'yes' to church towers must also say 'yes' to minarets," he added.
"Never again must people in this country be marginalized or persecuted for their race, ethnicity, or religion."
Earlier this month the AfD's deputy leader, Beatrix von Storch, described Islam as a "political ideology" and vowed to press on with calls to ban burqas and minarets.
The Catholic archbishop's comments follow AfD making ground in local elections on a platform which took aim at refugees and migrants entering Germany. The party's leader in Brandenburg, Alexander Gauland, has said the country is in danger from "Islamization."
"Islam is not a religion like Catholic or Protestant Christianity, but rather intellectually always associated with the takeover of the state," he was quoted by Reuters as saying.
Support for AfD has grown amid the influx of over 1 million immigrants to Germany last year. The party has so far won seats in eight regional assemblies.
Meanwhile, mainstream politicians are worried about right-wing attacks on migrants. German police near Dresden recently arrested five people they suspect of forming a far-right militant group and preparing attacks on asylum seekers using explosives.
Harry Farley
JUNIOR STAFF WRITER
"Then the King will say to those on his right, 'Come, you who are blessed by my Father; take your inheritance, the kingdom prepared for you since the creation of the world. For I was hungry and you gave me something to eat, I was thirsty and you gave me something to drink, I was a stranger and you invited me in, I needed clothes and you clothed me, I was sick and you looked after me, I was in prison and you came to visit me.'
"Then the righteous will answer him, 'Lord, when did we see you hungry and feed you, or thirsty and give you something to drink?

When did we see you a stranger and invite you in, or needing clothes and clothe you? When did we see you sick or in prison and go to visit you?'
"The King will reply, 'Truly I tell you, whatever you did for one of the least of these brothers and sisters of mine, you did for me.' — Matthew 25: 34-40
Although there might be many political, financial, and logistical reasons for citizens to reject the influx of global refugees, there are no theological ones. It may be inconvenient, uncomfortable, and extremely hard, but Jesus wants us to care for these people — the poor, homeless, sick, persecuted, downtrodden, and oppressed.
These people: individuals deeply loved by God and created in God's Divine image.
Whether you like it or not, Christians are called to help the world's most abused, hurt, helpless, exploited, and destitute.
If you're a follower of Christ passionate about social justice, of if you attend a church that claims to be enthusiastic about global missions, or if you're part of a Christian organization that facilitates ministry, you've been handed a golden opportunity — the ability to minister to millions of people in desperate need.
This is a chance to be radically countercultural — to glorify Christ through selfless sacrifice, hospitality, and love. Being a Christ-follower isn't easy, and it will require hard work, but it's worth it.
But Satan wants to divide humanity — to instill fear, hatred, and distrust. So he'll attempt to demonize the innocent and falsely accuse them of being violent, evil, and dangerous. We'll be provided with an infinite — sometimes even logical-sounding — amount of excuses to do nothing, to protect ourselves, and to withhold the love of Christ.
But imagine if Jesus limited his ministry based upon the conditions of comfort and security:
There would be no traveling through Samaria — too hazardous. No interacting with foreigners — too dangerous. No helping strangers — too risky. No healing the sick — too unsafe. No attracting crowds — too insecure. No performing miracles — too perilous. No public speaking — too unprotected. No giving to the poor — too wasteful.
No interacting with outcasts — too socially unacceptable. No disciples — too untrustworthy. No generosity — too wasteful. No grace — too weak. No forgiveness — too soft. No death on the cross — too painful (to say the least).
If Jesus used the same stipulations for love that we do, the gospel never would have existed, because almost every single experience Jesus put himself in required risk, sacrifice, and vulnerability. And instead of being fueled by fear, Jesus was fueled by hope.
Jesus wants
us
to have a similar mentality and calls
us
to bravely embrace a similar vulnerability. Christianity isn't meant to be a religion of passivity and inaction, where we cynically seek out worst-case scenarios or see an obvious need right in front of us and do nothing. Instead, God wants us to follow God's example, even if it means giving things up — possibly even our own lives.
The Christian solution to the refugee problem isn't going to be the easiest, or most efficient, or most plausible, or most popular — but it should be the most loving.
By rejecting refugees, we are rejecting Christ, and we're condemning millions of people — deeply loved creations of God — to more misery.
It may cost us wealth, comfort, time, energy, and even our sense of well-being, but this is what following Jesus means: to love our neighbors as ourselves, to love refugees.