PRINCE. When his death was announced on 21 APR 16 we heard what it sounds like when the doves cry. He died too young, it will be a while for the grief his family's and friends' grief begins to subside. And he leaves a hole in the Minnesota and world music scene that nobody will be able to fill. Godspeed Prince, and thank you....From +NPR & +Sojourners
Prince, the iconic gender- and genre-busting musician, died on Thursday.
We've covered the news here
. But there's also no better way to remember the star than through his performances. Here are four that you should watch right now.
Prince's biggest hit was released in 1984, as the lead single to his album Purple Rain. "When Doves Cry" spent five weeks at No. 1 on the Billboard Hot 100 and in some ways speaks not only to the impeccable craft of Prince's melodies but also to the power of his iconography.
1. 'When Doves Cry'
Prince's biggest hit was released in 1984, as the lead single to his album
Purple Rain
.
"When Doves Cry"
spent five weeks at No. 1 on the
Billboard
Hot 100 and in some ways speaks not only to the impeccable craft of Prince's melodies but also to the power of his iconography.
2. Super Bowl XLI Halftime Performance
Published on Feb 12, 2016
A tribute to a legend that has passed too soon, take a look back at Prince's iconic Super Bowl XLI Halftime Show through a rain and wind storm.

Setlist included: "We Will Rock You", "Let's Go Crazy", "Baby I'm a Star", "Proud Mary", "All Along the Watchtower", "Best of You", and "Purple Rain"
3. Rock And Roll Hall Of Fame Performance
Prince was not only a singular performer but was also a spectacular musician. In 2004, during his induction to the Rock and Roll Hall of Fame, he joined Tom Petty and Steve Winwood onstage for a rendition of George Harrison's

While My Guitar Gently Weeps

. He didn't touch a microphone yet still stole the show shredding on his electric guitar. It starts at 3:33.

Published on Apr 10, 2012

Prince, Tom Petty, Steve Winwood, Jeff Lynne and others perform "While My Guitar Gently Weeps" at the 2004 Hall of Fame Inductions.

http://rockhall.com/
4. 1982 Performance Of 'I Wanna Be Your Lover'
"

I Wanna Be Your Lover

" was Prince's first hit, reaching No. 1 on the R&B charts in 1979. This is a 1982 performance that starts off with that hit and then builds into the kind of visceral performance that made him an icon.

Prince - I Wanna Be Your Lover

Recorded Live: 1/30/1982 - Capitol Theatre (Passaic, NJ)

More Prince at Music Vault:

http://www.musicvault.com/

ic
Prince — the Purple One, who reeled off pop hits in five different decades — has died at age 57. The shocking news was confirmed by Prince's publicist after reports that police were investigating a death at his Paisley Park compound outside Minneapolis.
"It is with profound sadness that I am confirming that the legendary, iconic performer Prince Rogers Nelson has died at his Paisley Park residence this morning at the age of 57," publicist Yvette Noel-Schure said. "There are no further details as to the cause of death at this time."
Reporting from Paisley Park on Thursday, Andrea Swensson tells
Minnesota Public Radio
that she was among a few dozen people who had gathered at Prince's estate after hearing of a death there — and that "even the journalists are hugging each other" after hearing that Prince died.
Swensson, who had met Prince and spent time with him as part of a retrospective about his film Purple Rain, described him as being "shy, sensitive — and flirtatious."
News of Prince's death emerged after police said Thursday that they were investigating a death at his compound in Chanhassen, Minn., with the Carver County Sheriff's Office saying that deputies were on the scene.
The department said via a statement, "When deputies and medical personnel arrived, they found an unresponsive adult male in the elevator. First responders attempted to provide lifesaving CPR, but were unable to revive the victim. He was pronounced deceased at 10:07 am."
The sheriff's office later released a transcript of the 911 call that brought personnel to the scene. The dispatcher had to press the caller — who was on a cellphone — for a street address, which the caller didn't know. Eventually the caller said it was Paisley Park, and the dispatcher knew where that was and was able to send an ambulance. Authorities have given no indication that any delay affected the outcome.
TMZ reports
that Prince had recently had health problems:
Prince was just 19 when he released his first album, putting out For You in 1978. In the decades that followed, he went on to develop a unique sound and style that endeared him to generations of audiences — all while exploring new ground as an artist.
that Prince also endeared himself to those he encouraged: "African-Americans rocking out."
"You had to be stuck in a box," Valadez says of 1980s music culture. "Even Michael [Jackson] faced a lot of that, trying to get his videos on MTV. And you had this African-American man standing with a guitar, and, man, it was just powerful, you know? It was just really powerful."
Prince's fifth album, 1999, exploded onto America's music scene. Released in 1983, it included such hits as "Little Red Corvette" and "1999." It also set the stage for Purple Rain, the 1984 movie and soundtrack packed with songs such as "When Doves Cry" and "Let's Go Crazy" that became fixtures on the radio and established Prince as a pop culture icon.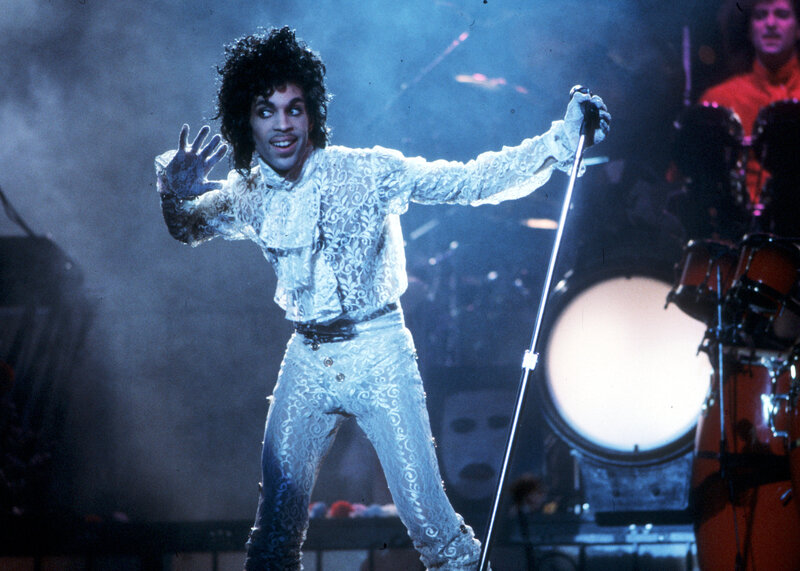 I'm in love with God, he's the only way / 'Cause you and I know we gotta die some day / If you think I'm crazy, you're probably right

—"Let's Pretend We're Married"

Prince Rogers Nelson, the artist known as "Prince," has died. The music icon passed away at his home in suburban Minneapolis on Thursday, according to his publicist. He was 57.

Know for his flamboyant stage presence and innovative blend of funk, rock, and R&B styles, Prince released 39 albums over the course of his life, winning seven Grammys and an Oscar. His album Purple Rain, created for a film of the same name, is ranked among the greatest albums of all time, and includes the hits "When Doves Cry" and "Let's Go Crazy."

Rest in peace and power Prince.

While Prince's musical and theatrical talent is widely regarded, many may not know Prince was a deeply spiritual and religious man. Here are things to know about his faith life:
1. Prince grew up Seventh-day Adventist.
Prince, who was born Prince Rogers Nelson in 1958 in Minneapolis,

used to be Seventh-day Adventist

. The Seventh-day Adventist Church is similar to many Protestant denominations, though their observance of the Sabbath on Saturday, as well as their vegetarianism and healthy diets, distinguish them from other Christians.
2. Prince later became a Jehovah's Witness.
While Prince may have started out as a Seventh-Day Adventist, he later embraced the Jehovah's Witnesses. Back in 2003, a Minneapolis woman

reported answering her doorbell

to find two men offering her pamphlets and asking to come inside to talk about the Bible. One was Prince — whom she immediately recognized — and the other was Larry Graham of Sly and the Family Stone.

In addition,

according to The Guardian

, Prince may have foregone a much-needed double hip replacement because it would have required a blood transfusion. Jehovah's Witnesses are forbidden from having blood transfusions.
3. A faith-inspired activism pervades his music.
Prince may have sung a lot about sex, but he also sung about justice.

In 2015 Prince wrote "Baltimore," a song addressing the injustice surrounding the death of Freddie Gray. The lyrics repeated the refrain of many organizers: "If there ain't no just then there ain't no peace."

His 2010 song, "Compassion," similarly resisted the effects of racism, including the lyric, "Whatever skin you're in / we need to be friends / black and white and yellow, we can all be friends."

And in "Dear Mr. Man" — a song that quotes Jesus' sermon on the mount — Prince bemoans the deleterious effects of war, environmental waste, and oil obsession, calling instead for greater attention to welfare, AIDS, and affirmative action.

Cornel West once praised

how the music legend's spirituality and passion for justice intersect throughout Prince's performances: "His political evolution, which is grounded in a spirituality, but also connected to fundamental concern and care for poor and working people, positions him as an exemplary freedom fighter ... How rare it is that you see the best of both musical genius and freedom fighter in that way,"

said West

.
4. Prince didn't think either political party embodied God's word.
Prince didn't think that either the Republicans or the Democrats had the Bible figured out.

"So here's how it is: you've got the Republicans, and basically they want to live according to

this

," Prince

once told The New Yorker

, pointing to a Bible. "But there's the problem of interpretation, and you've got some churches, some people, basically doing things and saying it comes from here, but it doesn't. And then on the opposite end of the spectrum you've got blue, you've got the Democrats, and they're, like, 'You can do whatever you want.' Gay marriage, whatever. But neither of them is right."
5. Much of Prince's music was deeply Christian.
And perhaps most importantly, given Prince's own career as an artist, is his music itself.

"The amount of discussion of sex is this much,"

said one of Prince's biographers

, Touré, while holding his hands about one foot apart. "The amount of discussion of religion and spirituality and God and Jesus is this much," Touré said, doubling the distance between his hands.

When listening attentively to Prince's music, it's easy to see what Touré means. For example, in "Dear Mr. Man," Prince even cites Matthew's gospel:

Why poor people keep struggling
But you don't lend a helping hand
Matthew 5:5 say, "The meek shall inherit the Earth"
We gonna be down that way
But you been trippin' since a day of your birth

The song "I Would Die 4 U," contains numerous references to Christian themes like forgiveness, God's ineffability, and as the title suggests, dying in someone else's place:

I'll never beat u
I'll never lie
And if you're evil I'll forgive u by and by

U - I would die 4 u, yeah
Darling if u want me 2
U - I would die 4 u

I'm not your lover
I'm not your friend
I am something that you'll never comprehend