LOOK at this picture. It is tragic it is a picture of the funerals for the seven Hazaras who were kidnapped, held for months, then brutally murdered by isis. But really look at this picture, because it is a picture of the new Afghanistan. The people in this picture are angry, but they are not carrying guns. They are outraged over these murders, angry at the government for not controlling the entire nation and for not being able to protect all Afghans from islamic extremist. They are not attacking government offices, they are not attacking American or other foreign interest. They are mourning the deaths of seven fellow Afghans, demanding their government do more to confront and defeat isis. Not only are they mourning the deaths of seven fellow Afghans, they are mourning the continuing war in Afghanistan and islamic extremism. It seems these protesters are all men, though there may be some women among the crowd, women probably were not allowed to or were discouraged from participating. And it is doubtful there would be this kind of reaction if these were seven Afghan Christians murdered by isis. But this photo and the numbers of Afghans involved in this protest shows there is hope for Afghanistan, democracy has become part of the mind set of many of the Afghan people. From +NPR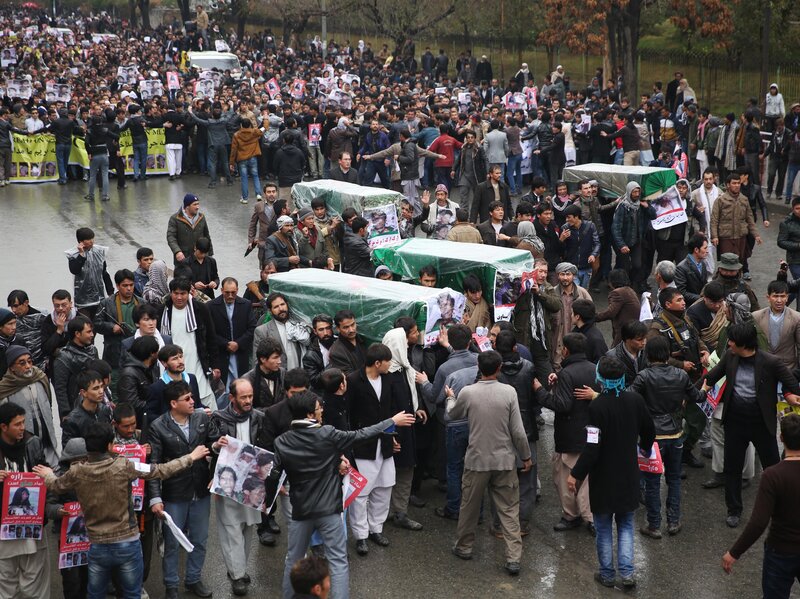 Thousands of demonstrators took to the streets in Kabul on Wednesday to demand justice after the brutal killings of seven members of a Shiite minority group. The protesters blame the deaths on Islamist militants. The crowd followed the coffins as they were carried toward the presidential palace in the center of the city.
NPR's Phillip Reeves reports for the Newscast unit:
"Officials say the victims include two women and a child. They'd been kidnapped months ago. Their bodies were found Saturday, dumped in southeastern Afghanistan, after being partially decapitated. The dead were members were Hazaras, an ethnic minority of Shiite Muslims who are regularly the target of sectarian attacks.
"Demonstrators told reporters that Hazaras are often attacked in areas of the country under Taliban control — and accused the government of failing to prevent this. Afghanistan's president Ashraf Ghani's condemned the killings, and promised an investigation."

The protest reached a boiling point when some marchers tried to climb over the presidential palace walls,
The Associated Press reports
. AP adds that the Afghan president's spokesperson said that guards fired gunshots and 10 people were wounded.
Most of the protesters dispersed after the gunshots, "but about 1,000 were allowed into the palace compound. About 30 of them were to meet with Ghani and members of his National Security Council later Wednesday to press demands for justice and security, according to organizer Lilia Mohammadi," the news service adds.