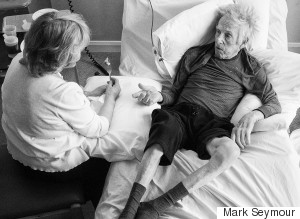 GREAT advise for Alzheimer's care givers, and most of it applies to those of us providing care for other family members too. From +huffingtonpost , and be sure to check out their Alzheimer's blog.....
Eric J. Hall
CEO of HealthCare Chaplaincy Network, Chairman of Alzheimer's Global Initiative
Establish a Routine. Make a routine that will keep the average day predictable, and therefore less confusing. If you have to schedule new activities during the day, put them during a time where your loved one tends to be most calm.
Reduce Distractions When Possible. Try to keep things simple. Reduce distractions, particularly when trying to have a conversation with your loved one to help them stay focused.
Avoid Large Crowds. Big crowds and large social gatherings can be really overwhelming for any Alzheimer's patients. Work to avoid these situations when possible. Keep social gatherings small and avoid public places when you know they will be busy.
Give Yourself Extra Time. Things will take longer when helping your loved one with their daily task. However, if you are in a hurry it is easy to get frustrated which can frighten or overwhelm your loved one. Schedule everything to take longer than you expect.
Keep Your Loved One Involved, But Make It Easy. Don't just make decisions for your loved one, keep them involved as much as possible with decisions that impact them. However, a great way to keep this manageable and less overwhelming is to limit their choices. Instead of letting them choose anywhere they want to eat, give them two of their favorite restaurants to choose from.
Leave Notes. Whether the notes indicate what drawer napkins are in or which room is the bathroom, little sticky notes around their living area that lets your loved one know where important things are is a great way to keep them less confused and provide them with the simple reminders the often need.
Be Flexible. As your loved one begins to change and their ability to function slowly starts to decline, you need to be willing to be flexible. Switch things up, including your routine and theirs, as needed to make the routine work with their specific state.
Lock Away Dangerous Items. For their safety and your peace of mind, make sure to lock away items that can be dangerous to your loved one or that may confuse them and agitate them. This includes medicines, alcohol, sharp objects and toxic cleaning solutions.
Look Out For Fall Hazards. Falling can not only hurt an individual with Alzheimer's physically but it can be emotionally traumatizing as well. Help be their eyes and ears and look out for things that can cause falls such as extension cords and rugs.
As a caregiver, it is important that you take advantage of anything that you can do in order to improve your ability to help your loved one. Many times, just supporting loved one with Alzheimer's and being there to help with some of their most basic daily tasks is just what they need to make every day more enjoyable.

Follow Eric J. Hall on Twitter: www.twitter.com/ericjhall2
Alzheimer's
Alzheimer's Disease
Advice and Health
Caregiving
Alzheimer's Caregivers
Conseils
pour les aidants naturels
d'Alzheimer
:
9
conseils simples
pour
de simples tâches quotidiennes
D'excellents conseils pour les soignants de la maladie d'Alzheimer, et la plupart sont valables pour ceux d'entre nous fournir des soins pour d'autres membres de la famille aussi.
De + huffingtonpost, et vous invitons à consulter le blog de leur Alzheimer .....
PDG Eric J. Hall of HealthCare aumônerie Réseau, Président de l'Initiative mondiale d'Alzheimer
Conseils pour les aidants naturels d'Alzheimer: 9 conseils simples pour de simples tâches quotidiennes
Posté le: 03/11/2015 14:12 HNE Mise à jour: Il ya 1 heure
Quand il vient à prendre soin d'une personne atteinte de la maladie d'Alzheimer, plusieurs fois certains des plus grands défis viennent d'aider votre bien-aimé faire les tâches les plus simples.
Il est souvent le quotidien de passer à travers les plus petites choses que les défis les plus soignants.
Cependant, en tant que soignant aimante il est important que vous êtes là pour ces tâches quotidiennes qui causent souvent des patients atteints d'Alzheimer un grand de beaucoup de frustration.
Voici quelques conseils simples pour manipuler certains des tâches les plus courantes quotidiennes simples que de nombreux patients Alzheimer luttent avec.

Établissez une routine.
Faire une routine qui va garder la journée moyenne prévisible, et donc moins de confusion.
Si vous devez planifier de nouvelles activités au cours de la journée, les mettre pendant un temps où votre bien-aimé a tendance à être plus calme.

Réduire les distractions lorsque cela est possible.
Essayez de garder les choses simples.
Réduire les distractions, notamment en essayant d'avoir une conversation avec votre bien-aimé pour les aider à rester concentrés.

Éviter les grandes foules.
De grandes foules et les grands rassemblements sociaux peuvent être vraiment écrasante pour les patients de toute la maladie d'Alzheimer.
Travailler pour éviter ces situations lorsque cela est possible.
Gardez rassemblements sociaux petites et éviter les lieux publics lorsque vous savez qu'ils seront occupés.

Donnez vous du temps supplémentaire.
Les choses vont prendre plus de temps lorsque vous aidez votre bien-aimé avec leur tâche quotidienne.
Toutefois, si vous êtes pressé, il est facile d'être frustré qui peut effrayer ou submerger votre bien-aimé.
Planifier tout pour prendre plus de temps que prévu.

Gardez vos proches celui impliqué, mais assurez-It Easy.
Ne pas prendre des décisions pour votre bien-aimé, les garder impliqués autant que possible aux décisions qui les touchent.
Cependant, une excellente façon de garder cela gérable et moins écrasante est de limiter leurs choix.
Au lieu de les laisser choisir où ils veulent à manger, donnez-leur deux de leurs restaurants préférés à choisir.

Donner des billets.
Que les notes indiquent ce tiroir serviettes sont ou quelle pièce est la salle de bains, petites notes autocollantes autour de leur espace de vie qui permet à votre bien-aimé savoir où les choses importantes sont une excellente façon de garder les moins confus et de leur fournir les simples rappels du
souvent besoin.

Être flexible.
Comme votre bien-aimé commence à changer et leur capacité à fonctionner lentement commence à décliner, vous devez être prêt à faire preuve de souplesse.
Mettez les choses, y compris votre routine et le leur, comme nécessaire pour faire le travail de routine avec leur état spécifique.

Enfermer des objets dangereux.
Pour leur sécurité et votre tranquillité d'esprit, assurez-vous d'enfermer les éléments qui peuvent être dangereux pour votre bien-aimé ou qui peuvent les confondre et agiter eux.
Cela inclut les médicaments, l'alcool, les objets tranchants et des solutions de nettoyage toxiques.

Look Out Pour Risques de chute.
Tomber ne peut que nuire à un individu avec la maladie d'Alzheimer physiquement, mais elle peut être émotionnellement traumatisant ainsi.
Aide être leurs yeux et les oreilles et regarder dehors pour des choses qui peuvent causer des chutes comme des rallonges et des tapis.

En tant que soignant, il est important que vous profitez de tout ce que vous pouvez faire pour améliorer votre capacité à aider votre bien-aimé.
Plusieurs fois, juste supporter une maladie d'Alzheimer aimés et d'être là pour aider avec certains de leurs plupart des tâches quotidiennes de base est exactement ce dont ils ont besoin pour prendre tous les jours plus agréable.

Suivez Eric J. Hall sur Twitter: www.twitter.com/ericjhall2