SREBRENICA, ime i dalje proganja svim dobrim ljudima sa bilo ćudoređa, bilo ideja dobra i zla, kršćani koji znaju učenjima Isusa Krista ne odobravam postupke Srbije "kršćani" koji su klali hiljada bosanskih Muslimana 1995. godine. To bi trebalo progoniti holandske "mirovnjaka" koji su trebali da štite sve koji su bili u zaštićene zone Srebrenice. Europa i NATO treba da se stidi za ovaj ikada događa, i Evropske unije i demokratskog svijeta treba da budu spremni da spriječi genocid nigdje rizik postoji. To i ne čudi Rusija stavila veto na rezoluciju Vijeća sigurnosti UN-a kojom se masakr u Srebrenici kao genocid, Ruske Federacije izgubio je moralni kompas s Putinom kao što je vođa, a on se vodi narod u tamu nemorala, tiranije, ugnjetavanja, i straha. Kako je to tužno nekada ponosni ruski narod se svojevoljno sljedeće Putin na svoje smrti. Ovaj od + NPR & + ABC News .....
Na svečanosti obilježavanja 20. godišnjice masakra bosanskih Muslimana u Srebrenici Christian Srbi, publika okrenula ljutnju na genocid iz 1995. protiv premijera Srbije, vozio ga je od događaja kamenjem i bocama.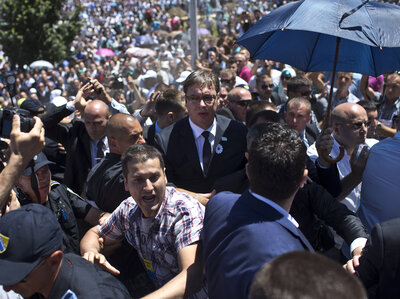 Ja
Aleksandar Vučić je bio jedan od nekoliko stranih dostojanstvenika, uključujući bivšeg američkog predsjednika Billa Clintona, turski premijer Ahmet Davutoglu, britanski princeza Anne i Jordon kraljica Nur, koji je prisustvovao događaju u memorijalnom kompleksu u Potočarima zapamtiti masakr 8.000 muslimanskih muškaraca i dečaka, zločin kasnije označena kao genocid međunarodnim sudovima.
Glasnogovornica Vučić je citirao The Associated Press kako kaže premijer, koji je navodno pobjegao na stadion, pogođen u lice s kamenom i slomio naočale.
U vrijeme . genocid, Vučić je bio generalni sekretar krajnje desničarske nacionalističke Srpske radikalne stranke (SRS), koja otvoreno gurnula kampanju terora protiv Bosne Muslimani
AP javlja:
"Kao što je Vučić ušao u groblju položiti cvijeće, hiljade izviždali i zviždao. Grupa žena iz Beograda, Srbija, koji je već godinama [su] zahtjevne Srbije da prizna [svoju] uloge u pokolju, vikao" odgovornost! "I" genocid! "
"Neko je bacio cipelu na njega, drugi bacali boce za vodu i drugih objekata. Publika je na kraju jurio Vučić od ceremonije. Nekoliko ljudi nosili transparente sa svojim ratnim citat: "Za svaku je ubio Srbina, mi ćemo ubiti 100 Bošnjaka." "
. Događajima u Srebrenici od 11-14 jul 1995 dogodio na području proglašena "sigurno utočište" za izbjeglice od strane mirovnih snaga Ujedinjenih naroda, koji na kraju nije braniti ga
The Guardian
piše: "Jedini preživjeli su bili oni koji su se sakrili pod mrtva tijela i uvukao se, kada je pao noći. Kasnije ubice vratila da iskopa tijela iz masovnih grobnica i raspršuju ih u nastojanju da sakriju svoje kriminala. Do današnjeg dana,
forenzičari su uvijek identifikacije posmrtnih ostataka
, komada udova i lobanja, i Bosanski obitelji bore da se pomire sa svojim gubitkom. "
Foreign Policy
naziva Srebrenica "najgori zločin u Europi od Drugog svjetskog rata, koji se desio za vrijeme mirovnih snaga UN-a stajala fecklessly i NATO odbio da intervenišu". FP kaže: "Srebrenica je postala brutalna simbol cijene neaktivnosti. Da Sjedinjene Države i njeni saveznici intervenisao ranije, tragedija mogla spriječiti. Kao zapanjujuće samokritično 1999 izvještaj tadašnji generalni sekretar UN-a Kofi Annan je zaključio, "Kardinal lekciju iz Srebrenice da li je to namjerno i sistematski pokušaj da terorišu, protjera ili ubistvo čitav ljudi moraju biti ispunjeni odlučno sa svim potrebnim sredstvima. " Ranije ovog tjedna, dugogodišnji saveznik Srbije Rusiji
glasali protiv rezolucije Vijeća sigurnosti UN-a
da prizna Srebrenicu kao "zločin genocida. "

Rusija stavio veto na rezoluciju UN-a u srijedu da bi osudili masakr nad Muslimanima u Srebrenici 1995. godine tokom rata u BiH kao "zločin genocida", rekavši da izdvajajući bosanskih Srba za ratni zločin će stvoriti veće podjele na Balkanu.
Dva međunarodni sudovi pozvali na klanje od strane bosanskih Srba oko 8.000 muslimanskih muškaraca i dječaka koji su potražili utočište u ono što je trebalo da bude zaštićena UN-site genocid.
Ali Rusije ambasador u UN Vitaly Churkin usprotivio se fokusiraju samo na Srebrenicu, nazivajući rezoluciju "konfrontacije i politički motivirana", te naglasio da su bosanski Srbi i Hrvati su također pretrpjeli u ratu 1992-1995 je poginulo najmanje 100.000 ljudi.
Britain izradila rezoluciju obilježavanja 20. godišnjice masakra u Srebrenici u utorak, ali glasanje je odgođen za rješavanje ruske zabrinutosti.
Poražene rezoluciji se navodi da je prihvatanje "tragičnih događaja u Srebrenici kao genocid je preduslov za pomirenje" i "osuđuje poricanje ovog genocida ometaju napore ka pomirenju".
Britanski UN zamjenika ambasadora Peter Wilson je naglasio da je rezolucija "nije upirati prstom krivice, političke poene, niti tražiti da ponovo otvori političke podjele." Također nije povezati zločine u Srebrenici na srpskog naroda i priznata je bilo žrtava na svim stranama, rekao je on.
Glasanje je bilo 10 zemalja u korist, Rusiji lijevanje veto, i četiri uzdržana - Kina, Nigerija, Angola i Venecuela.
Vođe bosanskih Srba i Srbije, koji imaju bliske vjerskih i kulturnih veza u Rusiju, su lobirali predsjednika
Vladimira Putina
da glasaju ", br. '
Srbije pro-ruski predsjednik Tomislav Nikolić izjavio je ruski veto "ne samo spriječiti bacanje krivice protiv cijeli srpski narod, pokušavajući da ga pokaže kao genocidni, ali i dokazao da je Rusija je pravi i iskreni prijatelj."
Wilson je rekao da Britanija je "ogorčen" Rusije veta.
"Akcije Rusije okaljaju sjećanje na sve one koji su umrli u genocidu u Srebrenici", rekao je on. "Rusija će morati opravdati svoje ponašanje u obitelji više od 8.000 ljudi ubijeno u najgorem zločinu u Europi od Drugog svjetskog rata."
Bosanci ogorčeno su reagirale na veto.
"Ovo je poraz pravde", rekao je Ćamil Duraković, gradonačelnik Srebrenice. "Svijet je izgubio Svet -., A posebno Srbiji - će morati da se suoči sa istinom, prije ili kasnije", rekao je on.
Fadila Efendić, o Srebrenici ženu koja je izgubila sina i muža u masakru u Srebrenici, koji se zove veta "još ponižavanje žrtava."
"Današnje glasanje bilo važno", rekao je američki ambasador Samantha Power, koji je bio 24-godišnji novinar u Bosni u vrijeme masakra u Srebrenici. "To važno izuzetno porodicama žrtava genocida u Srebrenici. Rusije veto je srceparajuća za one obitelji, a to je dodatno mrlju na zapisnik ovog Vijeća."
Rusije Čurkin je počeo svoj ​​govor prije glasanja traži minutom šutnje u znak sjećanja na žrtve Srebrenice i svi u
Vijeću sigurnosti
stajala, mnogi klanjajući glavama.
Umjesto Srebrenici, on je rekao da je Vijeće trebalo obilježiti 20. godišnjicu sporazuma iz 1995. godine mira potpisan u Daytonu, Ohio da je okončan rat u Bosni kasnije ove godine, i da svaki napor da ga provede i normalizaciji odnosa na Balkanu.
"Naš glas protiv ... će, međutim, ne znači da smo gluhi za patnje žrtava Srebrenice i drugih područja
Bosne i Hercegovine
", rekao je Čurkin.
---
Associated Press pisci Aida Čerkez u Sarajevu, Bosni i Dušan Stojanović u Beogradu prilog za ovaj izvještaj.