25 July 2014
Posted by

Craig Schwanke
at 07:52
0 comments


Links to this post
18 July 2014
putin and Russia must be held responsible for the downing of MH 17. Russia has armed the Ukrainian rebels, they have supplied them with small arms, heavy weapons and anti-aircraft missile systems. There are Russian troops massed on the Ukrainian-Russian border and they have sent troops with heavy weapons into Ukraine and Russian fighter jets have been violating Ukrainian airspace and have shot down Ukrainian aircraft. Their overwhelming support of the Ukrainian rebels make them just as responsible, just as guilty, as the rebels themselves for this tragedy. The West must respond with severe, crippling diplomatic and economic sanctions against Russia and keep them in place until the rebels end their civil war against the government in Kiev, turn over all their weapons, and Russia removes all their military forces away from the Ukrainian-Russian border. Failure by the West to punish Russia will be nothing less than complicity in this disaster, because if one is not against putin and his rebels in Ukraine then one must be for them. There is no middle ground. From +NPR .....
by Scott Neuman and Bill Chappell
This post was updated at 12:20 p.m. ET.
President Obama says that evidence indicates a missile fired from rebel-held territory in eastern Ukraine shot down Malaysia Airlines flight MH17 and that at least one U.S. citizen is among the dead.
"Evidence indicates that the plane was shot down by a surface-to-air missile from an area controlled by separatists," Obama said, noting that it's not the only time in recent months that the pro-Russia rebels have shot down airplanes.
The president identified the American killed on the flight as Quinn Lucas Schansman.
PRES Obama on MH 17
He referred to the arming of the rebels and the "steady flow of weapons from Russia" and said if Russian President Vladimir Putin makes a decision not to arm the separatists, then the flow will stop.
"There has to be a credible investigation," he said. "There must be an immediate cease-fire. Evidence must not be tampered with."
He promised U.S. assistance in the investigation.
The president's remarks at a news briefing on Friday follow a more detailed laying out of evidence by the U.S. Ambassador Samantha Power before a meeting of the U.N. Security Council.
Powers said that pro-Russia separatists in eastern Ukraine had been spotted by a Western journalist manning an SA-11 surface-to-air missile system at a location near where MH17 went down just hours before the plane crashed.
"We assess Malaysian Airlines Flight 17... was likely downed by a surface-to-air [SAM] missile, an SA-11, operated from a separatist-held location in eastern Ukraine," Power said today.
Power said that because of the flight's high altitude, shorter-range missile systems had been ruled out. She noted that one of the missile systems had been reported to be in the area of the crash Thursday, before the plane went down.
Separatists had posted videos and boasts online about downing a Ukrainian plane Thursday, Power said, adding that some of those materials have since been deleted.
"Because of the technical complexity of the SA-11, it is unlikely that the separatists could effectively operate the system without assistance from knowledgeable personnel. Thus we cannot rule out technical assistance from Russian personnel in operating the systems," Power added.
The U.S. isn't aware of any Ukrainian SA-11 systems in the area where the crash occurred, Power said. She added that the Ukrainian military hadn't fired any anti-aircraft missiles since the fighting began, despite incursions by Russian planes.
Power spoke at an emergency session of the council. The meeting began with all of the diplomats and their staff members standing to observe a moment of silence for victims of the crash.
Audio Recording
As they try to piece together how Flight MH17 was brought down, U.S. experts are analyzing a recording that it says is a string of intercepted phone calls in which separatist rebels acknowledge that they shot down an airliner.
Alyson Hurt

/

NPR
However, as NPR's Dina Temple-Raston reports, U.S. intelligence has not yet publicly authenticated the recording.
"Privately, U.S. officials say they suspect separatist rebels were behind the downing of Malaysia Airlines Flight 17," Dina reports. "U.S. officials say they are still analyzing the audio. They are also using algorithms and mathematics to pinpoint where the missile was fired from."
The fate of the flight's "black box" data recorders remains in question. After the separatists said they had recovered them from the crash site, Ukrainian officials disputed that account. And while some reports stated that the flight recorders might be sent to Russia, Foreign Minister Sergey Lavrov says Moscow has "no plans to seize the flight recorders," according to state-owned .
Reporter Noah Sneider is in the Donetsk region; he says he has seen separatists near the wreckage.
"They have taken control of the crash site, because they're in control of this region," Sneider tells NPR's Newscast unit. "The Ukrainian forces have a position not too far from here, but for the most part, this stretch of road is controlled by the rebels.
"They were the first ones on the scene," he adds, "and they're the ones who are now guarding the entrances to it."
Saying that Ukrainian authorities still aren't being given full access to the crash site, Ukraine's prime minister, Arseniy Yatsenyuk, says security forces will create a corridor so that "Ukrainian experts and international experts will be allowed to hold a vast international investigation."
That's according to , which quotes Yatsenyuk saying, "This is a crime against humanity. All red lines have been crossed."
Passengers And Flight Route
Malaysia Airlines executive Huib Gorter says that an "initial cash payment of $5,000 per passenger" is being offered to the victims' next of kin, to help them with expenses as they cope with the aftermath of Thursday's crash.
In a news conference at Amsterdam's Schiphol Airport, Gorter said that Malaysia Airlines and other international carriers had been using the same route, making the crash a "tragic incident that could have happened to any of us."
He said they are all now avoiding the airspace.
Of the plane, Gorter said that it had been built in 1997 and that all systems were functioning normally when it was last checked out earlier this month.
Gorter gave new details about those aboard the flight, saying that 189 of the flight's passengers were from the Netherlands; 44 were from Malaysia, and 27 from Australia. People from seven other countries were also on the plane; none of those reported so far are from the U.S. The nationalities of four passengers remain unverified, he said.
Of the flight routes over eastern Ukraine, NPR's David Schaper reports, "There had been no warnings about that area from the FAA, nor from the U.N.'s International Civil Aviation Organization." David adds that the airspace over Crimea, which seceded from Ukraine earlier this year, has been under restrictions since April.
Parts of the crash site are still smoldering today; photos from the scene show parts of the plane and personal items scattered around open fields. And a video that reportedly shows the aftermath of the crash shows debris falling through a cloud of thick black smoke.
We'll update this post as news comes in. Here's a quick update on what we know about the situation:
Malaysia Airlines Flight MH17 had been flying from Amsterdam to Kuala Lampur carrying 298 people — 283 passengers and 15 crew. (Early reports of 295 people on board were updated with the news that three infants were among the passengers.)
The flight plan filed by the plane's pilots had requested an altitude of 35,000 feet during their passage over Ukraine, but air traffic control in Ukraine instructed them to fly at 33,000 feet, .
The Boeing 777 went down in the Donetsk region of eastern Ukraine, which for months has been a focal point of fighting between pro-Russian separatists and Ukraine's central government.
U.S. officials tell NPR the airliner was likely shot down by a surface-to-air missile and that they're working to determine who fired it.
Kiev officials accuse the separatists of firing a missile at the jet. The separatists, Ukraine's military and Russia have all denied any involvement.
The separatists have promised to aid the investigation, reportedly planning a three-day truce to allow investigators to reach the wreckage.
Diptendu Dutta

/

AFP/Getty Images
More than half of the flight's passengers were from the Netherlands. The U.S. is trying to determine if any Americans were on board.
The U.S. Federal Aviation Administration has barred all U.S. flights from using the airspace over eastern Ukraine. The agency notes that no U.S. airlines have been flying routes there.
Investigators from the FBI and NTSB will reportedly help analyze the crash — President Obama offered that assistance to Ukrainian President Petro Poroshenko in a phone call on Thursday.
The plane's passengers included roughly 100 people who had been traveling to a major global AIDS conference in Melbourne, Australia. The activists and researchers included former International AIDS Society President Joep Lange.
The crash has spurred international shock and outrage. President Obama and many world leaders have called it a tragedy, while others such as Australian Prime Minister Tony Abbott note that the crash "is not an accident, it is a crime." Ukraine's Poroshenko has called it an act of terrorism.
The U.N. Security Council held an emergency session today to discuss the crash and call for a full and thorough investigation. It meeting began with all of the diplomats and their staff members standing to observe a moment of silence.
As our , a civilian airliner was shot down over Ukraine just 13 years ago. It was one of a handful of passenger jets that have been downed in recent decades; in almost all of those situations, the attacks were found to have been accidents.
The downing of MH17 is the second incident involving Malaysia Airlines in the past four months. The airline and Malaysian officials have been at the center of the search for Flight MH370, which mysteriously disappeared in March. That plane, also a Boeing 777, had 239 people on board.
Posted by

Craig Schwanke
at 13:27
0 comments


Links to this post
Labels: E.U., Malaysia, MH 17, Pres Obama, Russia, sanctions, The Netherlands, U.N., Ukraine, Ukrainian civil war, Ukrainian rebels, vladmir putin
17 July 2014
אני תמיד התנגדתי לנאצים בישראל, כמו כיבוש של הגדה המערבית וזה חנק כלכלי בגדה המערבית ובעזה.

ותמיד הייתי נגעל ממניפולציה של העולם הערבי והזנחתם של הפליטים הפלסטיניים בגדה המערבית ובעזה. הם היו בשימוש, שעברו התעללות והקריבו בשדה הקרב על ידי אלה אפוטרופוסים של האיסלאם, שליטי סעודיה ואיראן הכופר, וממלכות המפרץ הפרסי חמדן, הגשה עצמית, ושפע הטרור. עם הסיבוב האחרון של לחימה, שעורר את הריגתם של שלושה בני נוער יהודים, ולאחר מכן הרג נקמתו של נער פלסטיני, כל שפיכות הדמים חסרות היגיון, חמאס הגביר את להלהיט את האזור עם התקפות רקטות על ישראל וכתוצאה מכך בתקיפות אוויריות נגד לוחמי חמאס מחסה בקרב, מתחבא מאחורי הילדים, נשים, קשישים, משפחות שלמות החפים מפשע שהניזק הסביבתי של מלחמה. חמאס בדרך כלל הצליח במרמה ומניפולצית דעת קהל עולמי להאמין שהפלסטינים הם קורבנות של רצח העם ישראלי, אבל הפעם הם כבר נתפסו בשקרים שלהם. הוא שודר ב-ABC היום אחר הצהריים כי עובדי סיוע של האו"ם בעזה מצאו רקטות של חמאס בבתי ספר של האו"ם, מהווה הפרה ישירה של החוק הבינלאומי. עם החמאס שהראה את העולם שהם טרוריסטים פחדנים, ועד לאנשים עזה לדרוש סוף לטרור של חמאס הם ימשיכו לסבול ולמות ולבזבז עוד דור של childen. מ+ NPR ו+ ABC News וכאן הוא יותר על הסכסוך הישראלי - הפלסטיני

על ידי ארי שפירו ואמילי האריס
אנדרו ברטון

/

גטים אימג'ס
הערה העורך: כגבר ישראלי נקבר ליד תל אביב וארבעה בנים הפלסטיניים הובאו למנוחת עולמות ברצועת עזה, כתבי NPR השתתפו בהלוויות בצדדים מנוגדים של המלחמה כדי לראות איך אנשים מתמודדים עם הקונפליקט. ארי שפירו דיווחים ראשון מישראל, ואחריו אמילי האריס בעיר עזה.
יהוד העלמין הוא כל כך קרוב לשדה התעופה בתל אביב, כמעט יש לך להתכופף כאשר מטוס עובר מעלינו.
ביום רביעי, מכוניות בשורה על הכביש ואוטובוסים לנווט צרים כניסה לבית הקברות, הבאת מאות אנשים לחלוק הכבוד האחרון שלהם לדרור חנין, אב 37 בן שלוש וישראלי הראשון שנהרגו בסבב הלחימה הנוכחי בין ישראל לפלסטינים.
אלון Hackmon עבד עם חנין ואומר שהוא תמיד היה מתנדב. חנין היה אספקת חבילות טיפול לחיילי יום שלישי, כאשר מרגמה מרצועת עזה פגעה והרגה אותו ליד הגבול בין ישראל לשטחים הפלסטיניים.
"הוא נהרג בגלל שהוא הלך לשם, בסמוך לעזה, כדי להביא חיילים, לתת להם אוכל , שוקולד, לתת להם קצת זמן טוב לשם, וזהו זה ", אמר Hackmon. "ככה הוא נהרג."
לישראל, המוות הראשון בסכסוך הזה היה סוג של רגע לאומי.
הנשיא הנבחר החדש של ישראל, ראובן ריבלין, היה בהלוויה יחד עם שרי הממשלה.
כאשר אביו של חנין הגיע, בכי, פוליטיקאים הצטופף סביב לחבק אותו.
"לעזור לאנשים היה התפקיד שלו בחיים", יילל האב.
לקארן Uzon, חבר של המשפחה, זה לא נראה כמו מקרה המוות הראשון בפרק זה של הסכסוך.
"אנחנו נמצאים ב אותה המלחמה ל65 שנים, 66 שנים ", היא אמרה, התייחסות לסכסוך שכבר בוער מאז המלחמה הישראלית הערבית הראשונה ב1948 השנה להיוסדי של ישראל. "אז זה לא ראשון ולא האחרון שאני מכיר מקרוב, אז לפחות אנחנו צריכים להפסיק לאבד חיים, ואנו זקוקים לשלום."
יש עצב. אבל נראה התחושה מכרעת להיות תשישות.
אנשים רוצים את הסכסוך הזה לסופו, והם מתוסכלים כי הם לא יכולים לראות איך זה יהיה.
אחד האבלים, ג'ודי Dresnick, חזר ואמר, "זה לא נורמלי".
"כל יום אני מתפלל שפצצה זה לא תהיה בבית שלי והילדים שלנו יהיו בטוחים ", היא אומרת. "המצב הוא לא נורמלי."
הסיבה שאנחנו השתתפתי בשתי לוויות - אחד בישראל, אחד בעזה -. לא הייתה בור טרגדיה אחת נגד אחר או להשוות סובל
רצינו לשאול אנשים שונים שאלות דומות, כדי לראות איך אזרחים על ההפך צדדים של סכסוך בן עשרות שנים, מגיבים לסיבוב של אלימות ואובדן זה.
פוליטיקאים ישראליים לדבר על נקמה וענישה. אבל כמעט אף אחד מהאבלים אמר שהם רוצים "דם לדם".
דב בר אילן, קרוב משפחה של חנין, אמר, "גם אם בתנ"ך שלנו שזה כתוב, אני לא חושב כך, כי אנחנו ניקח את הנקמה, ולאחר מכן הם ייקחו את הנקמה, וכן הלאה וכן הלאה וכן הלאה.
"ובכל זאת, כמה לקחת מותו של חנין כעדות לכך שחמושים הפלסטיניים מבינים רק את שפת אלימות.
בנה של כרמלה נהרי היה החברים הכי טובים עם חנין. היא משמשת למאמינה בלדבר. אבל לא עוד.
"אנחנו צריכים למצוא שותף לדבר איתו, וחמאס אינו [שותף]", היא אמרה.
בתשובה לשאלה אם היא מרגישה למשפחות וחבריהם של הפלסטינים שנהרגו בעזה, היא אומרת, " כן, כמובן. [חמאס] מחזיק אותם כאסירים. הם סובלים בעזה כפי שאנו סובלים כאן.
"מאות אנשים שהתאספו להלוויה החל סוגרים על המשפחה. הם חברו יחד באמירת קדיש, תפילת האבלים.
מוחמד עבד

/

AFP / Getty Images
אמילי האריס מדווח מעיר עזה:
בדיוק כמו ההלוויה של דרור חנין החלה ליד תל אביב, מטוסי קרב ישראליים פגעו בחוף במזח סירת דיג של העיר עזה. פעמיים.
האמבולנסים מיהרו לחוף, אבל ארבעה נערים צעירים היו כבר מתו. כולם היו בני הדודים בגילאי 9 ו12, חלק ממשפחת בכר המורחב של דייגים. לאחר הפיגוע, עשן אפור עלה מצריף על המזח. גופתו של נער אחד הייתה משוכה מן ההריסות. שלושה אחרים נמצאו על החול.
פחות משעתיים מאוחר יותר, מאות גברים התאספו במסגד בשכונה, הסרת סנדליהם וכפכפים לפני הכניסה לתפילה קצרה על הגופות של בני בכר - מוחמד איסמעיל, זכריא ו עאהד.
האבלים אז דשדשו החוצה בשקט, בזמן שקהל של גברים צעירים נשא את הגוף גבוה מעל לראשיהם בחוץ. הבנים המתים היו מכוסים בסדינים, רק הפרצופים הקטנים שלהם מראים. הקהל פרץ למזמורים דתיים.
בית הקברות של משפחת בכר היה במרחק הליכה קצר משם. מוחמד באקר בכה כמו הגוף של בנו 12 בן, איסמעיל, בוצע על פניו.
"הוא פשוט היו איסוף, ששיחק על החוף, שוטף את עצמם על חוף הים," הוא אמר. "הם רק ילדים. מה הייתם ילדים קטנים כזה לעשות? אין להם שום אמצעי לחימה. מה הם היו עושים? למה להם למקד אותם?"
כשנשאל אם הגיעו זמן להפסקת אש, הוא אמר שזה כבר מאוחר מדי.
"אנחנו לא רוצים הפסקת אש. מה הפסקת אש אתה מדבר?" הוא אמר. "אני רוצה את העלות של הדם של הילדים שלנו. אתמול רציתי הפסקת אש. עכשיו, לא. אנחנו לא רוצים את זה."
בקהל, נער קצר עם ריסים ארוכים, אמר לילדים השכונה המשיכו לשחות בחוף הים גם בזמן הלחימה בימים האחרונים. השירה של הגברים הצעירים פנתה בגלוי פוליטי.
"נתניהו, אתה פחדן", הם שרו, בהתייחסו לראש ממשלת ישראל, בנימין נתניהו. "תושבי עזה לעולם לא יהיו מושפלים."
צפייה בקרבת מקום, מוחמד Ezz, אב לשלוש, אמר שהוא רוצה להפסיק את הלחימה. אבל הוא לא רוצה להיכנע.
"אנחנו רוצים הפסקת אש. אבל אנחנו לא יכולים לסמוך על הישראלים", הוא אמר. "הם מבקשים לפרק את נשקה של ההתנגדות ברצועת עזה. לא אכפת לי כי באופן עקרוני. אבל הם לא מקיימים את הבטחותיהם. אם אנחנו זורקים את הנשק שלנו לים, הם יבואו לתקוף אותנו מאוחר יותר הלאה.
"יותר מ -200 בני אדם מתו בעזה יותר מתשעה הימים האחרונים של לחימה. ישראל אומרת היעד בחוף הים ביום רביעי היה פעילים מחמאס, והצבא חוקר את הפרשה.
הניצולים כללו עוד ארבעה בני דודים בכר שגם הוא היה על החוף כאשר התקיפות האוויריות פגעו. Araby בכר, 11, אמר הנערים שיחקו את משחק אהוב - "ערבים ויהודים."
בדומה "שוטרים וגנבים", צוותי הם אויבים. הם משתמשים במקלות ככלי נשק מדומים ומתחלפים רודפים זה אחר זה ולשים את היריבים ב" כלא ".
במקרה זה, הכלא היה ליד הצריף במזח הדייגים שנפגע מהתקיפה האווירית הישראלית. ילד אחד שמת כבר לשחק יהודי, שנתפס במשחק.
הפלסטינים קוראים לאנשים שנהרגו בסכסוך עם ישראל "שאהידים".
"אם כל מה שאתה צריך לעשות זה לשחק בערבים ויהודים להיות קדוש מעונה", אמר Arabiy בכר, "אולי אני אהיה קדוש מעונה מוקדם מדי."
מוחמד אבו Watfa, 23, היה אחד משלושת אנשים נפצעו ביום רביעי בהתקפה.
שכיבה על כרית לבנה תחרה בבית החולים, הוא נגע בתחבושת בצד השמאלי של בטנו . הוא אמר שהוא היה בבית הקפה לאורך החוף של משפחתו ורץ לעזור אחרי התקיפה האווירית הראשונה. הוא נתפס בשנייה.
אבו יזן Bardah אח גיסתו אומרת flareup זה בלחימה גבה מחיר עמוק בעזה.
"יותר מדי אנשים נהרגו בצד שלנו", הוא אמר.
הוא גם אמר שהוא יודע איך כדי לסיים אותו.
"אם הכיבוש הישראלי מסתיים, הבעיה תיפתר מאליה", הוא אמר.
ישראל נסוגה כל חייליה ומתנחלים יהודים בעזה בשנת 2005, אבל זה עדיין שולט על הזרימה של סחורות ואנשים בתוך ומחוץ שטח קטן, צפוף.
לBardah, "סיום הכיבוש" אומר לתת לפלסטינים שליטה אמיתית על עצמם ועל איזו אדמה.
ארבעה בנים נקברו בחלקה קרובה לעזה שבו הם מתו, ליד הים.
אתה יכול לעקוב ארי שפירו
@ arishapiro
ואמילי האריס
@ emilygharris.
העיר עזה, רצועת עזה - 17 יולי 2014, 16:43 ET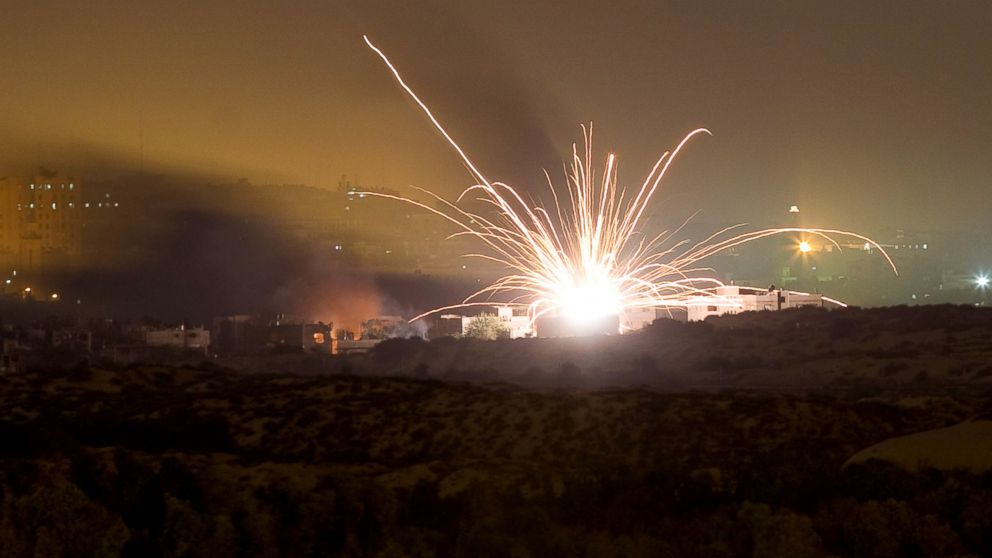 כוחות ישראליים פתחו "שלב שטח" במאמציה לעצירת רקטות שנורו לעבר ישראל
מרצועת עזה,
הצבא הישראלי אמר היום.
הפלישה לעזה "תכלול תיאום הדוק בין היחידות [של ישראל], כולל חיל רגלים, חיל שריון, חיל הנדסה, ארטילריה ומודיעין בשילוב עם תמיכה אווירית וימית", אמר צבא ההגנה לישראל בהצהרה.
בישראל
הצבא אמר המתקפה נועדה לפגוע "פגיעה משמעותית בתשתיות הטרור של החמאס".
עד היום הקרב היה מורכב מחמאס, השולט בעזה, שיגור רקטות לעבר ישראל וישראל מיקוד מה שהיא מכנה אתרי טרור בעזה עם מטוסי קרב ותותחים של חיל הים. ישראל עצרה פעמיים את התקפותיה וכבר משא ומתן עם חמאס להפסקת אש קבועה יותר בקהיר, מצרים.
צה"ל אמר היום שהוא שלח כוחות לעזה "בעקבות 10 ימים של התקפות חמאס ביבשה, באוויר ובים, ולאחר דחיות חוזרות ונשנות של הצעות להרגיע את המצב".
מיקומו של "שלב השטח" ואת מספר החיילים המעורבים היה לא זמין באופן מיידי, אך דובר צה"ל קרא לזה "כוח גדול של צה"ל". צה"ל גם אמר שהוא היה בכל רחבי רצועת עזה, וכי לא הייתה כל מגבלת זמן לפעולה.
"מחבלי חמאס פועלים במחתרת, ושהמקום שבו צה"ל יהיה לפגוש אותם. צה"ל מתכוון לפגוע ביכולתו של החמאס לתקוף את ישראל", אמר הצבא הישראלי.
ישראל קראה עד 48,000 אנשי מילואים בשבועות אחרונים והממשלה ישראל היום אישרה את הגיוס של 18,000 חיילי מילואים יותר, מביא את סך 64,000, אמר בצה"ל. רבים מהחיילים שהתגודדו עם טנקים סמוך לגבולה של עזה. ישראל גם הזהירה את עשרות אלפי אנשים בעזה לפנות את בתיהם למען ביטחונם.
Slugfest בין חמאס לישראל הותיר 243 פלסטינים הרוגים ו1,850 נפצע. ישראלי אחד כבר נהרג וכמה נפצעו.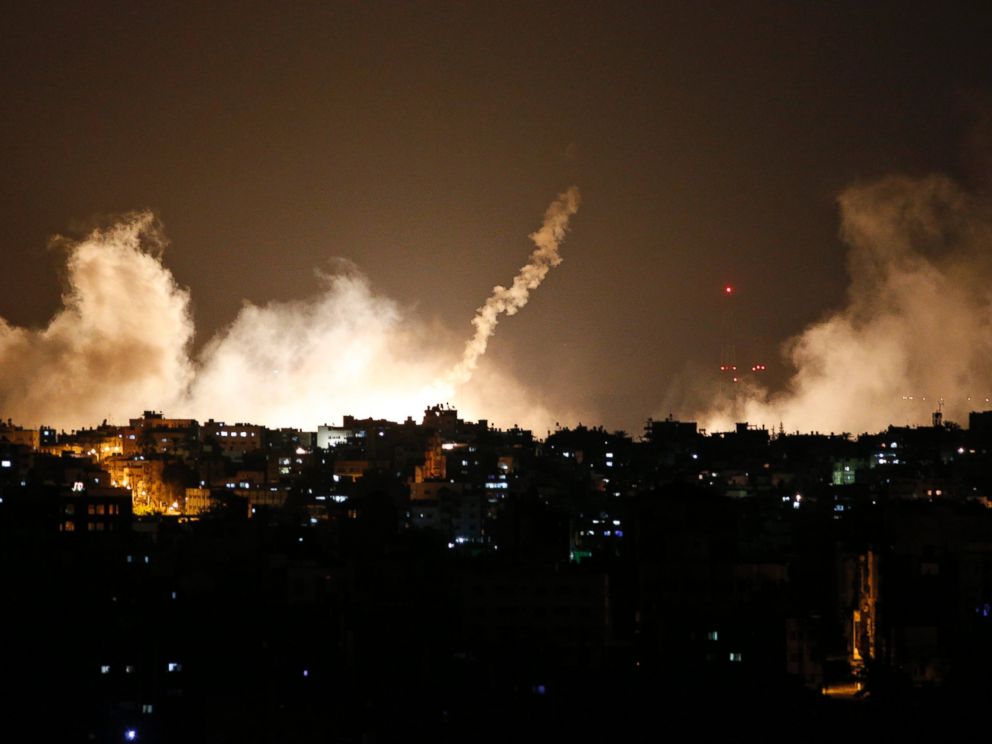 לפטריס Pitarakis / AP Photo
עזה התחילה את היום עם הפסקה נדירה בפיגועים כשני הצדדים ציינו "הפסקה הומניטרית" חמש שעות כדי לאפשר לתושבי רצועת עזה להצטייד באספקה. אבל ברגע שהמועד האחרון להגשה חמש שעות הגיעה, מרגמה שנורתה מעזה פגעה בסיבוב שטח ישראל, אמר בצה"ל. ישראל חידשה את ההפצצות שלה זמן קצר לאחר מכן, על פי צה"ל.
בשעות שלפני הפלישה הישראלית, זיקוקים חזקים שנורו על ידי ישראל האירו את השמיים מעל עזה, ABC News הכתבים בעזה מדווח. תקשורת זרה במלון ליד החוף בעזה נאמר על ידי ישראל הם היו צריכים לפנות את הבניין ונותב האש ניתן הייתה לראות שפגעה באתרים ברצועת עזה.
ישראל ביצעה האחרונה את מתקפה קרקעית נרחבת ברצועת עזה בינואר 2009.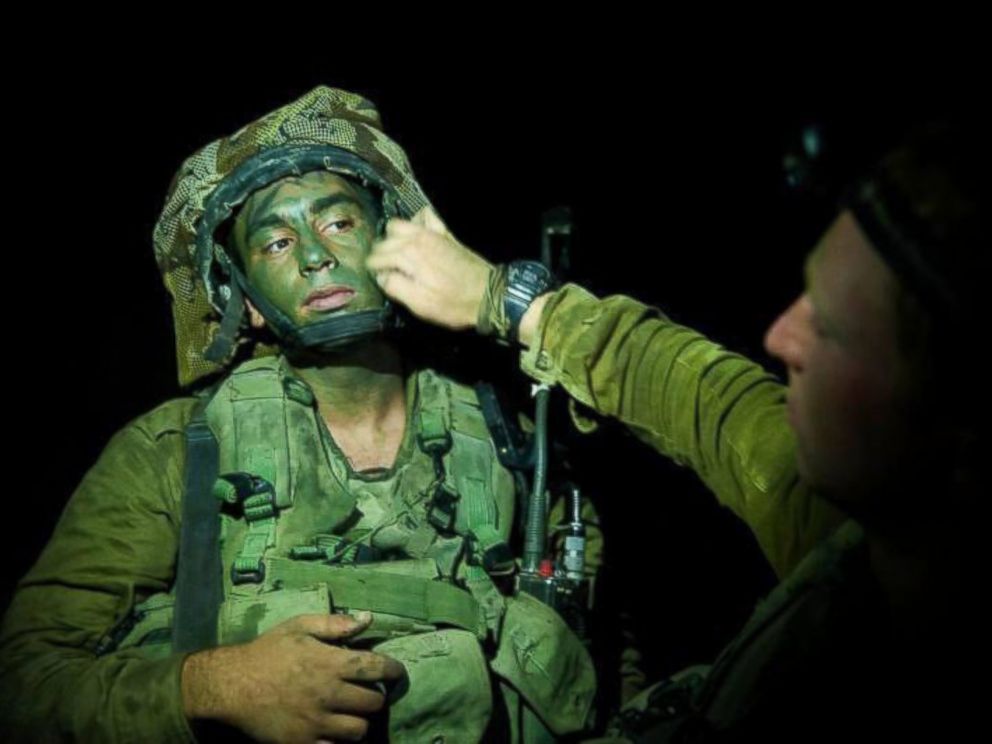 @ IDFSpokesperson / טוויטר
מוקדם יותר היום, בצה"ל אמר כי סיכל התקפה של 13 חמושים בעזה שהסתננה לישראל דרך מנהרה. סא"ל פיטר לרנר, דובר צבאי ישראלי, אמר החמושים זוהו על 820 רגליים בתוך ישראל ונפגעו על ידי כלי טיס ישראליים. לרנר אומר כי הצבא האמין מיליטנטי לפחות אחד מהם נהרג בשביתה של יום חמישי. לדבריו, הלוחמים שנותרו נראה היה שחזרו לעזה דרך המנהרות.
זו הייתה הפעם השנייה חמושים הסתננה לישראל מרצועת עזה. ישראל הרגה ארבעה חמושים בשבוע שנכנס מהים האחרון.
גם היום, סוכנות האו"ם אמרה שמצאה 20 רקטות הוסתרו בבית ספר זה פועל ברצועת עזה.
התחמושת התגלו יום רביעי, סוכנות הסעד והתעסוקה של האו"ם, אמרה בהצהרה שפורסמה באתר שלה היום.
"במהלך הבדיקה הקבועה של הנחות היסוד שלה, אונר"א גילה כ 20 רקטות הוסתרו בבית ספר ריק ברצועת עזה", אמרה לסוכנות.
אונר"א, המספק מקלט וסיוע הומניטרי בעזה, גינה את האחסון של כלי הנשק בבית הספר שלה ואמר: "האירוע הזה, שהוא ראשון מסוגו ברצועת עזה, אזרחים בסכנת הכחדה, כולל צוות ולשים במשימה חיונית של סיכון אונר"א כדי לסייע ולהגן על פליטי פלסטין בעזה ".
הוא אמר שהם "הודיעו לגורמים הרלוונטיים והצלחה לקחו את כל האמצעים הדרושים להסרת החפצים כדי לשמר את הביטחון ואבטחה של בית הספר."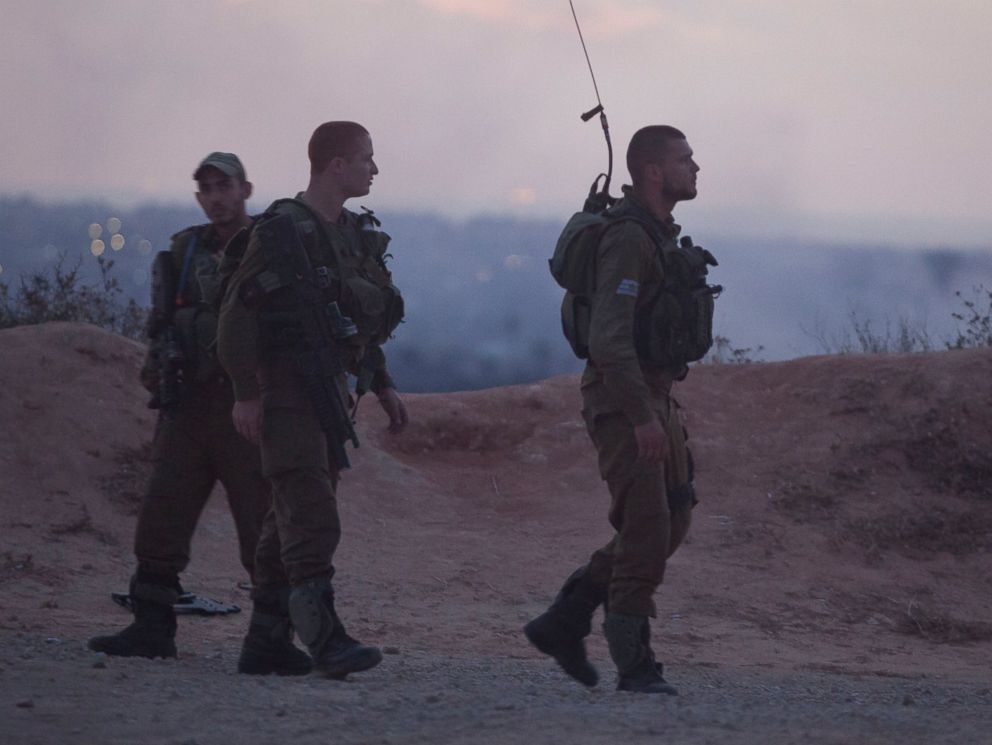 תמונות ליאור מזרחי / גטי
הסוכנות לא לזהות את מיקומו של בית הספר, את סוגי רקטות או ש" גורמים הרלוונטיים "היו.
ההודעה חיזקה את הטענות ישראליות שחמאס השתמש בבתי ספר, מסגדים ומתקנים רפואיים כמגן כפי שמורה רקטות לעבר ישראל.
הקרב שברה הפוגה של שנתיים בפעולות איבה בין ישראל לחמאס והיה מופעל על ידי הרג של שלושה בני נוער ישראליים ומוות נקמה הבוערת של בני נוער פלסטיניים. מחאות כועסים הסלימו לשיגורי רקטות ותקיפות אוויריות תגמול.
אריאל שליט

/

AP
ראש ממשלת ישראל, בנימין נתניהו, הורה לצבא לשלוח כוחות הקרקע לתוך עזה יום חמישי בלילה.
"אנחנו שומעים דיווחים כי עד כה המבצע היה מרוכז בצפון", מדווח אמילי האריס של NPR, שהוא בעזה.
פוזי ברהום, דובר לחמאס, שנקרא הפלישה "צעד מסוכן". הכיבוש ישלם את מחירה היקר, וחמאס מוכן לעימות ", הוא אמר בהצהרה.
אנשים בצפון הרצועה העז אמרו לאריס כי" יש הרבה הפגזות שם. "אבל אנשים בחלקו הדרומי של רצועת עזה גם מנסים לקחת את מה שהם יכולים לכסות, ולו רק עוברים לחלקים מבתיהם מרכזיים, הרחק מקירות וחלונות.
"כמו טנקים הפגיזו במזרח, סירות חיל הים ישראליות פתחו באש על מערב, להכות את החופים של עזה ", BuzzFeed." גורמים רשמיים בישראל אמרו שזה היה התקף שני ראשים שמטרתה לפנות את הדרך לכוחות קרקע לנוע לתוך עזה בפלישה הגדולה ביותר מאז 2008.
"אמר האריס על
כל הדברים בחשבון
שזה עדיין לא ברור היכן החי"ר הישראלי עשוי להיות הפעלה.
היא ציינה כי ישראל היא מיקוד מנהרות החמאס משתמש בו כדי לחדור לשטחה. מוקדם יותר ביום חמישי, מטוסים ישראליים הפציצו קבוצה של לוחמים הפלסטיניים שחפרו מנהרה מתחת לגבול.
"המנהרות הן גם בעיה מאוד אמיתית וסמלית לישראל", אמר האריס. "זה דרך כלשהי" חמושים לישראל וזה משהו הצבאי של ישראל הולך לנסות להתרכז בפלישה זו. "
הצבא לא סיפק פרטים על היקפו של המבצע או את מספר החיילים המעורבים. הצהרה של הצבא הישראלי אמרה הפעולה תכלול "חיל רגלים, חיל שריון, חיל הנדסה, ארטילריה ומודיעין בשילוב עם תמיכה אווירית וימית".
פיקוד הדרום של צה"ל מוביל את המתקפה הקרקעית,
לג'רוזלם פוסט.
יש הצבא קראו עד 18,000 אנשי מילואים יותר.
"לאור התוקפנות הנפשעת וחסרת רחמים על ידי חמאס והחדיר לישראל המסוכנת, ישראל מחויבת להגן על אזרחיה", אמר במשרדו של ראש הממשלה בהצהרה.
הסירנות נשמעו ברחבי הארץ, כדי ברק רביד, כתב מדיני של העיתון הישראלי
'הארץ'.
"אנחנו רואים הרבה, הרבה אנשים מגיעים לבית החולים, ואלה הם רק אלה שיכולים להגיע לכאן", וליד טאהא, מנתח בבית החולים שיפא בעזה, אמר BuzzFeed. "אנחנו לא יודעים כמה לא נוכל להגיע אלינו הערב."
כפי שאנו, מניין ההרוגים ברצועה עזה מתקיפות האוויריות ישראליות טיפסנו מעל 220 לפני המתקפה הלילית.
ביום חמישי, ישראל וחמאס גם ציינו חמש שעות הפסקת אש כדי לאפשר לסיוע הומניטרי להגיע לעזה.
הפסקת האש הקצרה גם אפשרה לבנקים לפתוח מחדש וכמה עבודות תיקון תשתית להיעשות, על פי רוברט טרנר, מנהל תפעול של סוכנות הסעד והתעסוקה של האו"ם בעיר עזה.
"זו הייתה הפעם הראשונה שראיתי את פקק תנועה במשך תשעה ימים בעזה", אמר טרנר Audie קורניש של NPR.
"הייתה תקווה שזה יכול להיות צעד ראשון בדרך להפסקת אש רחבה יותר", הוא הוסיף. "זה בוודאי לא יקרה הלילה."
לפטריס Pitarakis

/

AP
הודעה זו עודכנה ב 4:10 שעון ניו יורק: קרקע עבירות בגין
ישראל נשלחה כוחות קרקעיים לרצועת עזה ביום חמישי, שבו אנו מכסים ב.
עדכון ב13:15 ET: איבה קורות חיים
הפסקת אש זמנית שהביא לשקט יחסי עזה לכמה שעות מוקדם יותר באותו היום, כפי שישראל וחמאס הסכימו לנצור את האש שלהם במשך חמש שעות, 10:00-03:00 זמן מקומי, מטעמים הומניטאריים. השלום היה נפגם על ידי מרגמות בשעתי הצהריים. היה שם לא היה שום אינדיקציה לכך שישראל הגיבה. עם הפסקת האש הזמנית נגמר, חמאס ירה 10 רקטות לעבר ישראל וישראל השיקה שתי תקיפות אוויריות ברצועת עזה, גורמי ביטחון ישראליים אומרים. . שנעדכן את הפוסט הזה כדי לשקף כי הפסקת האש הסתיימה
ההודעה המקורית שלנו ממשיכה:
דובר צה"ל אמר כי שלוש פצצות מרגמה נחתו בדרום הארץ אך לא עשה שום נזק, לינדה Gradstein אומר יחידת מהדורת החדשות שלנו. היא מוסיפה כי לא הייתה ברורה אם חמאס או הפלג הפלסטיני קטן יותר מנסה לשבש את הפסקת האש היה אחראי. "הפסקת האש התבקשה על ידי רוברט סרי, המתאם המיוחד של האו"ם למזרח התיכון, על מנת לאפשר סיוע לרצועה עזה ", מדווח עיתון ישראלי. תושבים נצלו את ההפסקה כדי למהר לאספקה ​​בשווקים, לבקר בבתי חולים ולנהל עסקים בבנקים. בעזה, מספר ההרוגים מתקיפות האוויריות ישראליות שטיפסה מעל 220 - מספר הכולל ב . הפגזה על חוף יום רביעי מירושלים, ארי שפירו של NPR מדווח:
"היום אנשים מבכים את מותם של ארבעה ילדים ששחקו על החוף בעת שנהרגו בתקיפה ישראלית. ישראל לא הציעה פרטי האירוע, ורק יגיד שזה היה ממוקד בפעילות
טרור." הצבאי גם מדווח כי היום זה הפסיק כתריסר חמושים שניסו לתקוף את ישראל באמצעות מנהרה מתחת לגבול עזה. "
משלחת ישראלית ביקרה בקהיר היום, כדי לקיים שיחות עם בכירים מצריים שמנסים לתווך בהסכם שלום קבוע יותר לסיים את הלחימה שהחלה בתחילת שבוע שעבר.
משלחת מחמאס נכחה גם - אבל בקטע של אותו מלון שונה, דיווחים, הנציגים של מצרים דילגו בין שתי הקבוצות.
פורסם על ידי

קרייג Schwanke
ב22:48


תוויות: הפסקת אש, מצרים, עזה, חמאס, רקטות של חמאס, ישראל, ישראלים, הרשות הפלסטינית הרשות הפלסטינית, הפלסטינים, טרור, האו"ם סיוע ועבודות סוכנות אונר"א, אונר"א, אונר"א בעזה בתי ספר
Posted by

Craig Schwanke
at 23:22
0 comments


Links to this post
Labels: cease-fire, Egypt, Gaza, Hamas, hamas rockets, Israel, Israelis, Palestinian Authority PA, Palestinians, terrorism, UN Relief & Works Agency UNRWA, UNRWA, UNRWA Gaza schools
لقد اعترض دائما على النازية إسرائيل مثل احتلال الضفة الغربية وانها عقد خنق الاقتصادي في الضفة الغربية وقطاع غزة. ولقد كنت دائما بالاشمئزاز مع التلاعب في العالم العربي والإهمال للاجئين الفلسطينيين في الضفة الغربية وقطاع غزة. وقد تم استخدامها، وسوء المعاملة والتضحية في ساحة المعركة من قبل أولئك الأوصياء على الإسلام، والمرتد حكام السعودية والإيرانية، والجشع، والأنانية ممالك الخليج الفارسي، وافر الإرهابية. مع هذه الجولة الأخيرة من القتال التي فجرها مقتل ثلاثة من المراهقين اليهود، ثم قتل الانتقام من الشباب الفلسطيني، عن إراقة الدماء التي لا معنى لها، وصعدت حماس إلى تأجيج المنطقة مع الهجمات الصاروخية على اسرائيل مما أدى إلى الضربات الجوية ضد مقاتلي حماس بإيواء بين، يختبئون وراء الأطفال والنساء والمسنين والأسر الأبرياء الذين هم كامل الأضرار الجانبية للحرب. وكانت حماس عموما ناجحة في خداع الرأي العام العالمي والتلاعب للاعتقاد بأن الفلسطينيين هم ضحايا الإبادة الجماعية الإسرائيلية، ولكن هذه المرة تم القبض عليهم في أكاذيبهم. تم بثه على اي بي سي بعد ظهر اليوم ان عمال الاغاثة للامم المتحدة في غزة العثور على صواريخ حماس في مدارس الأمم المتحدة، وهو انتهاك مباشر للقانون الدولي. مع حركة حماس قد أظهرت أن العالم هم الإرهابي الجبان، وحتى أهل غزة مطالبة بانهاء الارهاب حماس أنها سوف تستمر في المعاناة والموت وإضاعة جيل آخر من وحاتي الخاصة بهم. من + NPR و + ايه بي سي نيوز وهنا أكثر على الصراع الإسرائيلي - الفلسطيني
أندرو بورتون

/

غيتي
ملاحظة المحرر: ودفن رجل اسرائيلي قرب تل أبيب وكانت قد وضعت أربعة أولاد الفلسطينية للراحة في قطاع غزة، حضر المراسلين NPR الجنازات على طرفي نقيض الحرب لنرى كيف الناس التعامل مع الصراع. آري شابيرو التقارير الأولى من إسرائيل، تليها إميلي هاريس في مدينة غزة.
ويهود مقبرة قريبة جدا من مطار تل أبيب، لديك عمليا إلى بطة عندما يمر طائرة في سماء المنطقة.
يوم الأربعاء، واصطف السيارات الطريق وأبحر الحافلات الضيق مدخل المقبرة، وبذلك مئات من الناس لدفع الاخيرة على درور حنين، وهو أب يبلغ من العمر 37 عاما ثلاثة وقتل في الجولة الحالية من القتال بين اسرائيل والفلسطينيين أول الإسرائيلية.
عملت ألون Hackmon مع حنين ويقول انه كان العمل التطوعي دائما. حنين وتقديم حزم الرعاية للجنود الثلاثاء عندما ضربت قذائف هاون من قطاع غزة وقتلوه بالقرب من الحدود بين إسرائيل والأراضي الفلسطينية.
"استشهد لأنه ذهب هناك، بجانب غزة، لجلب الجنود، ليعطيهم الطعام ،،، قال Hackmon الشوكولاته منحهم بعض الوقت جيدة هناك، وهذا كل شيء ". "هذه هي الطريقة التي حصلت للقتل."
بالنسبة لإسرائيل، كانت أول حالة وفاة في هذا الصراع نوعا من لحظة وطنية.
جديدة الرئيس المنتخب الإسرائيلي، رؤوفين ريفلين، كان في جنازة جنبا إلى جنب مع وزراء مجلس الوزراء.
عندما وصل والد حنين وبكاء والسياسيين تجمعوا حول إلى أحضانه.
"مساعدة الناس وكان دوره في الحياة"، صرخت الأب.
لكارين Uzon، وهو صديق للعائلة، فإن هذا لا يبدو أول حالة وفاة في هذا الفصل من الصراع.
"نحن في نفس الحرب لمدة 65 عاما، 66 عاما "، وقالت، في إشارة إلى الخلاف الذي تم حرق منذ الحرب العربية الإسرائيلية الأولى عام 1948، وهو العام لتأسيس إسرائيل. "حتى انها ليست أول واحد ولا آخر واحد وأنا أعلم المقربة، وذلك على الأقل نحن بحاجة لوقف فقدان الحياة ونحن بحاجة للسلام."
هناك الحزن. ولكن الشعور الساحقة يبدو أن الإرهاق.
الناس يريدون هذا الصراع إلى النهاية، وأنهم محبطون أنها لا يمكن أن نرى كيف أنها ستفعل ذلك.
واحدة من المشيعين، جودي Dresnick، يرددون، "هذه ليست طبيعية."
"كل يوم أنا نصلي من اجل ان هذه القنبلة لن تكون على بيتي وسوف تكون آمنة أطفالنا "، كما تقول. "الوضع ليس طبيعيا."
والسبب حضرنا اثنين من الجنازات - واحد في إسرائيل، واحدة في غزة - لم يكن لمأساة حفرة واحدة ضد أخرى أو مقارنة يعاني
أردنا أن نطلب من الناس مختلفة أسئلة مشابهة، لنرى كيف المدنيين على العكس يتم الجانبين من الصراع المستمر منذ عقود الاستجابة لهذه الجولة من العنف والخسارة.
السياسيين الإسرائيليين يتحدثون عن الانتقام والعقاب. ولكن أيا من المشيعين تقريبا قالوا انهم يريدون "الدم بالدم".
وقال دوف بار ايلان، وهو قريب من حنين،، "حتى لو كان لدينا في الكتاب المقدس الذي كتبت عليه، وأنا لا أعتقد ذلك لأننا سوف الانتقام، ومن ثم وسوف الانتقام، وهلم جرا، وهلم جرا، وهلم جرا. "
ومع ذلك، بعض تأخذ الموت حنين دليلا على أن المسلحين الفلسطينيين فهم لغة العنف فقط.
كان ابنه كارميلا النهاري أفضل أصدقاء مع حنين. وقالت انها تستخدم للاعتقاد في الحديث. ولكن ليس بعد الآن.
"علينا أن نجد شريكا للتحدث، وحماس ليست [شريك]،" قالت.
وردا على سؤال إذا شعرت لأسر وأصدقاء للفلسطينيين الذين لقوا حتفهم في غزة، كما تقول، " نعم، بالطبع. [حماس] وعقد لهم مثل السجناء، وهم يعانون في غزة ونحن نعاني هنا ".
بدأ مئات الاشخاص الذين تجمعوا للمشاركة في جنازة ليغلق في حوالي الأسرة. انضموا معا في قوله كاديش، الصلاة المشيعين.
محمد عابد

/

اف ب / جيتي
تقارير إميلي هاريس من مدينة غزة:
ومثلما بدأت الجنازة درور حنين بالقرب من تل أبيب، ضربت الطائرات الحربية الاسرائيلية الشاطئ في قارب صيد الرصيف في مدينة غزة. مرتين.
وهرعت سيارات الإسعاف إلى الشاطئ، ولكن كان هناك أربعة أولاد صغار مات بالفعل. وكانوا جميعا أبناء عمومة الذين تتراوح أعمارهم بين 9 و 12، جزء من عائلة بكر طويلة من الصيادين. بعد الهجوم، وارتفع الدخان الرمادي من كوخ على الرصيف. تم سحب جثة واحدة الصبي من تحت الانقاض. تم العثور على ثلاثة آخرين على الرمال.
وبعد أقل من ساعتين، تجمع المئات من الرجال في مسجد الحي، وإزالة الصنادل والمتأرجح قبل الدخول للصلاة قصيرة على أجساد الأولاد بكر - محمد إسماعيل، زكريا و عاهد.
ثم أسكن المشيعون خارج بهدوء، بينما حشد من الشبان قامت الهيئات عالية فوق رؤوسهم خارج. غطيت الأولاد القتلى مع ورقة، مجرد وجوه صغيرة تظهر بها. حطم الحشد في الهتافات الدينية.
كان بكر مقبرة العائلة على بعد مسافة قصيرة بعيدا. بكى محمد بكر كما تم تنفيذ جثة ابنه البالغ من العمر 12 عاما، إسماعيل، في الماضي له.
واضاف "انهم كانوا يجمعون فقط، واللعب على الشاطئ، وغسل أنفسهم على الشاطئ"، قال. "ماذا سيفعلون؟ لماذا كانت تستهدفهم؟ هم الأطفال فقط. ماذا تفعل مثل الأطفال الصغار؟ ليس لديهم أي أسلحة"
عندما سئل عما اذا كان الوقت قد حان لوقف إطلاق النار، وقال انه فوات الاوان.
"نحن لا نريد وقفا لاطلاق النار. ما وقف إطلاق النار الذي تتحدث عنه؟" قال. "أريد تكلفة الدم أطفالنا". يوم أمس أردنا وقف إطلاق النار. الآن، لا، ونحن لا نريد ذلك. "
في الحشد، وقال صبي قصيرة مع الرموش الطويلة أبقى أطفال الحي السباحة على الشاطئ حتى خلال القتال في الأيام الأخيرة. تحول الهتاف الشباب السياسية علنا.
"نتنياهو، أنت جبان"، وردد المتظاهرون شعارات، في اشارة الى رئيس الوزراء الاسرائيلي بنيامين نتنياهو. "لن تكون أبدا إذلال سكان غزة."
، وقال محمد عز، وهو أب لثلاثة، وقال انه لا يريد القتال لوقف يراقب القريبة. لكنه لا يريد أن يستسلم.
"نريد وقفا لاطلاق النار، ولكن نحن لا يمكن أن تثق بها الإسرائيليين"، قال. واضاف "انهم يطالبون بتفكيك سلاح المقاومة في قطاع غزة، وأنا لا تمانع من حيث المبدأ، لكنها لا تفي بوعودها إذا نحن لرمي أسلحتنا في البحر، وأنها سوف تأتي لاحقا مهاجمتنا على. "
وقتل أكثر من 200 شخص في غزة خلال الأيام التسعة الماضية من القتال. وتقول اسرائيل ان الهدف على الشاطئ يوم الاربعاء نشطاء من حماس والجيش يحقق في الحادثة.
شملت الناجين أربعة أبناء عمومة بكر الذي كان أيضا على الشاطئ عندما ضربت الغارات الجوية. وقال العربى بكر، 11 الأولاد كانوا يلعبون لعبة مفضلة - "العرب واليهود."
مثل الكثير من "الشرطة واللصوص"، وهذه الفرق هي الأعداء. كما أنها تستخدم العصي البنادق التظاهر ويتناوبون تطارد بعضها البعض، ووضع المعارضين في "السجن".
في هذه الحالة، كان السجن بالقرب من كوخ على رصيف الصيد التي تعرضت لغارة جوية إسرائيلية. واحد الصبي الذي توفي كان يلعب يهودي، المأسورة في اللعبة.
ندعو الفلسطينيين الذين قتلوا في الصراع مع إسرائيل "الشهداء".
""، وقال بكر Arabiy إذا كان كل ما عليك القيام به هو اللعب العرب واليهود ليكون شهيدا، "ربما سأكون شهيدا في وقت قريب جدا."
محمد أبو وطفة (23 عاما) كان واحدا من ثلاثة أشخاص بجروح الاربعاء في هجوم.
الكذب على وسادة بيضاء المزركشة في المستشفى، وقال انه تطرق ضمادة على الجانب الأيسر من بطنه . وقال انه كان في مقهى عائلته أسفل الشاطئ وركض للمساعدة بعد الضربة الجوية الأولى. تم القبض عليه في الثانية.
يقول شقيقه في القانون أبو يزن بردة اتخذت هذا القتال تفجر في خسائر كبيرة على غزة.
"، تم الكثير من الناس قتلوا في صالحنا"، قال.
وقال ايضا انه يعرف كيف لوضع حد لها.
"، إذا ينتهي الاحتلال الإسرائيلي، فإن المشكلة تحل نفسها"، قال.
سحبت اسرائيل كل قواتها والمستوطنين اليهود في غزة مرة أخرى في عام 2005، لكنها لا تزال تسيطر على تدفق البضائع والأشخاص داخل وخارج ل الصغيرة، والأراضي مكتظة.
للبردة، "إنهاء الاحتلال" يعني إعطاء الفلسطينيين السيطرة الحقيقية على أنفسهم وبعض الأراضي.
دفنوا الأولاد الأربعة على رقعة من غزة على مقربة من المكان الذي توفي، عن طريق البحر.
يمكنك متابعة آري شابيرو
@ arishapiro
وإميلي هاريس
@ emilygharris.
مدينة غزة، قطاع غزة - 17 يوليو 2014، 16:43 ET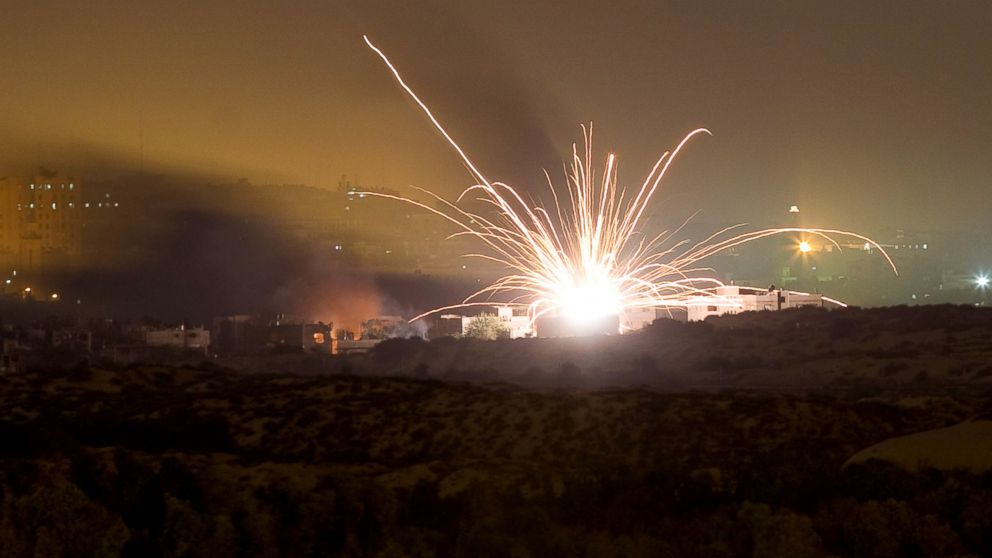 السيارات البدء: في |
معطلة
وشنت القوات الإسرائيلية "مرحلة الأرض" في جهودها لوقف اطلاق الصواريخ على اسرائيل من
غزة
قال الجيش الاسرائيلي اليوم.
"، وسوف تشمل تنسيق وثيق بين وحدات [إسرائيل] بما في ذلك المشاة وسلاح المدرعات، مهندس السلك والمدفعية، والمخابرات جنبا إلى جنب مع الدعم الجوي والبحري"، وقال الجيش الاسرائيلي في بيان ان توغل في غزة.
ل
الاسرائيلية
قال الجيش هو المقصود الهجوم لضرب "ضربة كبيرة للبنية التحتية لحركة حماس الارهابية".
وحتى اليوم وقد تألفت المعركة من حماس التي تسيطر على قطاع غزة، وإطلاق الصواريخ على إسرائيل وإسرائيل تستهدف ما تصفه مواقع إرهابية في قطاع غزة مع الطائرات المقاتلة والمدافع البحرية. اوقفت اسرائيل هجماتها مرتين وتم التفاوض مع حماس لوقف اطلاق النار أكثر ديمومة في القاهرة، مصر.
وقال الجيش الإسرائيلي اليوم انها ارسلت قوات الى غزة "بعد 10 أيام من هجمات حماس عن طريق البر والجو والبحر، وبعد الرفض المتكرر من العروض لنخفف من تصعيد الوضع".
وكان موقع "المرحلة البرية" وعدد القوات المشاركة لم يتسن على الفور، لكنه دعا متحدث باسم الجيش الإسرائيلي بأنه "قوة من الجيش الإسرائيلي واسع." وقال الجيش الإسرائيلي أيضا أنه كان في جميع أنحاء قطاع غزة، وأنه لم يكن هناك حد زمني لهذه العملية.
"ارهابيي حماس تعمل تحت الأرض، وهذا هو المكان الذي سوف يجتمع لهم جيش الدفاع الإسرائيلي. ويعتزم الجيش الإسرائيلي لإضعاف قدرة حماس على مهاجمة اسرائيل"، وقال الجيش الإسرائيلي.
وقال الجيش الاسرائيلي ان اسرائيل استدعت 48،000 الاحتياط في الاسابيع الاخيرة وأذن مجلس الوزراء الإسرائيلي اليوم على استدعاء جنود الاحتياط من 18،000 أكثر، ليصل العدد الإجمالي إلى 64،000. وكان العديد من الجنود تم حشدت بالدبابات قرب حدود غزة. حذرت اسرائيل أيضا عشرات الآلاف من الناس في غزة لإخلاء منازلهم حفاظا على سلامتهم.
وقد غادر عراك بين حماس وإسرائيل 243 فلسطينيا وجرح 1،850. وقد قتل إسرائيلي واحد وعدة جرحى.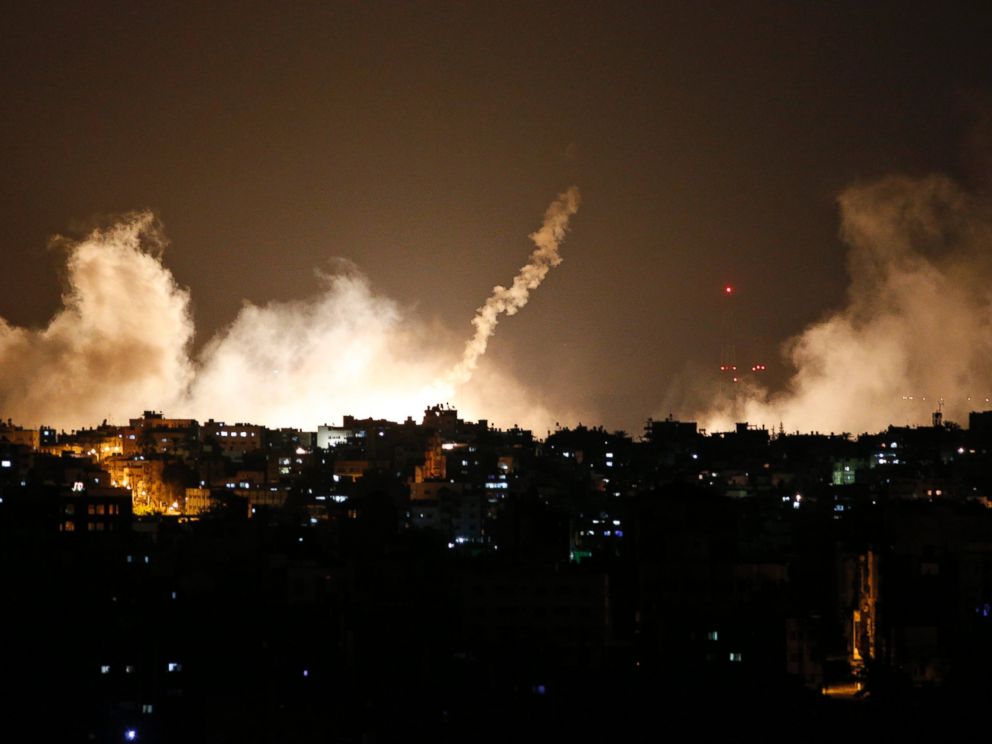 يفتيريس Pitarakis / ا ف ب الصور
وكان قطاع غزة بدأت يوم مع استراحة نادرة في الهجمات كما لاحظ الجانبان خمس ساعات "وقفة انسانية" للسماح للسكان غزة لتخزين الامدادات. وقال الجيش الإسرائيلي ولكن لحظة وصول مهلة خمس ساعات، قذيفة هاون اطلقت من قطاع غزة على مدار ضرب الاراضي الاسرائيلية. استأنفت إسرائيل حملة قصف تلقاء نفسها بعد ذلك بوقت قصير، وفقا للجيش الإسرائيلي.
في الساعات التي سبقت الاجتياح الإسرائيلي، أضاءت مشاعل قوية أطلقها إسرائيل سماء غزة، حسبما ذكرت المراسلين ايه بي سي نيوز في غزة. قيل وسائل الإعلام الأجنبية في فندق بالقرب من الواجهة البحرية في غزة من قبل إسرائيل كان لديهم لإخلاء يمكن أن ينظر إلى النار بناء والتتبع ضرب مواقع في قطاع غزة.
شنت اسرائيل هجوما مشاركة بري كبير في غزة في يناير كانون الثاني عام 2009.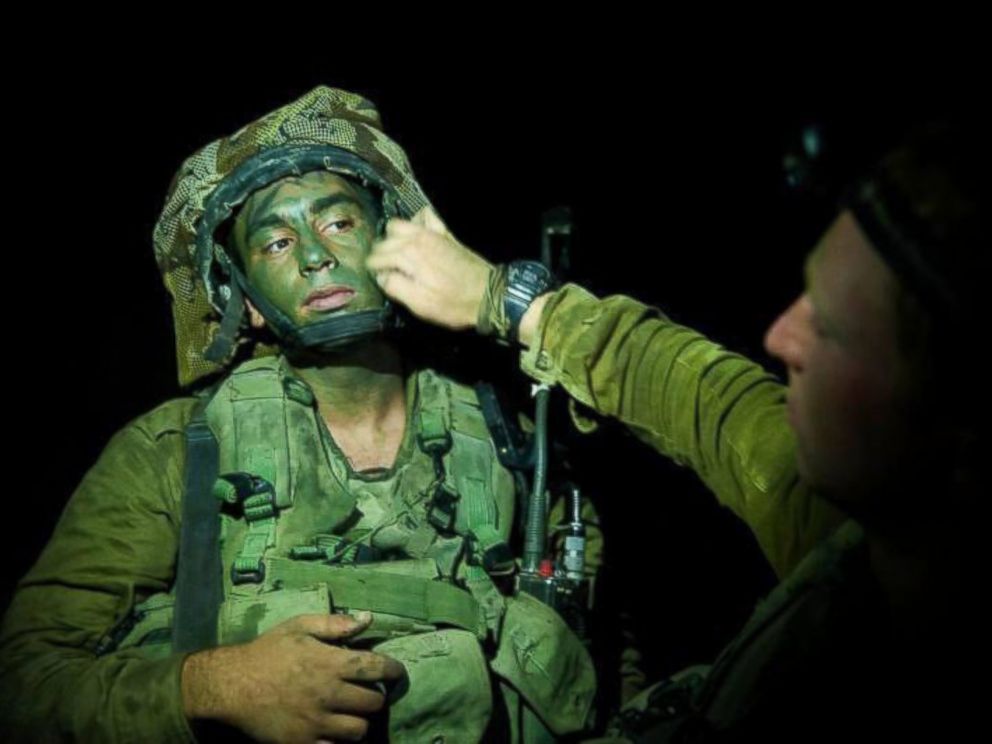 @ IDFSpokesperson / تويتر
في وقت سابق اليوم، قال الجيش الإسرائيلي أنه أحبط هجوما من قبل 13 نشطاء في غزة الذين تسللوا الى اسرائيل عبر نفق. وقال اللفتنانت كولونيل بيتر ليرنر، المتحدث باسم الجيش الإسرائيلي، تم تحديد المسلحين عن 820 قدم داخل إسرائيل وضربت الطائرات الإسرائيلية. وقال ليرنر يعتقد الجيش قتل مسلح واحد على الأقل في غارة يوم الخميس. وقال انه يبدو ان المقاتلين المتبقية قد عادوا إلى غزة عبر النفق.
وهذه هي المرة الثانية المسلحين تسللوا إسرائيل من غزة. اسرائيل قتلت أربعة نشطاء في الاسبوع الماضي الذين دخلوا من البحر.
اليوم أيضا، قالت وكالة الأمم المتحدة أنها وجدت 20 صاروخا مخبأة في المدرسة تشغيله في غزة.
وقالت وكالة الأمم المتحدة لإغاثة وتشغيل في بيان نشر على موقعها اليوم تم اكتشاف الذخائر الاربعاء.
وقال "في سياق عمليات تفتيش منتظمة من أماكن عملها، اكتشف الأونروا حوالي 20 صاروخا مخبأة في المدرسة الشاغرة في قطاع غزة"، وقال للوكالة.
الأونروا، التي تمد المأوى والمساعدات الإنسانية في غزة، أدان تخزين الأسلحة في المدارس وقال: "هذا الحادث، الذي يعتبر الأول من نوعه في غزة، المدنيين المعرضين للخطر بما في ذلك الموظفين ووضع في المهمة الحيوية للخطر الأونروا لمساعدة وحماية اللاجئين الفلسطينيين في قطاع غزة ".
يقال أنها "أبلغت الأطراف المعنية بنجاح واتخذت كل التدابير اللازمة لإزالة الكائنات من أجل الحفاظ على سلامة وأمن المدرسة."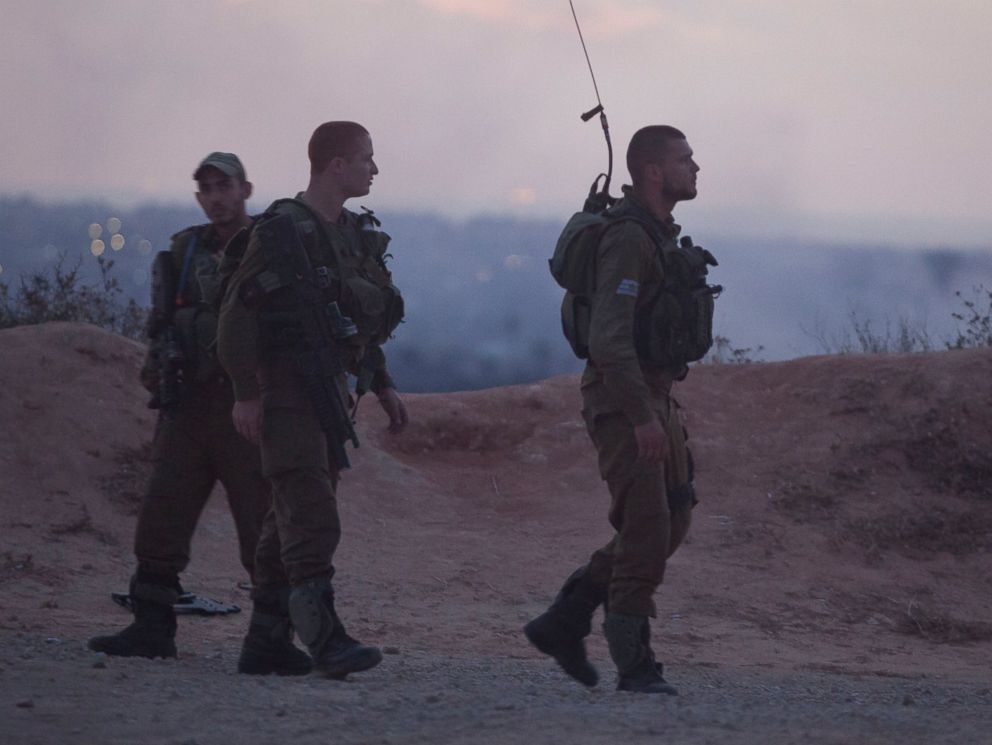 صور ليور مزراحي / غيتي
، كانت أنواع من الصواريخ أو من هم "الأطراف المعنية" لكن الوكالة لم تحدد موقع المدرسة.
عزز الإعلان المزاعم الإسرائيلية بأن حماس استخدمت المدارس والمساجد والمرافق الطبية كدروع كما انها تطلق الصواريخ على اسرائيل.
المعركة قد كسر هدوء لمدة سنتين في الأعمال العدائية بين إسرائيل وحماس، ونجمت عن مقتل ثلاثة من المراهقين الاسرائيلية والانتقام حرق فاة في سن المراهقة الفلسطينية. تصاعدت احتجاجات غاضبة لاطلاق الصواريخ والغارات الجوية الانتقامية.
أرييل شاليط

/

AP
وأمر رئيس الوزراء الاسرائيلي بنيامين نتنياهو الجيش لإرسال قوات برية إلى قطاع غزة مساء الخميس.
"نحن نسمع تقارير أنه حتى الآن وتركزت العملية في الشمال،" تقارير NPR في إميلي هاريس، الذي هو في غزة.
فوزي برهوم المتحدث باسم "وقال في بيان. لحماس، ودعا الغزو" خطوة خطيرة. "إن الاحتلال دفع ثمنه باهظا، وحماس مستعدة للمواجهة،
وقال الناس في شمال قطاع غزة هاريس ان "هناك الكثير من القصف هناك." ولكن الناس في الجزء الجنوبي من قطاع غزة تحاول أيضا أن تأخذ ما في وسعهم تغطية، إذا تتحرك فقط إلى الأجزاء الوسطى من منازلهم، بعيدا عن الجدران والنوافذ.
"كما قصفت الدبابات في الشرق، فتحت زوارق البحرية الإسرائيلية النار على ".، لتصل إلى شواطئ غزة، وقال مسؤولون اسرائيليون الغرب" BuzzFeed. "انه هجوم من شقين تستهدف يمهد الطريق للقوات البرية للانتقال إلى غزة في أكبر توغل منذ عام 2008
وقال هاريس على
كل الأمور في الاعتبار
أنه من لم يتضح بعد حيث يمكن تشغيل المشاة الاسرائيلية.
وأشارت إلى أن إسرائيل تستهدف الأنفاق يستخدم حماس للتسلل أراضيها. في وقت سابق من يوم الخميس، قصفت الطائرات الاسرائيلية مجموعة من المقاتلين الفلسطينيين الذين كانوا قد نفق تحت الحدود.
"، والأنفاق على حد سواء مشكلة حقيقية جدا ورمزية بالنسبة لإسرائيل"، وقال هاريس. واضاف "انها طريقة بعض المتشددين في إسرائيل وهذا شيء العسكري الاسرائيلي هو ذاهب الى محاولة للتركيز على في هذا الغزو."
لم يقدم الجيش تفاصيل عن نطاق العملية أو عدد القوات المشاركة. بيان صادر عن الجيش الإسرائيلي لم يقول ستشمل العملية "المشاة وسلاح المدرعات، مهندس السلك والمدفعية والمخابرات جنبا إلى جنب مع الدعم الجوي والبحري."
قيادة المنطقة الجنوبية في الجيش الإسرائيلي يقود الهجوم البري، ل
جيروزاليم بوست.
الجيش لديه استدعى 18،000 مزيد من جنود الاحتياط.
"، في ضوء العدوان الحقير وبلا هوادة من قبل حماس وتسلل خطيرة إلى إسرائيل، فإن إسرائيل ملزمة بحماية مواطنيها"، وقال مكتب رئيس الوزراء في بيان.
صفارات الإنذار يمكن أن يسمع في جميع أنحاء إسرائيل، ل باراك رافيد، المراسل الدبلوماسي لصحيفة اسرائيلية
هآرتس.
"، ونحن نرى العديد والعديد من الناس يأتون إلى المستشفى، وهذه ليست سوى تلك التي يمكن أن تحصل هنا"، قال وليد طه، وهو طبيب جراح في مستشفى الشفاء في غزة BuzzFeed. "نحن لا نعرف كم عدد لن تكون قادرة على الوصول إلينا هذه الليلة."
ونحن، ان عدد القتلى في غزة من الغارات الجوية الإسرائيلية قد ارتفع فوق 220 قبل الهجوم ليلا.
يوم الخميس، إسرائيل وحماس على حد سواء وحظ وجود خمسة ساعة وقف إطلاق النار للسماح بوصول المساعدات الإنسانية إلى غزة.
سمحت هدنة قصيرة أيضا لإعادة فتح البنوك وبعض أعمال الترميم البنية التحتية الذي يتعين القيام به، وفقا لروبرت تيرنر، مدير عمليات وكالة الأمم المتحدة في مدينة غزة لإغاثة وتشغيل.
"، وهذه هي المرة الأولى التي رأيت ازدحام حركة المرور لمدة تسعة أيام في غزة" وقال تيرنر NPR في كورنيش أودي.
"، وكان هناك أمل هذا يمكن أن يكون خطوة أولى نحو وقف لإطلاق النار على نطاق أوسع" واضاف. واضاف "هذا بالتأكيد لا يحدث هذه الليلة."
يفتيريس Pitarakis

/

AP
تم تحديث هذا المنصب في 16:10 ET: ارضي الجرائم بيغن
قد أرسلت إسرائيل قوات برية إلى قطاع غزة يوم الخميس، والتي نحن في تغطية.
تحديث في 13:15 ET: استئناف الأعمال العدائية
ووقف إطلاق النار المؤقت قد جلبت الهدوء النسبي ل غزة في وقت سابق لبضع ساعات في اليوم، كما اتفقت إسرائيل وحماس على وقف اطلاق النار لمدة خمس ساعات، 10:00 حتي 15:00 بالتوقيت المحلي، لأسباب إنسانية. وشابت السلام في هجوم بقذائف المورتر عند الظهر تقريبا. وقد كان هناك ما يشير إلى أن إسرائيل ردت. ، يقول مسؤولون أمنيون اسرائيليون مع أكثر من هدنة مؤقتة، أطلقت حماس 10 صاروخا على اسرائيل وشنت اسرائيل غارتين جويتين على قطاع غزة. . قمنا بتحديث هذا المنصب لتعكس أن وقف إطلاق النار قد انتهى
ولا يزال لدينا آخر الأصلي:
قال متحدث باسم الجيش الاسرائيلي سقطت ثلاث قذائف هاون في جنوب اسرائيل لكنه لم يفعل أي ضرر، ليندا Gradstein يحكي حدة النشرة الإخبارية لدينا. وتضيف أنه ليس من الواضح ما إذا كانت حماس أو الفصائل الفلسطينية الصغيرة في محاولة لعرقلة وقف إطلاق النار مسؤولة. "وطلب وقف إطلاق النار من جانب روبرت سيري، المنسق الخاص للأمم المتحدة للشرق الأوسط، من أجل السماح لل المساعدات إلى قطاع غزة "، وتقارير صحيفة اسرائيلية. المستخدمة في الشوط الثاني لسكان الاندفاع للإمدادات في الأسواق، وزيارة المستشفيات ومزاولة العمل في البنوك. وفي غزة، فإن عدد القتلى من الضربات الجوية الإسرائيلية وارتفع فوق 220 - وهو الرقم الذي يشمل في . القصف على شاطئ الاربعاء من القدس، في NPR آري شابيرو التقارير:
"الناس اليوم في حداد وفاة أربعة أطفال كانوا يلعبون على الشاطئ عندما كانوا قتلوا في هجوم اسرائيلي. لم تقدم اسرائيل تفاصيل الحادث، واكتفى بالقول أنه استهدف النشاط الإرهابي.

"تقارير الجيش أيضا أن اليوم توقف نحو عشرة مسلحين كانوا يحاولون مهاجمة اسرائيل عبر نفق تحت الحدود بين غزة ".
زار وفد إسرائيلي القاهرة اليوم لاجراء محادثات مع المسؤولين المصريين الذين يحاولون التوسط في اتفاق سلام دائم لانهاء القتال الذي بدأ مطلع الأسبوع الماضي. وكان وفد من حماس أيضا موجودة - لكن في مقطع آخر من نفس الفندق، والتقارير، تنقل ممثلي مصر بين المجموعتين.
Posted by

Craig Schwanke
at 23:16
0 comments


Links to this post
Labels: cease-fire, Egypt, Gaza, Hamas, hamas rockets, Israel, Israelis, Palestinian Authority PA, Palestinians, terrorism, UN Relief & Works Agency UNRWA, UNRWA, UNRWA Gaza schools
I have always objected to Israel's nazi like occupation of the West Bank and it's economic strangle hold on the West Bank and Gaza. And I have always been disgusted with the Arab world's manipulation and neglect of the Palestinian refugees in the West Bank and Gaza. They have been used, abused and sacrificed on the battlefield by those guardians of Islam, the apostate saudi and Iranian rulers, and the greedy, self serving Persian Gulf kingdoms, and terrorist galore. With this latest round of fighting, sparked by the killing of three Jewish teenagers, then the revenge killing of a Palestinian youth, all senseless bloodshed, hamas has stepped up to inflame the region with rocket attacks on Israel resulting in air strikes against hamas fighters sheltering among, hiding behind children, women, the elderly, entire innocent families who are the collateral damage of war. hamas has generally been successful in deceiving and manipulating world opinion to believe the Palestinians are victims of Israeli genocide, but this time they have been caught in their lies. It was broadcast on ABC this afternoon that U.N. relief workers in Gaza found hamas rockets in U.N. schools, a direct violation of international law. With that hammas has shown the world they are cowardly terrorist, and until the people of Gaza demand an end to hamas terrorism they will continue to suffer and die and waste another generation of their childen. From +NPR and +ABC News and here is more on the Israeli - Palestinian conflict
by Ari Shapiro and Emily Harris
Andrew Burton

/

Getty Images
Editor's Note: As an Israeli man was buried near Tel Aviv and four Palestinian boys were laid to rest in the Gaza Strip, NPR correspondents attended the funerals on opposite sides of the war to see how people are coping with the conflict. Ari Shapiro reports first from Israel, followed by Emily Harris in Gaza City.
The Yehud Cemetery is so close to the Tel Aviv airport, you practically have to duck when an airplane passes overhead.
On Wednesday, cars lined the road and buses navigated the narrow entrance to the graveyard, bringing hundreds of people to pay their last respects to Dror Hanin, a 37-year-old father of three and the first Israeli killed in the current round of Israeli-Palestinian fighting.
Alon Hackmon worked with Hanin and says he was always volunteering. Hanin was delivering care packages to soldiers Tuesday, when a mortar from Gaza struck and killed him near the boundary between Israel and the Palestinian territory.
"He was killed because he went over there, next to Gaza, to bring soldiers, to give them food, chocolate, give them some good time over there, and that's it," Hackmon said. "That's how he got killed."
For Israel, the first death in this conflict was a sort of national moment.
Israel's new president-elect, Reuven Rivlin, was at the funeral along with Cabinet ministers.
When Hanin's father arrived, weeping, politicians crowded around to embrace him.
"Helping people was his role in life," wailed the father.
For Karen Uzon, a friend of the family, this didn't seem like the first death in this chapter of the conflict.
"We are in the same war for 65 years, 66 years," she said, a reference to a feud that has been burning since the first Israeli-Arab war in 1948, the year of Israel's founding. "So it's not the first one and not the last one that I know closeup, so at least we need to stop the losing of life and we need peace."
There is sadness. But the overwhelming feeling seems to be exhaustion.
People want this conflict to end, and they are frustrated that they cannot see how it will.
One of the mourners, Judy Dresnick, kept repeating, "This is not normal."
"Every day I pray that this bomb won't be on my house and our kids will be safe," she says. "The situation is not normal."
The reason we attended two funerals — one in Israel, one in Gaza — was not to pit one tragedy against another or compare suffering.
We wanted to ask different people similar questions, to see how civilians on opposite sides of a decades-old conflict are responding to this round of violence and loss.
Israeli politicians talk about revenge and punishment. But almost none of the mourners said they wanted "blood for blood."
Dov Bar-Elan, a relative of Hanin, said, "Even if in our Bible it's written, I don't think so because we will take revenge, and then they will take revenge, and so on and so on and so on."
Still, some take Hanin's death as evidence that Palestinian militants only understand the language of violence.
Carmella Nahari's son was best friends with Hanin. She used to believe in talking. But not anymore.
"We have to find a partner to talk to, and Hamas is not [a partner]," she said.
Asked if she feels for the families and friends of the Palestinians who have died in Gaza, she says, "Yes, of course. [Hamas] is holding them like prisoners. They are suffering in Gaza as we are suffering here."
The hundreds of people who gathered for the funeral started to close in around the family. They joined together in saying kaddish, the mourners' prayer.
Mohammed Abed

/

AFP/Getty Images
Emily Harris reports from Gaza City:
Just as Dror Hanin's funeral began near Tel Aviv, Israeli warplanes struck the beach at Gaza City's fishing boat pier. Twice.
Ambulances rushed to the beach, but four young boys were already dead. They were all cousins between the ages of 9 and 12, part of the extended Bakr family of fishermen. After the attack, gray smoke rose from a shack on the pier. One boy's body was pulled from the rubble. The three others were found on the sand.
Less than two hours later, hundreds of men gathered at a neighborhood mosque, removing their sandals and flip-flops before entering for short prayers over the bodies of the Bakr boys — Mohammad, Ismail, Zakariya and Ahed.
The mourners then shuffled out quietly, while a crowd of young men carried the bodies high over their heads outside. The dead boys were covered with sheets, just their small faces showing. The crowd broke into religious chants.
The Bakr family cemetery was just a short walk away. Mohammad Bakr cried as the body of his 12-year-old son, Ismail, was carried past him.
"They were just collecting, playing on the beach, washing themselves on the beach," he said. "They are just children. What would such small children do? They don't have any weapons. What would they do? Why would they target them?"
When asked if it's time for a cease-fire, he said it's too late.
"We don't want a cease-fire. What cease-fire are you talking about?" he said. "I want the cost of our kids' blood. Yesterday we wanted cease-fire. Now, no. We don't want it."
In the crowd, a short boy with long eyelashes said neighborhood kids kept swimming at the beach even during the fighting in recent days. The young men's chanting turned overtly political.
"Netanyahu, you coward," they chanted, referring to Israeli Prime Minister Benjamin Netanyahu. "Gazans will never be humiliated."
Watching nearby, Mohammad Ezz, a father of three, said he does want the fighting to stop. But he does not want to surrender.
"We want a cease-fire. But we cannot trust the Israelis," he said. "They are asking to dismantle the weapons of the resistance in the Gaza Strip. I don't mind that in principle. But they don't keep their promises. If we throw our weapons into the sea, they'll come attack us later on."
More than 200 people have died in Gaza over the past nine days of fighting. Israel says the target at the beach on Wednesday was operatives from Hamas, and the army is investigating the episode.
The survivors included four more Bakr cousins who had also been on the beach when the airstrikes hit. Araby Bakr, 11, said the boys were playing a favorite game — "Arabs and Jews."
Much like "cops and robbers," the teams are enemies. They use sticks as pretend guns and take turns chasing each other and putting opponents in "jail."
In this case, the jail was near the shack on the fishing pier that was hit by the Israeli airstrike. One boy who died had been playing a Jew, captured in the game.
Palestinians call people killed in the conflict with Israel "martyrs."
"If all you have to do is play Arabs and Jews to be a martyr," Arabiy Bakr said, "maybe I'll be a martyr soon too."
Mohammad Abu Watfa, 23, was one of three people wounded Wednesday in the attack.
Lying on a lacy white pillow in the hospital, he touched a bandage on the left side of his abdomen. He said he was at his family's café down the beach and ran to help after the first airstrike. He was caught in the second.
His brother-in-law Abu Yazan Bardah says this flareup in fighting has taken a deep toll on Gaza.
"Too many people have been killed on our side," he said.
He also said he knows how to end it.
"If the Israeli occupation ends, the problem will solve itself," he said.
Israel withdrew all its soldiers and Jewish settlers in Gaza back in 2005, but it still controls the flow of goods and people in and out of the small, overcrowded territory.
For Bardah, "ending the occupation" means giving Palestinians real control over themselves and some land.
The four boys were buried on a patch of Gaza close to where they died, by the sea.
You can follow Ari Shapiro
@arishapiro
and Emily Harris
@emilygharris.
GAZA CITY, Gaza Strip — Jul 17, 2014, 4:43 PM ET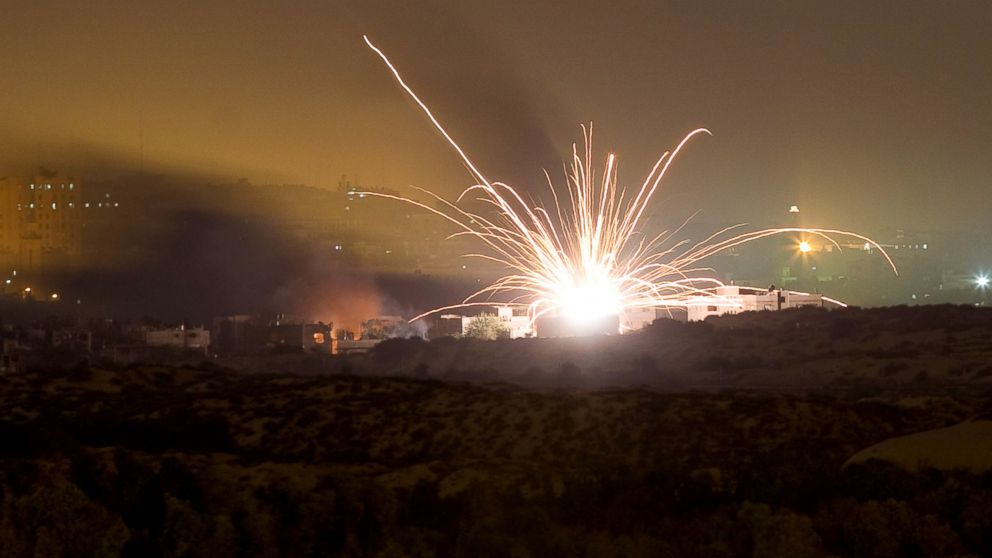 Israeli forces have launched a "ground phase" in its effort to halt rockets being fired at Israel from
Gaza,
the Israeli military said today.
The incursion into Gaza "will include close coordination between [Israel's] units including infantry, armored corps, engineer corps, artillery, and intelligence combined with aerial and naval support," the Israel Defense Forces said in a statement.
The
Israeli
army said the offensive is meant to strike a "significant blow to Hamas' terror infrastructure."
Until today the battle has consisted of Hamas, which controls Gaza, launching rockets at Israel and Israel targeting what it calls terrorist sites in Gaza with fighter jets and naval guns. Israel twice halted its attacks and has been negotiating with Hamas for a more permanent ceasefire in Cairo, Egypt.
The IDF said today it sent troops into Gaza "Following 10 days of Hamas attacks by land, air and sea, and after repeated rejections of offers to deescalate the situation."
The location of the "ground phase" and the number of troops involved was not immediately available, but an IDF spokesman called it "a large IDF force." The IDF also said it was throughout the Gaza Strip and that there was no time limit for the operation.
"Hamas terrorists are operating underground, and that is where the IDF will meet them. The IDF intends to impair Hamas' capability to attack Israel," the Israeli military said.
Israel had called up 48,000 reservists in recent weeks and the Israeli cabinet today authorized the call-up of 18,000 more reservists, bringing the total to 64,000, the IDF said. Many of the troops had been massed with tanks near Gaza's border. Israel had also warned tens of thousands of people in Gaza to evacuate their homes for their own safety.
The slugfest between Hamas and Israel has left 243 Palestinians dead and 1,850 wounded. One Israeli has been killed and several injured.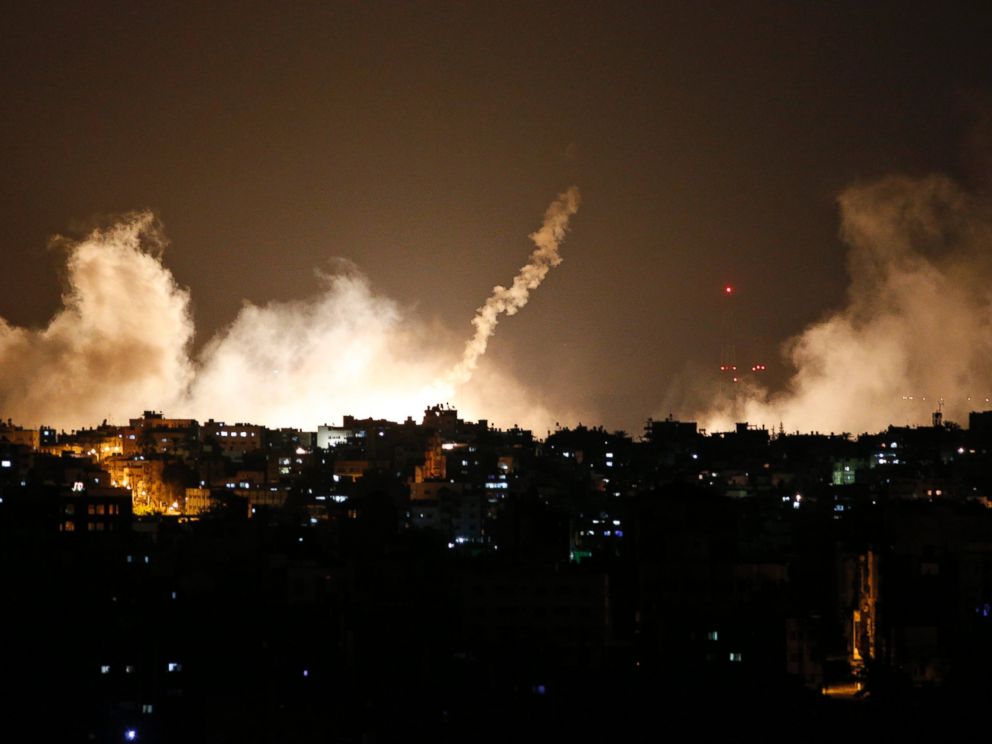 Lefteris Pitarakis/AP Photo
Gaza had started the day with a rare break in attacks as both sides observed a five hour "humanitarian pause" to allow Gazans to stock up on supplies. But the moment the five hour deadline arrived, a mortar round fired from Gaza hit Israeli territory, the IDF said. Israel resumed its own bombing campaign a short time later, according to the IDF.
In the hours before the Israeli incursion, powerful flares fired by Israel lit up the sky over Gaza, ABC News correspondents in Gaza reported. Foreign media in a hotel near the waterfront in Gaza were told by Israel they had to evacuate the building and tracer fire could be seen hitting sites in Gaza.
Israel last carried out a major ground offensive in Gaza in January 2009.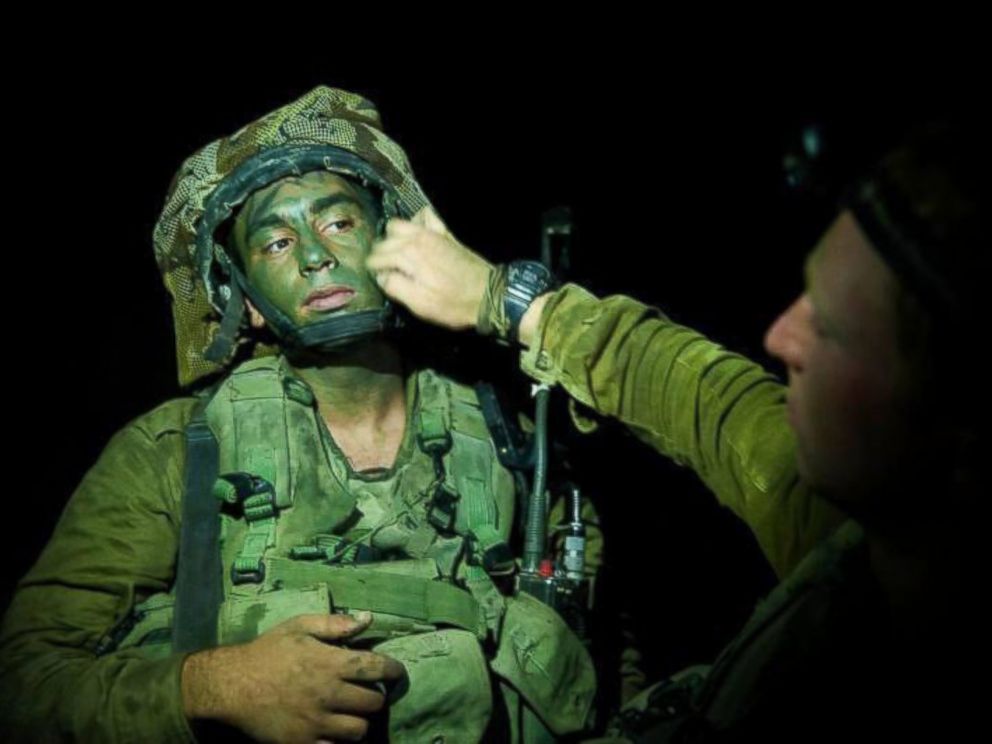 @IDFSpokesperson/Twitter
Earlier today, the IDF said that it thwarted an attack by 13 Gaza militants who sneaked into Israel through a tunnel. Lt. Col. Peter Lerner, an Israeli military spokesman, said the militants were identified about 820 feet inside Israel and were struck by Israeli aircraft. Lerner said the military believed at least one militant was killed in Thursday's strike. He said the remaining fighters appeared to have returned to Gaza through the tunnel.
This was the second time militants infiltrated Israel from Gaza. Israel killed four militants last week who entered from the sea.
Also today, a United Nations agency said it found 20 rockets hidden in a school it runs in Gaza.
The munitions were discovered Wednesday, the United Nations Relief and Works Agency said in a statement posted on its site today.
"In the course of the regular inspection of its premises, UNRWA discovered approximately 20 rockets hidden in a vacant school in the Gaza Strip," the agency said.
UNRWA, which supplies shelter and humanitarian aid in Gaza, condemned the storage of the weapons in its school and said, " This incident, which is the first of its kind in Gaza, endangered civilians including staff and put at risk UNRWA's vital mission to assist and protect Palestine refugees in Gaza."
It said that they "informed the relevant parties and successfully took all necessary measures for the removal of the objects in order to preserve the safety and security of the school."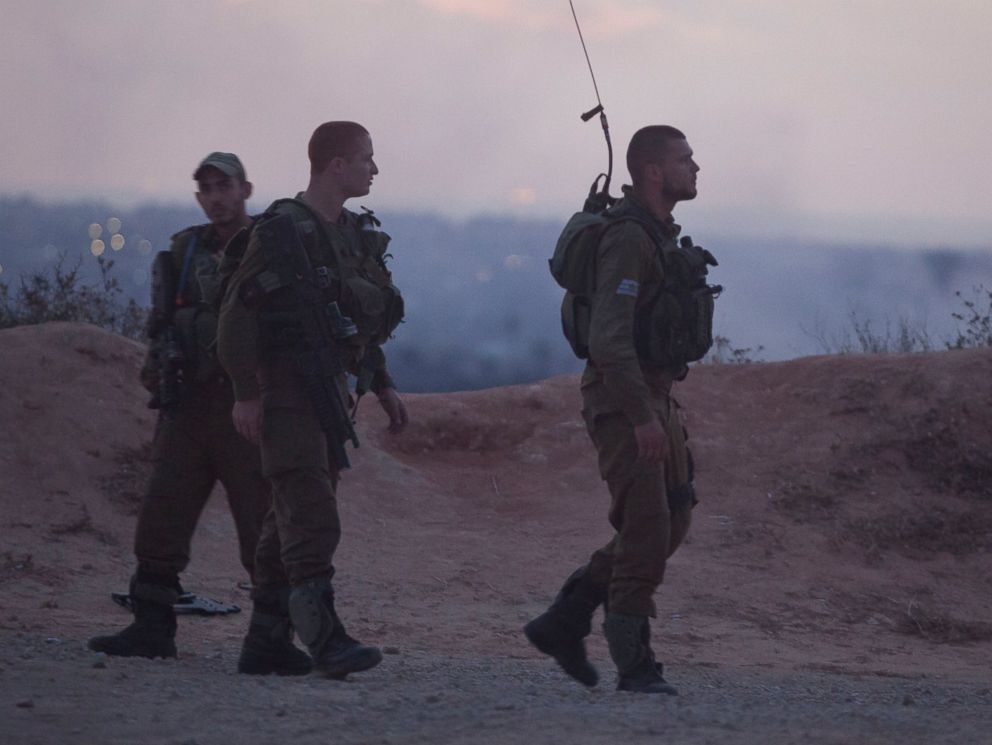 Lior Mizrahi/Getty Images
The agency didn't identify the location of the school, the types of rockets or who the "relevant parties" were.
The announcement bolstered Israeli claims that Hamas has used schools, mosques and medical facilities as shields as it fires rockets at Israel.
The battle has broken a two-year lull in hostilities between Israel and Hamas and was triggered by the slaying of three Israeli teens and revenge burning death of a Palestinian teen. Angry protests escalated to rocket launches and retaliatory air strikes.
Ariel Schalit

/

AP
Israeli Prime Minister Benjamin Netanyahu ordered the army to send ground forces into Gaza Thursday night.
"We are hearing reports that so far the operation has been concentrated in the north," reports NPR's Emily Harris, who is in Gaza.
Fawzi Barhoum, a spokesman for Hamas, called the invasion "a dangerous step. "The occupation will pay its price expensively, and Hamas is ready for confrontation," he said in a statement.
People in northern Gaza told Harris that "there's lots of shelling there." But people in the southern part of the Gaza Strip are also attempting to take what cover they can, if only moving to central parts of their homes, away from walls and windows.
"As tanks shelled into the east, Israeli navy boats opened fire on the west, hitting the beaches of Gaza," BuzzFeed . "Israeli officials said it was a two-pronged attack aimed at clearing the way for ground troops to move into Gaza in the largest incursion since 2008."
Harris said on
All Things Considered
that it's not yet clear where the Israeli infantry may be operating.
She noted that Israel is targeting tunnels Hamas uses to infiltrate its territory. Earlier on Thursday, Israeli aircraft bombed a group of Palestinian fighters who had tunneled under the border.
"The tunnels are both a very real and symbolic problem for Israel," Harris said. "It's some militants' way into israel and that is something Israel's military is going to try to concentrate on in this invasion."
The army has not provided details about the scope of the operation or the number of troops involved. A statement from the Israeli military did say the operation will include "infantry, armored corps, engineer corps, artillery and intelligence combined with aerial and naval support."
The IDF's Southern Command is leading the ground offensive, to the
Jerusalem Post.
The army has called up 18,000 more reservists.
"In light of the despicable and relentless aggression by Hamas and the dangerous infiltration into Israel, Israel is obliged to protect its citizens," the prime minister's office said in a statement.
Sirens could be heard across Israel, to Barak Ravid, diplomatic correspondent for the Israeli newspaper
Haaretz.
"We are seeing many, many people coming to the hospital, and these are just the ones that can get here," Walid Taha, a surgeon at Gaza's Shifa Hospital, told BuzzFeed. "We don't know how many won't be able to reach us tonight."
As we , the death toll in Gaza from Israeli airstrikes had climbed above 220 prior to the nighttime offensive.
On Thursday, Israel and Hamas both observed a five-hour cease-fire to allow humanitarian aid to reach Gaza.
The brief truce also allowed banks to reopen and some infrastructure repair work to be done, according to Robert Turner, director of operations for the United Nations Relief and Works Agency in Gaza City.
"It was the first time I saw a traffic jam for nine days in Gaza," Turner told NPR's Audie Cornish.
"There was hope this could be a first step toward a broader cease-fire," he added. "That's certainly not happening tonight."
Lefteris Pitarakis

/

AP
This post was updated at 4:10 p.m. ET: Ground Offenses Begin
Israel has sent ground forces into Gaza on Thursday, which we are covering in .
Update at 1:15 p.m. ET: Hostilities Resume
A temporary cease-fire had brought relative quiet to Gaza for a few hours earlier in the day, as Israel and Hamas agreed to hold their fire for five hours, from 10 a.m. to 3 p.m. local time, for humanitarian reasons. The peace was marred by a mortar attack around noon. There was been no indication that Israel retaliated.
With the temporary truce over, Hamas has fired 10 rockets at Israel and Israel launched two airstrikes at the Gaza Strip, Israeli security officials say. We've updated this post to reflect that the cease-fire has ended.
Our original post continues:
An Israeli army spokesman said three mortars landed in southern Israel but did no damage, Linda Gradstein tells our Newscast unit. She adds that it wasn't clear whether Hamas or a smaller Palestinian faction trying to disrupt the cease- fire was responsible.
"The cease-fire was requested by Robert Serry, the United Nations special coordinator for the Middle East, in order to allow aid into the Gaza Strip," reports Israeli newspaper .
Residents used the break to rush for supplies at markets, visit hospitals and conduct business at banks.
In Gaza, the death toll from Israeli airstrikes has climbed above 220 — a number that includes in a bombardment on a beach Wednesday.
From Jerusalem, NPR's Ari Shapiro reports:
"Today people are mourning the death of four children who were playing on the beach when they were killed in an Israeli attack. Israel has not offered details of the incident, beyond saying that it had targeted terrorist activity.
"The military also reports that today it stopped about a dozen militants who were trying to attack Israel via a tunnel underneath the Gaza border."
An Israeli delegation visited Cairo today, to hold talks with Egyptian officials who are trying to broker a more permanent peace deal to end the fighting that started early last week. A delegation from Hamas was also present — but in a different section of the same hotel, reports , Egypt's representatives shuttled between the two groups.
Posted by

Craig Schwanke
at 22:48
0 comments


Links to this post
Labels: cease-fire, Egypt, Gaza, Hamas, hamas rockets, Israel, Israelis, Palestinian Authority PA, Palestinians, terrorism, UN Relief & Works Agency UNRWA, UNRWA, UNRWA Gaza schools