THE fight for sane and reasonable gun control is not over, though the nra would like to think they have won the battle. Americans want improved background checks for gun sales, H.R. 1565 addresses what the people want. Here is a call to action from the Brady Campaign to Prevent Gun Violence asking you to text your Representative to co-sponsor and support this bill in the House (I did). Followed by a HuffPost article on the gop / tea-bagger obstructionism of background legislation in the Senate.



* * * TEXT MYVOICE TO 877877 * * *

URGE YOUR HOUSE REPRESENTATIVE TO CO-SPONSOR

H.R. 1565 AND EXPAND BRADY BACKGROUND CHECKS

Dear Mr. Schwanke,




Some in the U.S. Senate failed to vote YES on legislation for expanded background checks earlier this month. But that hasn't stopped our progress in the House of Representatives....




H.R. 1565 is new legislation to expand Brady background checks on gun sales, prevent gun violence, and save lives — and it needs strong, bi-partisan support.




Text MYVOICE to 877877 and connect with your
U.S. House Representative.

Tell them you support expanded Brady background checks, and then urge them to co-sponsor H.R. 1565.

The gun lobby extremists want to stop this bill. But if each and every one of us contacts our House Representative, Congress will listen. Together, we can transform this important legislation into a life-saving expansion of Brady background checks.
Please don't wait —

text MYVOICE to 877877 right now

!
Know others who can help? Please forward this message and share on Facebook.
With appreciation,



Dan Gross, President




Brady Campaign to Prevent Gun Violence


Unsubscribe




We got their attention.... Congress is listening.


Text MYVOICE to 877877 today

to connect directly with your Representative. Urge them to listen to the American people and support expanded Brady background checks by co-sponsoring H.R. 1565.
BRADY IS PROUD TO BE PART OF VOICES AGAINST VIOLENCE



Voices Against Violence is a strong and growing coalition of people who support gun violence prevention and have come together to develop new and creative ways to engage the American public on this issue.




All information © 2013 Brady Campaign to Prevent Gun Violence
Pat Toomey: Background Checks Died Because GOP Didn't Want To Help Obama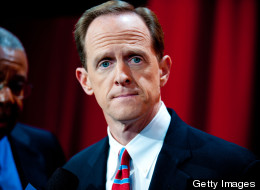 Sen. Pat Toomey (R-Pa.) revealed that some members of his party opposed expanding background checks for gun sales recently because they didn't want to "be seen helping the president."
The Times Herald noted that in "subsequent comments," Toomey "tried to walk that remark part-way back by noting he meant to say Republicans across the nation in general, not just those in the Senate."
"The bill is available right now and Sen. (Majority leader Harry) Reid could bring it up for a vote at any time, but we need five people to change their minds," he said.